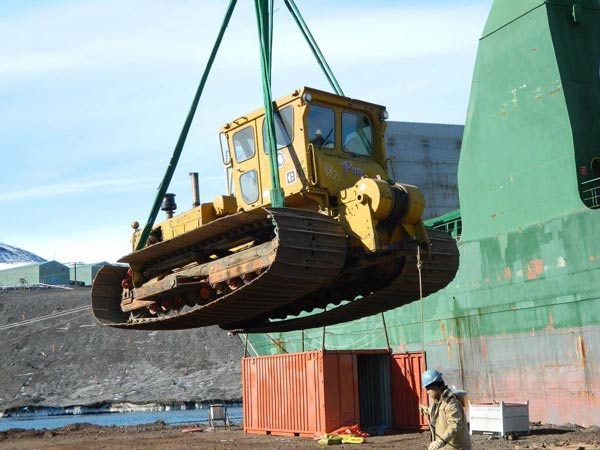 Before the cargo ship retrograde was ended prematurely by a freak storm, two of the last three IGY-era LGP D8's were loaded aboard the cargo vessel Maersk Illinois. Note that Pam, well identified, has headlights mounted on the hood. Both D-8's have backlights mounted behind the cab.
So what are these behemoths? Briefly, they are a special series of tractors originally designated SD-8LGP which stands for Stretch D-8 Low Ground Pressure; they were manufactured by Caterpillar during the 1950's and 1960's. Most of them were purchased by the US military for use in Greenland and Antarctica. This January 2003 Antarctic Sun article provides more details and history of their use in the Antarctic program.
These two bulldozers were Pam and Colleen--Mary Ann made the cut for another year..perhaps because 2013 was her 60th birthday. They'd been previously stripped down--blade removed etc.---by Russ Magsig and crew. There had been plans to ship Colleen north in 2012-13, but that was cancelled because of the width of the Bailey bridge. This year the shipment was almost cancelled again because the bridge wasn't sitting on much land. But it went on. After further study (and seeing two photos from Michael Grasso) I see that these photos include both Pam and Colleen.