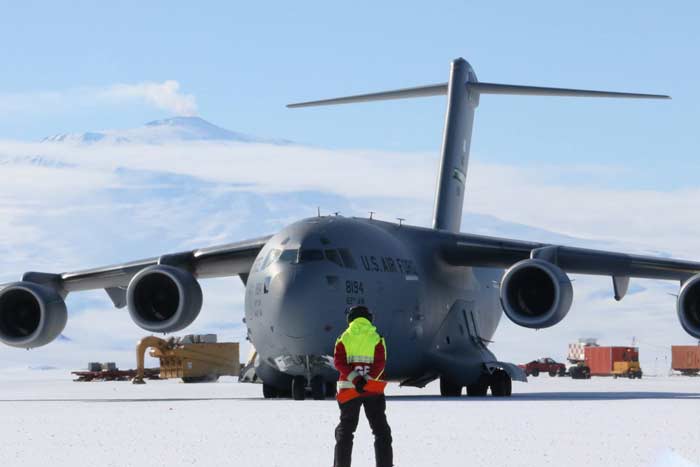 ...and parked (JG).
Actually things weren't quite as simple as the above photos might indicate--this was a certification operation. So this aircraft initially landed at Pegasus where passengers and cargo were unloaded. It then took off, flew to Phoenix for the first landing, taxied around the parking apron, took off again, landed again at Phoenix, and parked for 30 minutes before taking off and returning to Pegasus.
---
UPDATE #2! NSF's (reference [5]) revised environmental concurrence was issued on 26 January 2017...and the first official C-17 carrying passengers landed at Phoenix the next day McM time-27 January. Below, a photo of it just after touchdown on 27 January 2017 (JG).
Postscripts...the two C-17 flights previous to the November certification were the aircraft carrying U.S. Secretary of State John Kerry to and from McMurdo...they both landed at the Pegasus airfield. And Pegasus would see one more flight...five days after the certification, the same C-17 pictured in the certification photos would make one last Pegasus landing. That C-17 flight was the last scheduled C-17 flight until the beginning of February, although there were several scheduled flights by New Zealand and South Africa wheeled Hercules aircraft scheduled before the currently announced 3 December final closing date for Pegasus.
The first Phoenix landings (well, touch and goes, actually) by an LC-130 on wheels occurred on 30 January 2017.
Yes, there's a blue sign with the official airfield name. The ICAO code is NZFX.
And yes, this is the crew that created this unique runway (JG).
References and credits:
[1] McMurdo Consolidated Airfields Study, Robert B. Haehnel, Kevin Bjella, Margaret A. Knuth, and Lynette Barna. CRREL technical report 13-5, January 2013.
[2] Design and Implementation of a Consolidated Airfield at McMurdo, Antarctica, Robert Haehnel, Margaret A. Knuth, Terry Melendy, Christopher Hiemstra, and Robert Davis. CRREL report 14-22, September 2014.
[3] A Snow Runway for Supporting Wheeled Aircraft, Robert B. Haehnel, George L. Blaisdell, Terry Melendy, Sally Shoop, and Zoe Courville. CRREL report 19-4, May 2019. This report includes extremely detailed design and construction information.
[4] "ENVIRONMENTAL DOCUMENT CONCURRENCE; Construct Alpha Airfield Facility at McMurdo Station, Antarctica", Susanne LaFratta, Section Head, Polar Environment, Safety, and Health, NSF, 21 August 2015 (MCST1601.IEE).
[5] "ENVIRONMENTAL DOCUMENT CONCURRENCE; Establishing Phoenix Airfield Town Site and Closing Pegasus Airfield at McMurdo Station, Antarctica", Nature McGinn for Susanne LaFratta, Section Head, Polar Environment, Safety, and Health, NSF, 26 January 2017 (MCST1601.IEE.AM1).
JG is Jack Green who has spent many many hours working to create and ready the new airfield; he also shared with me some of the technical details. The two April 2015 photos of the Phoenix runway are by NSF McMurdo station manager, friend, and fellow 2005 Pole winterover Bill Henriksen (BH). The Phoenix aircraft photo is by the late Fred Mayeda (FM) who wintered at Pole in 1959; his photos have been shared with me by his family.