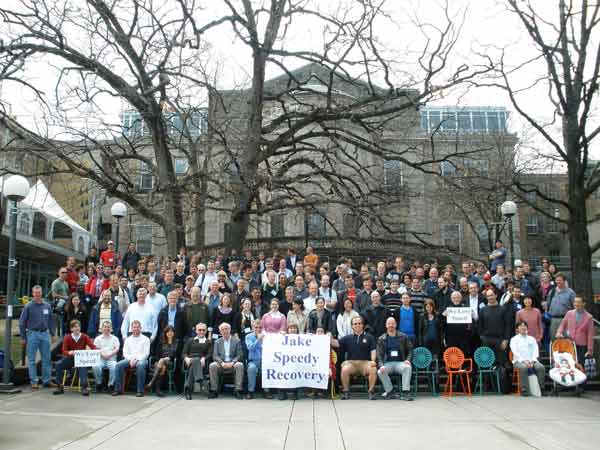 Just a few friends of Jake...the IceCube folks in Madison
As you can see from the photos on the previous pages, things went going well. Amazing! The story headline perhaps could have read "Man Lost in Whiteout Survives 58-Hour Ordeal in Sub-Zero Temps." It is an amazing saga.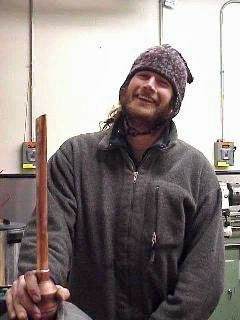 Jake Speed (Joseph Gibbons) started with the U. S. Antarctic Program in 1999 as a UT (left, photo from CH; right, DH)...starting the first of five consecutive winters at Pole, from 2000 to 2004. He began seasonal work in Greenland in 2004, while still returning to Pole during austral summers as an equipment operator. He set a record for consecutive winters at the South Pole at 5. Jake is very good at his work, and has said, "When I'm on, I'm on, and when I'm off, I just want to chill on the beach and hang with my friends and family."
Jake was married in 2007 to Kathy Blumm, They'd met at Pole during the 2004 winter and have done several deployments to Greenland together. Kathy was in New York State, preparing for the trip to Greenland, when Jake was medevaced out.... Jake has done extensive traveling, and has done extensive walking on those travels. His wife Kathy stated, "His feet have taken him a long long way over the years; walking the Pacific Crest Trail, across China, Africa and wherever the hell else. The Poles. So, he has maybe gone beyond warrantable miles anyway. Time for something new. As we go into this next phase, I want to take a second here to say thanks. Thanks to all the folks that have been there for us in so many ways and on so many levels. It has been amazing. The flood of mail has been so heartwarming and the donations to the ice fund have blown us away. Thank you."
I must confess that I got to meet Kathy and Jake for dinner at their home in Karamea in December 2005...and it was a great evening!