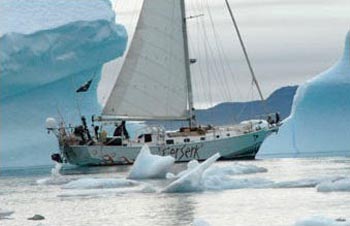 16 January 2022 update...stuff.co.nz (publisher of the Christchurch Press and other New Zealand newspapers, just published a massive multimedia tale about Jarle Andh°y's Berserk incident...which evolved about the same time as the 22 February 2011 Christchurch earthquake. Lots of great photos and information, some of which was new to me.
May 2021 update...Outside magazine published a new article "What Really Happened to the Berserk." It provides some new photos and information about the fatal voyage, and it indicates that Berserk II successfully traversed the Northwest Passage at one point, ending up in Nome. I had previously questioned that venture. Alas, most of this article is behind a paywall, but the visible top portion of the article features a great photo of the 5 expedition members just before Jarle and Samuel set out, with their quad bikes (4x4s), pulks, and the Berserk behind them.
---
The last photo of

Berserk

and the 3 lost crew. From left, Leonard Banks, Robert Skaanes, and Tom Gisle Bellika. Photo from

this page of the berserk.no website,

taken by a

Wellington

crew member.

The 47-foot Norwegian flagged steel-hulled yacht Berserk II (top image, a file photo from the former expedition website), ventured south from Canada (where some of its crew had some legal difficulty in 2009) and headed for Antarctica in February 2011, dropping off two Norwegians--the captain, 33-year-old Jarle Andh°y and crew member Samuel Massie (18) on 13 February at Horseshoe Bay (just north Cape Royds on Ross Island). The two were equipped with modified belt-driven quad bikes (ATV's--see photo below) and supplies for a return trip to Pole. Their intention was to be the first venture to commemorate Roald Amundsen's successful trip 100 years previously.

After dropping off the polar party, Berserk anchored in Horseshoe Bay, where it was encountered by the New Zealand frigate HMNZS Wellington on 21 January. Some frigate sailors visited the Berserk, brought them freshies, took the photo at right, and gave them warnings of a forecasted storm. The next day, Berserk had left the anchorage, either on purpose or driven by the force of the storm. At 1753, a distress beacon from the vessel was detected 21 miles north of Scott Base...at the time that area was experiencing hurricane-force winds, 25-foot seas, and 12░F temperatures.

Three ships took part in search operations--the Russian tourist vessel Spirit of Enderby, the NZ frigate HMNZS Wellington, and the Sea Shepherd Conservation Society's Steve Irwin. The Steve Irwin recovered two empty life rafts--the first was one of three lost by the Wellington during the damaging bad weather, the second was from the Berserk--its line had been broken, not cut off, an indication it had not been used (Sea Shepherd news article (archive) about the life raft discovery).
One of the 2 quad bikes left in front of Scott Base after Jarle's and Samuel's return (McM I-drive photo of a yearbook image...distorted for better display).

The Steve Irvin continued the search until it was called off Monday 28 February 2011. It was using its helicopter (which had been refueled at McMurdo) but hopes for finding anything were unlikely. Here's a 25 February Sea Shepherd news article (archive) describing the search efforts, as well as an editorial (archive site) by Steve Irvin captain Paul Watson.

The former version of the Berserk expedition website included a single framed "Berserk to the South Pole" blog entry in English which describes their legal issues with the Canadian government after their 2009 Northwest Passage venture...it concluded with their recruitment of South African surfer Leonard Banks, 32, one of three presumed lost. The other two missing crewmen were Norwegians Robert Skaanes (34) and Tom Gisle Bellika (36). The Antarctic Treaty environmental protocol requires that all Antarctic ventures register and comply with their country's Antarctic government organization, but this expedition had not registered with the Norwegian Polar Institute or provided the required search-and-rescue insurance.
Jarle Andh°y (left) and Samuel Massie in New Zealand on 28 February 2011.
The two Pole expeditioners were back at Scott Base on 27 February 2011...and they were flown north to NZ on the penultimate USAP C-17 flight the next day (archived Norway Post article). While in New Zealand they stated that they'd reached within 200 miles of the Pole, according to this Voice of America article (source of the AP photo at right), although this was not otherwise confirmed, and other sources indicated that they were more than 625 miles from Pole. Weather at the South Pole was rather raunchy at the time...-59░F with 11 MPH winds... The two survivors would face serious questioning upon return to Norway.
Here's a 27 February 2011 stuff.co.nz article describing the expedition's beginning in Auckland and the end of the search, and a 28 February article where the survivors defended their venture and confirming that the Pole expeditioners were being flown to NZ. On 28 February (US time) NSF issued this press release addressing the search efforts and the evacuation of the Pole expeditioners to NZ. In this 28 February Norway Post article, the expedition leader/skipper Jarle Andh°y admitted they had not applied for the proper permits. "I regard the area as no-man's land. In that case, no permits are needed," he said.
The International Association of Antarctica Tour Operators (IAATO), whose membership includes many charter yacht owners, issued a press statement regarding Berserk on 3 March; this stated that the Berserk operators had not secured the necessary authorization or permits, and that "...the Norwegian Polar Institute, as the competent authority, has decided to formally report the leader of the Berserk expedition to Norwegian prosecuting authorities for violations of Antarctic regulations..." The press release is no longer online, but it is discussed in this 3 March 2011 MercoPress article "Antarctic tour operators support prosecution of Berserk yacht owner". Meanwhile, in an 11 March interview with Sailing World,, Jarle Andh°y refuted most of the criticism of the expedition by other experienced Antarctic sailors. Stay tuned...
July 2011 update...at the Antarctic Treaty meeting in June in Buenos Aires, two reports were issued about this expedition. The first (these are MS Word documents) is an information paper issued jointly by Norway, New Zealand, and the United States; among other things, this paper documents a detailed timeline of the expedition--namely, they set up camp with two ATVs in front of Scott Base on 14 February (and spilled a bit of fuel near the Scott Base R/O plant!), and headed for Pole the next day via the South Pole Traverse route. They were 150 miles from Scott Base when the Berserk was reported missing; they then returned to McMurdo/Scott Base on the 27th and were flown to Christchurch on the last USAP C-17 flight of the season, leaving their ATVs and other gear behind. Also of note in this paper...an allegation that TAC (The Antarctic Company) had flown fuel to Pole for the expedition to use on the return trip.
The second document is a legal report submitted by Norway...which further outlines aspects of the expedition in a legal context. Perhaps the most interesting statement in the document is that the expedition leader has recently formally notified Norwegian authorities that a new expedition is in the offing...which may include "...sailing to the Ross Sea, ceremony in Ross Sea, search in Ross Sea, traverse (ATV) to South Pole, potential overwintering, sailing to Antarctic Peninsula." As I said, stay tuned...
November 2011 update...early in November, captain Jarle Andh°y was fined NOK 25,000 ($4500) for not notifying the Norwegian Polar Institute, not filing an environmental assessment, and lacking search-and-rescue insurance. Andh°y accepted the fine without comment, although it was announced on 9 November that he would participate with NRK television and produce a documentary about the venture (archived Vestbold Blad/Norwegian language page).
2012 updates...shortly after a documentary by Jarle Andh°y about the disaster was aired on Norwegian television (despite efforts from the families of the dead to block the telecast)...Jarle (age 35), and Samuel Massie (age 19) (the team that had attempted the Pole trip) were identified in Auckland. Apparently they acquired a 54-foot yacht, the Nilaya, and set sail for the Ross Sea...flaunting the fact that Jarle hadn't declared that he'd been previously deported from Canada...and also flaunting requirements that they declare their departure from NZ waters...not to mention the fact that a voyage to the Antarctic required environmental approval from the Norwegian government.
First, here's the 25 January 2012 stuff.co.nz article about the NZ search for the rogue yacht Nilaya. I also had access to a blog (archive link) created by Charlene Banks, a twin sister of one of the crew members lost on the Berserk. I was in touch with her, and she sent me this link (also in her blog) to this 12 January 2012 Dagbladet.no article (in Norwegian, again, use Google Translate or your favorite translator) which addresses the accident investigation and the broadcast of the television series. On 26 January Charlene was interviewed by Radio New Zealand about the "absolutely diabolical" turn of events, and in another 26 January stuff.co.nz article, Andh°y confirmed that the Nilaya was heading to Antarctica--to search for answers to the Berserk disappearance mystery, and to head for Pole using the same quad bikes that he left behind last year. In addition to Andh°y and Massie, there were several others aboard including a video cameraman. And Scott Base operations manager Iain Miller (in ChCh) confirmed that the quad bikes and other equipment was stored at Scott Base, and that Andh°y could not be prevented from using it (archived 26 January msn.co.nz article). The voyage to the ice edge was to take about 12 days.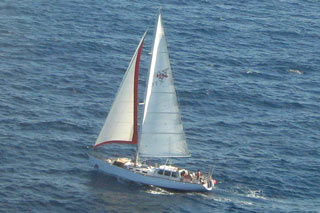 On 27 January 2012 (SP/NZ time), a archived Newshub/3news.co.nz article archive indicated that Andh°y and crew were testing the yacht Nilaya, which is now Russian-registered and may have been renamed Berserk. According to this article, Andh°y's lawyer stated in an Oslo press conference that a South Pole trip was not in the plans...rather they wanted to search for their old vessel and the equipment that had been offloaded at Horseshoe Bay by the crew. On January 26th, the yacht was spotted by a New Zealand Customs aircraft in international waters (left, photo from the New Zealand Customs Service (full image)) and was hailed, without response (archived NZ Customs news release archive) and (NZ Herald article).
This Aftenposten article (Oslo newspaper, in Norwegian, archive) describes the 26 January (Oslo time) press conference, but does not mention the South Pole objective of the venture. 28 January..a good article from TheSailNews (no longer online) had more information...Andh°y's vessel has no EPIRB (distress beacon) on board, but they do have a satphone. He said he expected to be in the Ross Sea for about a month. From stuff.co.nz there is a 28 January report indicating that in addition to Andh°y, Massie, and their 2 crew members, a fifth person, a New Zealander working aboard, a Maori who'd been repairing an anchor, supposedly didn't get off before they made a hurried departure from Auckland after NZ Customs had visited and told Andh°y he was to be deported. In other reports, it's been said that Andh°y plans to recover his quad bikes and equipment from Scott Base and bring them back north. What equipment...well, it seems that there were also kayaks and other gear left at Horseshoe Bay...where they apparently had plans to winter last year. This 26 January 2012 msn.co.nz news article archive indicated that Scott Base would hand over the gear, despite the dangerous nature of their proposed mission. More details and links in this 27 January (Oslo time) NRK story (in Norwegian)...including a link to this look at some of the gear that the Kiwis went and collected.
1 February 2012....over the previous weekend Andh°y spoke to Norwegian media, saying things were going well on board. Also...it was reported that he was not skippering the yacht, rather the skipper was an experienced Russian (31 January stuff.co.nz article). The article also reported that Andh°y had a significant Facebook following in Norway. The US National Ice Center showed his route blocked by extensive ice surrounding the Ross Sea. Meanwhile, an MSN NZ article which was not archived reported that the former owner of the Nilaya never knew who bought the boat in December.
9 February...we have another strange story. According to this 7 February 2012 stuff.co.nz article some folks in Norway thought that Jarle was a "sex god." No, I didn't find those pictures, but it seemed that the Kiwi on the trip south didn't end up aboard the Nilaya accidentally...the 150kg heavily tattooed Maori Busby Noble, who worked on the Berserk the previous year, actually was invited on board by Andh°y (12 February 2012 stuff.co.nz story). On 13 February the rest of his story comes out (stuff.co.nz article), Busby, a Mana Party (leftist Maori party) activist, who took a Mana flag with him. And he actually planted it in the shelf ice, which they had reached on 9 February. Yes, Andh°y is now well south of 60║S...reportedly they were planning to stay about a week on the ice before returning to New Zealand.
On 13 February, Andh°y was exploring the coast of Victoria Land...from there he planned to head to Franklin Island before trying to get through the ice to McMurdo Sound...looking for equipment left behind by Berserk. This 15 February stuff.co.nz article has links to other coverage including a story from the Dagbladet (in Norwegian). Victoria Land is about 375 miles north of McMurdo. NRK.no reported on 16 February (in Norwegian)that that Nilaya was heading further south to Horseshoe Bay. On 21 February the mast of Nilaya had reportedly been sighted from Scott Base....Andh°y reported sighting oil drums near where the Berserk had been moored. Meanwhile, some of the depot supplies that had been stored at Scott Base had been shipped to Christchurch (21 February stuff.co.nz article). Scott Base personnel had been ordered not to give assistance to Andh°y (but they could assist the Kiwi "stowaway" Busby Noble if he asked for help (archived 22 February TVNZ article). By the end of the week, Andh°y had searched several areas in McMurdo sound without finding traces of the Berserk, and he reported that he had a couple more places to look before returning north. The ice conditions in his search area had improved dramatically.
The end of the story? Well, no, but on 25 February NZ time Jarle Andh°y told his lawyer in Norway that their Antarctic quest was at an end. He also reported that their next stop would be South America. See this archived 24 February Dagbladet.no article (in Norwegian) and also this 25 February New Zealand Herald article. Stay tuned.
Yes...on 14 March, Andh°y's support contact Rune Olsgaard in Oslo alerted the media that Andh°y was heading back to the Antarctic (!). Not a lot of information, but his boat was damaged, and he was heading an Argentine base on the Peninsula for emergency repairs and refueling. Not sure which base, Argentina has 13 of them. Here's the stuff.co.nz article, and a 13 March article archive from vg.no (in Norwegian).
2 April 2012, Jarle was back in the news. He and his boat were intercepted in Chilean waters while en route to Argentina...they were escorted to Puerto Williams, Chile (a town on Tierra del Fuego across the Straits of Magellan from Ushuaia, Argentina, where they were headed) and their sailing permit was suspended. Coverage: a (New Zealand Herald article). It was uncertain why the boat had been intercepted...some sources including dagbladet.no (Norwegian language page) say the vessel and crew were "arrested." According to this archived 4 April tvnz.co.nz report, the vessel will stay at Puerto Williams until Busby Noble, the NZ "stowaway?" who boarded the Nilaya in Auckland, obtains a temporary passport.
10 April, the New Zealand Herald reported that the vessel (reportedly renamed Berserk), was released by the Chilean authorities. Their plans were to cross the Straits of Magellan to Ushuaia, Argentina, for repairs, according to this Norwegian language article in dabladet.no. They hoped to be back in Norway by the end of April or early May. This earlier VG Nett article archive (also in Norwegian) includes a photo of the boat and crew in Puerto Williams shortly before their release.
After making repairs in Ushuaia, they then sailed to Buenos Aires. Andh°y flew back to Norway on 9 May. His fine of NOK 25,000 was still under review at the time. And Andh°y said that he was still waiting for additional information from the New Zealand authorities about the search for the Berserk and its equipment 9 May VG Nett article).
2014 updates...Andh°y was out of the Antarctic news for awhile...in August 2012 he announced a planned voyage to continue Thor Heyerdahl's legacy, using a replica raft made for the 2012 movie Kon Tiki, together with Thor's son Bj°rn and Busby Noble (the Maori activist who'd accompanied Andh°y on the Nilaya voyage into Antarctic waters. It was scheduled to start in Larvik, Norway in September, but it apparently never happened.
In July 2014 it was announced that Andh°y was refusing to pay the (updated) 45,000 NOK ($7,250) fine imposed on him by Norway for violating environmental provisions of the Antarctic Treaty during the 2012 venture (stuff.co.nz article). An appeal to the judgment was being filed; if Andh°y continues to refuse paying the fine, he was to be given a 50-day suspended jail sentence. I never saw the final result.
Interestingly, the "wild Viking" Andh°y had his first Antarctic venture in 1996-97, when he sailed mostly single-handed from Norway to the Antarctic Peninsula, in a 27-foot Albin Vega sailboat (Wikipedia sailboat reference) named Berserk. In January 1999 Jarle Andh°y headed south again...this time, while in Ushuaia, he picked up an American crew member David Meisselman, and with Juan Manuel Hernandez (an Argentine), they headed south to the Antarctic Peninsula...encountering severe storms. Their travels included a stop at Palmer Station (which included dinner and drinks) despite an initial denial of permission to visit. They headed north...suffering more storms in the Drake Passage as well as calm winds which left them motionless, and eventually returned to Ushuaia. David Meisselman, who later changed his name to David Mercy, left the Berserk in Ushuaia, and would later write the book Berserk: My Voyage to the Antarctic in a Twenty-Seven-Foot Sailboat, published in 2004, describing the 1999 adventure. I have the book, it is available from used bookstores and as a free download of the 2006 edition from this site.
Andh°y mentioned plans to head for Easter Island or Cape Town after patching up the Berserk. He eventually headed up the east coast of Argentina toward Puerto Piramides, where crewman Manuel had worked as a guide on whale-watching tours. It was there, outside of Peninsula Valdes, where Berserk,, while at anchor, was struck in the bow by an unknown object and quickly sank.
In 2002 Andh°y sailed to the Arctic...where he was fined by the governor of Svalbard for sailing without insurance and failing to submit a route plan.
Jarle Andh°y has a updated English language website which offered a few photos, books and videos for sale (in Norwegian), and at one point there was a cryptic announcement for "August 16, 2015--The Hunt for Berserk." Also check out the Wikipedia page about Andh°y (which I've helped edit) for more historical info.