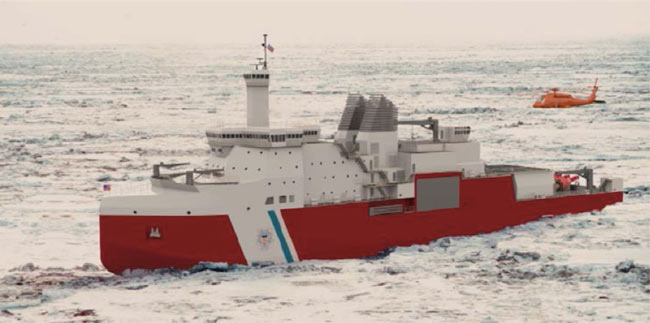 A VT Halter Marine conceptual image of the new heavy icebreaker, from
their 7 April press release.
Zoom to the latest updates below....
On 23 April 2019, it was officially announced that a contract for a new heavy icebreaker had been awarded to VT Halter Marine Inc., of Pascagoula, Mississippi. The price is $746 million, with options for two additional heavy icebreakers (if approved by Congress) that would bring the total price to $1.94 billion. Construction on the first vessel is planned for 2021 with delivery in 2024, although the contract includes financial incentives for earlier delivery.
First...several 23-24 April news releases that cover the contract award announcement, starting with the official U.S. Coast Guard press release. This was followed by this USNI article "VT Halter Marine to Build New Coast Guard Icebreaker" and this gCaptain article "VT Halter Marine Wins $745 Million Icebreaker Contract". And an earlier report, the Coast Guard hopes to have three Polar Security Cutters commissioned by 2028, per this 6 May 2019 USNI article. Where is VT Halter Marine? They're in Pascagoula, MS, on the coast between Biloxi and Mobile. Here's their facilities web page with aerial photos and links to additional company info.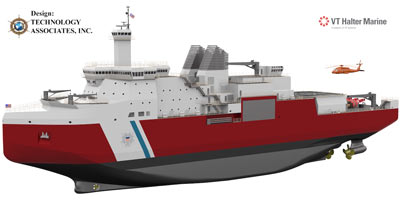 In early May, more news emerged about the details of the project, expanding on this 7 May VT Halter press release (here is the pdf version). Other details are expanded upon in these three articles I've found: from 7 May from MarineLog; from 8 May from gCaptain; and also from 8 May from USNI News. A few details gleaned from these three articles--first--the hull image (left) from VT Halter. Other details--the vessel will be driven by a diesel-electric system powered by three Caterpillar prime movers paired with electric motors--Azipod propulsors, one fixed and two steerable, based on a Finnish design by ABB and Trident Marine. Rated power will be 45,200 hp or 33,700 kw. The vessels will have 460 ft/140 m length and 88 ft/27 m beam, with a full load displacement of 33,000 long tons (36,960 US (short) tons or 29,937 metric tons/tonnes). By comparison, Polar Star specs include installed power of 6 Alco diesel engines totaling 18,000 hp/13,200 kw along with 3 Pratt & Whitney gas turbines totaling 75,000 hp/67,000 kw; 399 ft/122 m length; 83.5 ft/25.45 m beam; 13,623 long tons/13,842 metric tons/tonnes/15,258 US (short) tons full load displacement. The ship designer for the new icebreaker(s) is Technology Associates, Inc. (TAI) of New Orleans, and their hull design is based on the German research vessel Polarstern II, which is currently under design. The vessel will house 186 personnel, which is comparable with the Polar Star capacity and lab space. One report states that the vessel will be capable of breaking ice between 6-8 feet...hmmm. Other subcontractors involved will be Jamestown Metal Marine for interior work, and Raytheon for command and control systems integration. The combat system will be derived from the Aegis Combat System, although Coast Guard Commandant ADM Karl Schultz said that the Coast Guard was still considering the weapons to be included (in case you were wondering, the Polar Star is equipped with two 50 caliber machine guns as well as small arms).
7 February 2020 update: the Coast Guard issued an RFP to support the Polar Star service life extension program (SLEP)...for recurring maintenance and other work items needed to keep that vessel fully operational until the second Polar Security Cutter is operational, presumably in 2025. The Coast Guard announcement with a link to the RFP (which closes on March 18 2020) is here.
17 September update: the USNI published some interesting design details in this 16 September article: "Polar Security Cutter Fuses Performance Requirements With Maintenance Needs". Two examples--the new vessel will use flat plate steel commonly rolled in the US rather than the exotic high-strength steel used in the Polar Star and Polar Sea--material that hasn't been produced in decades. Also, the new icebreakers will have longer hulls than typical Baltic icebreakers because of different mission requirements...such as long open-water missions and the need for science spaces.
Earlier, on 11 September, the Coast Guard opened a Polar Security Cutter office at VT Halter Marine's shipyard in Pascagoula, MS, to coordinate and monitor the construction of the new vessels. This WLOX news article with video also indicates that actual physical construction is scheduled to begin in January of 2021.
17 June update: Seapower Magazine noted that the Coast Guard announced that at least the first three of the polar security cutters (aka icebreakers) would be homeported in Seattle, where the three existing icebreakers are based.
17 May update: On 15 May, the USNI issued the latest update of the report: "Coast Guard Polar Security Cutter (Polar Icebreaker) program: Background and Issues for Congress," which contains much more political, technical, and design detail about the procurement process. Well recommended!
16 May update: At a 6-8 May Navy League exposition in National Harbor, MD, the Coast Guard commandant ADM Karl Schultz said that the first of the three new icebreakers would spend most of its time in the Antarctic, while the latter cutters would operate more in the Arctic region. Per this brief 9 May Janes news article snippet (full access requires login).
Earlier info...the original RFP was issued in March of 2018 through the U.S. Navy, as, after all, they are much more capable of procuring large military vessels than the Coast Guard. Needless to say, most of the technical details were not available publicly. Originally, five bidders were expected, but Huntington Ingalls (Ingalls Shipbuilding, Pascagoula, MS) and General Dynamics (owner of Bath Iron Works in Maine) passed on the proposal per this 2 May USNI News article. The two unsuccessful bidders were Bollinger Shipyards of Lockport, LA, and Fincantieri Marine, a Wisconsin-based subsidiary of an Italian shipbuilder. The information on the unsuccessful bidders is from this 23 April AP News article "Mississippi shipyard gets $746M contract for icebreaker". BTW, this article also points out that the government of Singapore, through its Temasek Holdings investment firm, owns 51% of Singapore Technologies Engineering, which owns VT Halter.
Many thanks to Bruce DeWald, Russell Rapp, and Chris Rock for keeping me updated on this project!