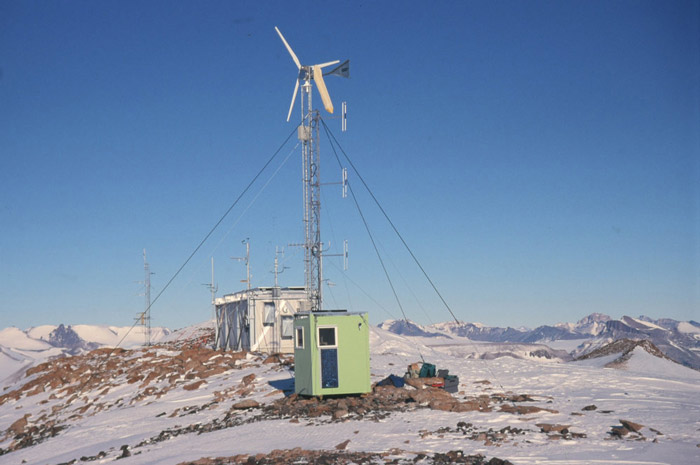 The repeater site on Mt. Newall looking west. The New Zealand repeater hut is in the foreground; behind it and
the wind turbine is the American hut. Photo by Keith Roberts, ©Antarctica New Zealand Pictorial Collection,
Image No. ANZSC2293.4, 2001-02 season.
Two fire technicians working for PAE in McMurdo died while performing maintenance on fire suppression systems in the generator/repeater building at the Mt. Newall site in the Dry Valleys, about 60 miles from McMurdo. The two workers were discovered unconscious on the floor of the building on 12 December 2018, by the helicopter pilot waiting to fly them back to McMurdo. One was dead at the scene; the other was pronounced dead at the McMurdo clinic a short time later.
Very little information has been released by NSF or the USAP program; the best news is from the NSF press release and this 13 December New York Times article.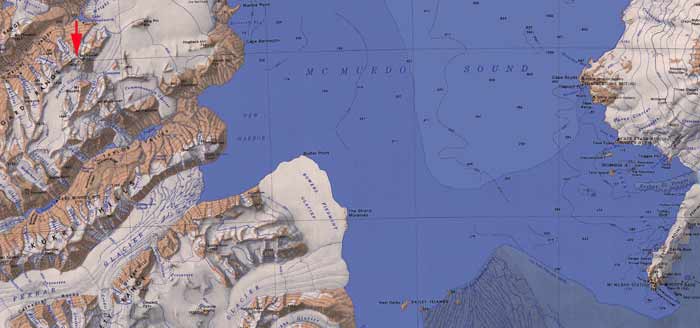 Above, a clip from the 1970 USGS Ross Island map showing the location of the Mt. Newall summit relative

to McMurdo and the Dry Valleys. The repeater site is about 1-1/4 miles WSW of the summit.


In addition to various antenna and wind turbine towers, the two main structures on the site seen in the photo above include the small (24 square foot) green structure housing the New Zealand radio repeater;
Above is a detailed repeater site plan from the

Dry Valleys Management Plan

presented by the US delegation at the 2015 Antarctic Treaty meeting.

and the larger (240 square foot) hut behind it housing the USAP equipment. About 3/4 of the structure houses the radio repeater equipment, hybrid power system controls for the wind turbine and the solar panels (on the roof), a large battery bank, the CO2 system bottles and controls, Air Force-maintained

CTBT

seismic monitoring equipment (part of the Dry Valley Seismic Project), and survival equipment and supplies. A small room at one end (with the ductwork in the above photo) houses the diesel generator. Elsewhere on the site, not visible in the above photo, is a small (96 square foot) survival shelter near the helicopter pad. It is presumed that the two fire technicians were working on the CO2 system when they succumbed, but this is not publicly documented.

The hut is designated on the site plan at right as the "AFTEC building." That acronym is not identified in the management plan document; the correct current acronym is "AFTAC" for "Air Force Technical Applications Center" (located at Patrick Air Force Base in Florida). Below, AFTAC team members are doing maintenance on the facility during the 2017-18 season.