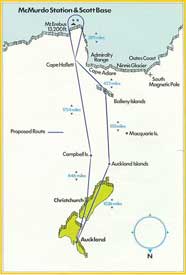 Beginning in February 1977, Air New Zealand offered tourist overflights from Auckland to the Antarctic. These flights were quite popular--in 1979 four were offered. They flew the route shown at left (from the information brochure). The last of these scheduled flights, Flight TE 901, a DC-10 with 237 passengers and 20 crew, took off from Auckland at 0820 on 28 November, on what was supposed to be an 11-hour turnaround flight. But it crashed into the side of Mt. Erebus at 1249, killing all aboard.
The loss of radio contact was noted at McMurdo, and Air NZ was soon notified that communications had been lost. Soon after 2130, the itme when the DC-10 would have run out of fuel, two VXE-6 LC-130 aircraft returning from Pole and Byrd were diverted to search. Both LC-130's spotted the crash site and the wreckage at about 0100 on 29 November.
Helicpter search parties reached the crash site at about 0900, and they quickly confirmed that the wreckage was from the ANZ aircraft, and that there were no survivors.
The recovery efforts were quite extensive--in part because of pressure from Japan due to the number of Japanese citizens who had been on board. The operation lasted until 9 December; at one time there were as many as 60 recovery workers at the crash site. Recovered bodies and fragments were flown directly back to Auckland, and eventually all but 44 of the victims were identified.
Several inquiries were held--after mechanical failures were quickly ruled out, the focus switched to the flight crew, who had never made this particular trip before. Initially they were blamed for flying below an approved altitude, and staying there while being unsure of their location. But a second inquiry determined that the coordinates in the navigation computer had been changed without telling the crew or the flight followers at Mac Center. At the time of the crash, TE 901 was flying in local whiteout conditions (in clear air under cloud cover, but with no surface definition), but most of the flight had been in clear air--if commentator Peter Mulgrew had been in his seat a minute or two earlier he would have recognized that the aircraft was off course. As it was, the flight crew was confident of their position and flight path until the collision alarms sounded just before the crash.
The two photos on this page were released by the New Zealand Archives as part of their 25th year remembrance they have put up this site with more photos and the McMurdo message traffic concerning the crash and the search efforts). The NZ history net (another NZ government web site) has more photos and information, as do the Christchurch City Libraries.
Here are a couple of pages from Mike "Subs" Subritsky's NZ Antarctic Veteran's Association site--the 25th anniversary commemoration in November 2004, and the casualty list.