A few days before sunset, the sun is low behind the
antenna field, and a 955 heading for the snow mine...




One of the best sunset shots I've seen from any year. Tadashi sent it to me, but Craig was the photographer. This was about when those green flashes were supposed to show up. But then again, the skylab windows are tinted...



My sunset photo from skylab. The topography of the icecap meant that we had a good view of sunset out of the large main window in the skylab lounge. Several days in a row about dinnertime we came up here to watch.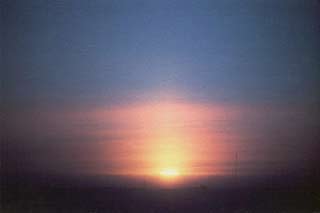 I'll spare you my black-and-white sunset shot.
Here's what the sun looked like a day or two earlier.

On April 10th we were visited by the Easter Bunny, who hid many colored eggs. Later in the day after we found most of them, we celebrated with a special dinner complete with tablecloths. Here's Jerry, Fritz, myself and Craig dressed up a bit for the occasion.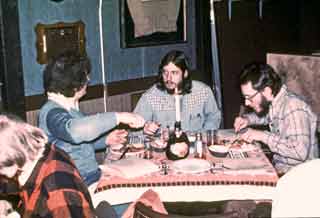 Denis, John and Stu dig in. We also had those
commemorative Playboy teletype printouts.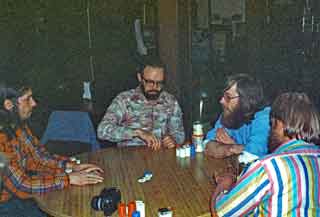 Poker night in the galley--one of our occasional evening pastimes. Some of us played a lot of bridge too. We had tournaments in both.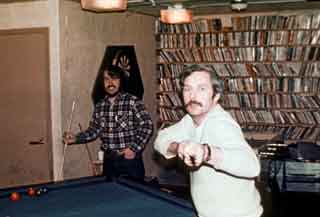 The USGS team (Ken Barker, left, and Jim Fletcher) attacking the cameraman. Other popular sports happened over here, including pool, ping pong, and foosball on a table we salvaged from the Last Chance Saloon. Jerry came up with Pong, so we even had video games. And in the computer room, Marshall came up with a version of Star Trek so we could kill Klingons to our hearts content (on a black and white mostly text based screen).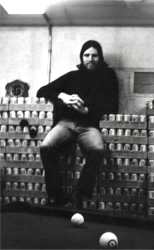 I'm watching the action from one of the many soft comfortable chairs we had up here...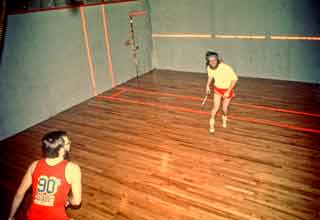 Another of our recreational spots. The gym is big enough for quarter court basketball perhaps? I never did spend much time in here. During my later summer visits I discovered the 4000m outdoor running track. I usually put in some miles before breakfast, weather and airplanes permitting...