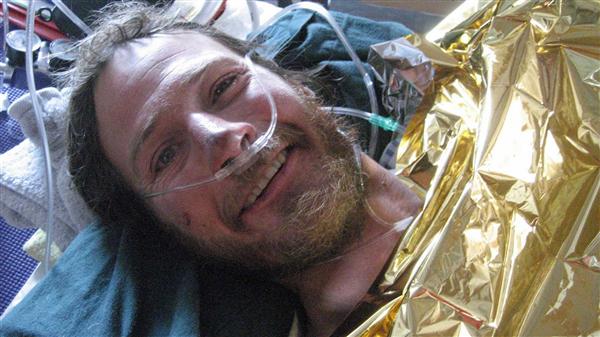 Above...a photo taken of Jake just after his rescue, before he was medevaced out of Summit Camp. More details of the story follow below...
While working at Summit at the end of the 2008-09 northern winter, he went out on a snowmobile on Wednesday evening (15 April 2009 Greenland time, UTC-3) (all dates/times on these pages are local) to check the runway conditions. A sudden whiteout came up, the snowmobile ran out of fuel 3 miles from the station...and he wasn't carrying a radio. He was reported missing on Thursday morning, and various search teams (station personnel, NSF and Greenland government folks based in Kangerlussuaq, the Royal Danish Air Force, and chartered Air Greenland aircraft. He survived in the -40°F/C temps by digging a snow cave and moving his body to keep blood circulating. about. Early on Saturday when he heard a search team nearby, he walked up to their vehicle and calmly asked for a ride back to the station.
Although he managed to walk out on his own two feet, there was extensive nerve damage. Jake was transported to Nuuk, Greenland for preliminary examination. He was then flown to the UC Davis hospital burn unit in Sacramento for extensive evaluation and treatment. After multiple surgeries and failed attempts to partially save his original feet, he underwent full amputation of his right hand and both feet, as well as an abdominal flap procedure to save full use of the left hand.
Here are some pictures from the rehab process, when he was taking his first steps: