Naval Mobile Construction Battalion 71 (NMCB-71) was specially organized to work in Antarctica and build the domed station beginning in DF-72 (1971-72). Before then, the unit working at Pole was CBU-201. During the 1971-72 season the men lived in emergency camp Jamesways at the old station, but in 1972-73 they built the 110-man construction camp "dry gulch." They then proceeded to finish the dome, the arches, and all of the station's major structures including Skylab. When the unit departed Pole for the last time at the end of the 1973-74 season, the station was officially 85% complete according to NSF. The battalion left behind a 4x8 plywood commemorative sign (shown above in 2002, click for details). It was mounted behind the door on the skiway side of the biomed arch.
The photo at left shows the Seabees assembling the biomed arch during the 1973-74 season, with the completed shell of Biomed (the medical facility/sickbay). The sign was later mounted on the left side of this arch. The photo at right was taken (by Seth White) from the same location in January 2004...a vestibule was added to the building, and the arch doors had been removed (although the hinge marks are still visible). During the 2005 season we demo'd the building so that the arch can be reworked and raised to become part of the storage area (LO arch) for the new elevated station. Accordingly, the sign was removed during the 2002 winter. In January 2003, Jerry Marty, the NSF construction manager, arranged for the board to be crated and shipped back to Port Hueneme for future display in the Seabee Museum.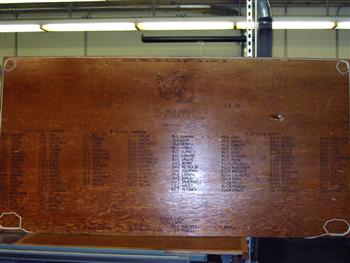 At left is a photo of the board in the shop for crating. The guy holding the board is 2002-03 summer equipment operator Dave (Sandy) Sandison, who worked at McMurdo as a Seabee in the early 80s. At right is a larger picture showing the names. Here is a larger photo, and this is an even larger view (600kb!) which I've severely overexposed in an attempt to make it readable. Here's a separate Word document which lists all of the names.
Except as noted, the photos and list of names are from Jerry Marty and NSF, with help from Billy-Ace Baker. This was documented in the Polar Times, and some of these photos originally appeared on the American Polar Society web site.