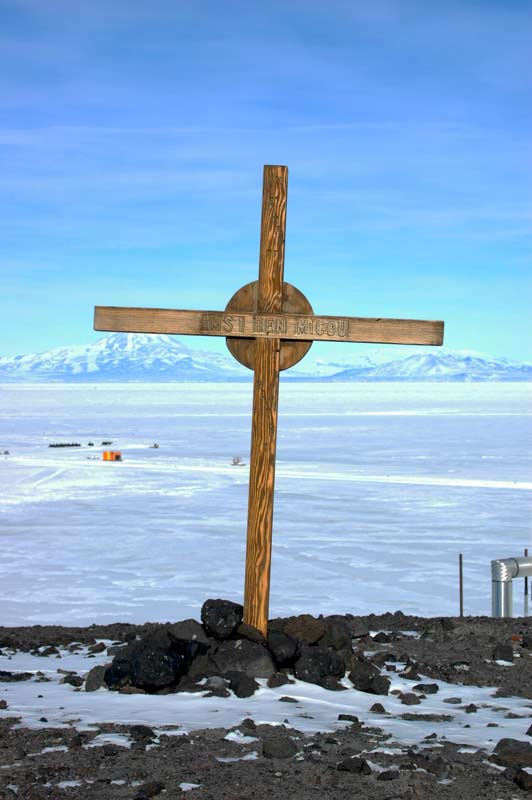 The memorial cross for AMS1 Ben Micou, one of the three people killed in the crash.
Photo by Elaine Hood, 4 November 2013, from the USAP Photo Library
(link to original)
.
The VXE-6 HH-1N helicopter was returning to McMurdo from Cape Bird in the early evening of 13 October 1992, when it became overdue as the weather deteriorated. LC-130 and helicopter searches were begun, as well as a ground search. Shortly before midnight, one of the search helicopters heard by radio from LCDR Ed Crews, the missing pilot, who reported the crash location (map at right). There were whiteout conditions with 20 to 30 feet visibility, but search teams reached the site just after midnight. They discovered that both Crews (age 39) and copilot LT John Seralles (age 28) were alive but injured...Crews had frostbite and shock, while Seralles had a broken leg and a broken pelvis. Both were suffering from hypothermia. The two New Zealand passengers Garth Varcoe and Terry Newport were dead, and crew chief AMS1 Ben Micou was missing. The search team found Micou's body at about 0430. The two injured had been flown back to McMurdo (from where they were quickly medevaced to Christchurch), but the bad weather prevented pickup of the SAR team and the bodies until 15 October.
It was learned that the aircraft, in whiteout conditions, had struck an icy slope above a 33-foot ice cliff. It then slid and rolled about 100 feet, and then dropped and spun until it hit rocks below. All three of the fatalities had been thrown from the helicopter as it slid toward the rocks.
Garth Varcoe (age 48, from Dunedin) was a 15-year veteran and the technical services officer of the NZ Antarctic program, while carpenter Terry Newport (age 31, from Nelson) was in his first season. The two had been preparing a hut at Cape Bird (presumably this one, which had been built the previous summer) (link from ADAM) (ADAM home page) for the upcoming season. Ben (Benjamin W.) Micou, age 35, from Michigan, had been with VXE-6 on this tour since 1990, although he'd first joined the squadron in 1977.
Photos of the fatalities: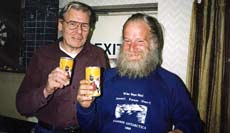 Garth Varcoe (right) with Art Brown. Photographer: David Harrowfield, ©Antarctica New Zealand Pictorial Collection, Image# ANZPC0132.38, Feb. 1990
(link to original photo)
.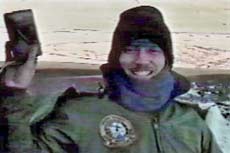 Ben Micou
(photo source)
. This photo was originally grabbed
from this video
by Joe Hawkins. Two more photos of Ben from his brother Jay, also shared by Joe Hawkins:
in dress uniform
, and
on leave.
Terry Newport
(photo source--Bob McKerrow)
. Photos courtesy Pauline Newport (his wife) and David Harrowfield.