What are we looking at? The photo at left was taken at the dedication of the memorial on 25 October 1965 at the original site next to the chapel, with Byrd facing the main part of town. The right photo from November 1977 was taken at the more recent site in front of the Chalet. Somehow at some point the marble pedestal got rearranged...more than once! [photo credits at bottom of this page]
Below is a photo of the statue a year after the dedication...and clearly visible is an additional band of roughened marble just below the bust: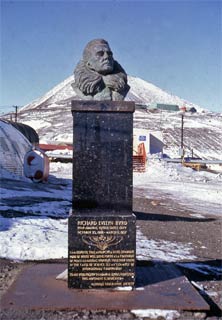 At right below is another view of the original site in July 1967, along with the text of the dedication article from the January/February 1966 Antarctic Journal:
---
Memorial to Byrd Dedicated
A memorial to the late Rear Admiral Richard E. Byrd was dedicated at McMurdo Station on October 25, 1965, the anniversary of his birthday. The bronze bust of the famed explorer rests atop a polished Norwegian black marble pedestal which has inscribed on its sides the more significant achievements and the dates of his five Antarctic expeditions.
Inscribed on the base of the monument are Admiral Byrd's own words:
I am hopeful that Antarctica in its symbolic robe of white will shine forth as a continent of peace as nations working together there in the cause of science set an example of international cooperation.
Sculptor of the monument was Mr. Felix de Weldon, who is noted for his famous Iwo Jima war memorial in Arlington, Virginia. The McMurdo statue is a replica of the memorial to Admiral Byrd which stands on the "Avenue of Heroes" in Washington, D.C. This memorial was dedicated by the then Vice President Lyndon B. Johnson. Both Byrd memorials were donated by the National Geographic Society.
---
In addition to the works listed above, and a later duplicate bust in Dunedin, Felix also did Elvis; in any case he is probably the only artist with works on display on all 7 continents. Felix de Weldon died in June 2003 at 96.
The monument would remain at this location and in this configuration until 1972-73, as documented by the next two photos: