Tragic aircraft crash at the 321 recovery site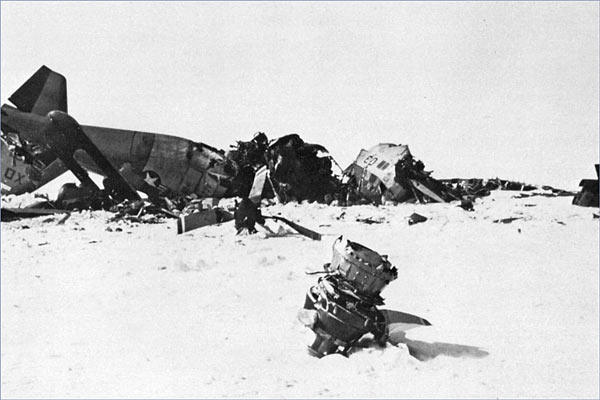 U.S. Navy photo from the 1988 USAP Safety Review Panel report to NSF: "Safety in Antarctica"
At about 0900 local time at the site of the recovery effort for the LC-130 #148321 that had crashed in 1971 (my main page about the 321 crash and recovery), another VXE-6 aircraft (XD-03, or #159131) crashed while bringing in additional supplies and personnel. Of the eleven on board, two men died: LCDR Bruce Bailey, the squadron maintenance officer, and AK2 Donald M. Beatty, a supply petty officer. The most seriously injured survivor was LCDR Einer "Ernie" Corelli who suffered a serious leg injury; he and 3 other injured crew members were medevaced to Christchurch after they had been flown to McMurdo. This was the first fatal VXE-6 disaster since 1969.
Navy corpsman HM2 Barney Card was the only medical person on site at the time...he responded quickly, rushed to the crash site a mile away from the camp, helped rescue people, and later deputized other folks to watch over the injured on a one-on-one basis until the first rescue aircraft could arrive from McMurdo...eight hours after the crash, delayed by bad weather (the rest of Barney Card's story).
The aircraft was the only one that had been modified with camera equipment for polar mapping...as a result, the USGS mapping program for the season had to be cancelled (and no more USGS maps of Antarctica were ever produced). Also, the aircraft was to have been used to take a photo update of the 1983 USGS photo map of Pole.
The crash site was about 860 miles northeast of McMurdo and about 125 miles from the Adelie Coast in east Antarctica, directly south of the French station Dumont D'Urville. For more information, here is the March 1988 Antarctic Journal article about the crash.