Little America Sighting
The remains of what was presumably Little America III as seen from the U. S. Navy icebreaker
Edisto
The Edisto was taking oceanographic stations in the Ross Sea in February 1963, when, on 24 February, an alert lookout sighted the remains of one of the Little America stations in a tabular berg. This was in the vicinity of 77º 32.5'S-174º 22.5'E, or about 300 miles west of the original Little America site in the Bay of Whales on the Ross Ice shelf.
The break in the iceberg had neatly bisected the station, exposing the interiors of two buildings. Cans and equipment placed neatly on shelves were clearly visible. Five telephone poles with antenna fittings and two bamboo marker poles were still in place.
A helicopter from the Edisto approached the camp and landed on the iceberg, but the crew was unable to enter the buried station.
A lower resolution wide angle view of the remains of Little America III, showing more shredded tent
material hanging down from another structure at left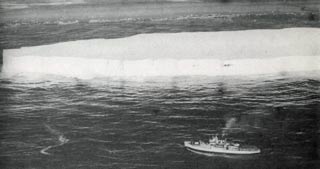 A view from the helicopter, showing
the Edisto next to the iceberg
This coverage initially appeared in the Bulletin of the U. S. Antarctic Projects Officer, April 1963; the pictures seen here are official U. S. Navy photos.