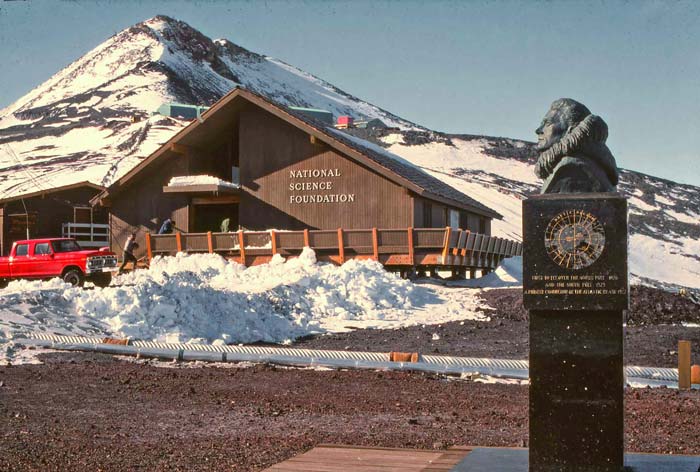 This picture is from October, before we went to Pole, as evidenced by all the snow piles. In the foreground is the bust of Admiral Byrd...this is where he was in 1976-77. They would occasionally display flags of the Antarctic Treaty nations around this "international square" site, but I was never around with a camera when this happened. Behind the Chalet is of course Observation Hill, and halfway up is the PM-3A nuclear power plant site which was being dismantled. The prefabricated chalet structure was erected in one season by Holmes & Narver in 1969-70, and the "chalet" design was based on the previous NSF "Swiss Chalet" office constructed near the Chalet site in 1961-62. And note that Admiral Byrd's bust statue has been moved around a number of times since its erection in October 1965, and not all of the moves were authorized.
The Chalet people photos below were taken during my R&R in January 1977.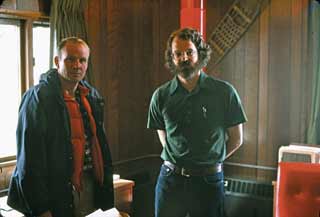 At right, NSF representative Dave Bresnahan, who was already an Antarctic veteran...and he would still be on the ice when I returned to Pole in this century. To his left is Robert Rutford, who was then the director of NSF's Office of Polar Programs, a position he held from 1975 to 1977. I would meet him again when he briefly visited Palmer Station in the late 1980's; at that time he was the president of the University of Texas at Dallas. He'd also been involved with the Ross Ice Shelf Project and the Polar Ice Coring Office at the University of Nebraska.

Here's Mike Pavlak, who was working in the Chalet in training for his next assignment--the Pole station manager in 1977-78. Alas, the only things in focus here are his boots and the stuff on his desk. He would continue to work for H&N, but he died suddenly and unexpectedly in January 2008. He was survived by his wife Cathy (whom he married after 1978) and two children. Cathy currently lives in coastal Virginia.




Here's Al Esser, the senior H&N manager on the ice...
he's slightly visible in the above photo of Mike.


And this is clerk Garth Brown (with Al Esser again visible in the background). This was his only season at McMurdo, but he would later be the Palmer Station manager in 1982...a winter with only 6 people, including our 1977 Pole wo cook Denis Boucher.

I met up with Garth in April 2018, the first time we'd met since this time in January 1977. We went for a hike in Red Rock Canyon, a park west of Las Vegas where he now lives.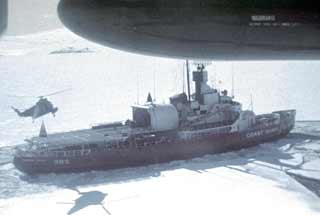 I took a lot of pictures in McMurdo, and recently added more including the ones above. More to come soon. But for now I'll just finish up with this great slide I copied from Al Nelson...the Coast Guard icebreaker Burton Island. Al took it in January 1977 on his way to Pole to join us for the winter.