[photo by Nick Powell,
Antarctic Photo Library
]
NEWS
12 April...and it's getting dark. The first auroras have been seen...and documented! At right, a link to Hunter Davis's photo, which he shared with earthsky.org. The auroras had to compete with a rather spectacular full moon. Meanwhile, the newly upgraded South Pole Telescope is in the midst of a 10-day Event Horizon Telescope event...hoping to grab exclusive images of the "event horizon" of black holes--the area where the black hole's gravitational pull is strong enough to prevent anything from escaping. Here's more coverage. Meanwhile, closer to "home," the menu selection at Pole will be a bit limited for several weeks, as the kitchen has been shut down to allow for cleaning and sealing the ductwork as well as replacement of the copper force main piping. Microwave munchies, anyone? And back in the northern hemisphere, a new tourist venture has been announced for next season...two week road trips to Pole and the Ross Ice Shelf by Arctic Trucks. Only $165,000 per person, but folks like British fund managers and Swiss bankers have already booked. Here's the 23 March Bloomberg article, as well as a link to the vendor, The Explorations Company.
26 March...in other news, some of you may remember that I also have a Palmer Station site. I finally decided it needed a bit of updating, perhaps partly because the 2017 winterovers are now approaching the Drake Passage on their way south. So have a look!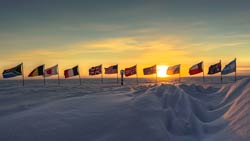 The sun is setting at Pole. The official equinox happened on 20 March at 2329 South Pole time, or 1029 UTC (daylight time for Pole and NZ doesn't end until 0300 on 2 April). So, as for the actual Pole sunset--the green flash showed up on 24 March. This is the first 2-day weekend of the winter, with the sunset dinner on Sunday the 26th. The classic photo at left was taken by IceCube guy Martin Wolf on 23 March. And check out this timelapse video from Robert Schwarz of the Sun circling the station between 8 and 13 March (right).
Oops...the photo at right below, taken on 5 March, shows the R/V Hero sitting on the bottom, where it ended up the day before. This is the Palix River estuary at Bay Center, Washington, 40 miles north of Astoria, Oregon...near extremely productive oyster beds. Perhaps it was a lot of rain...not uncommon for this time of year...or perhaps the pumps failed. No word yet on what actually happened,
but on 6 March the Coast Guard hired a contractor to deal with the lube oil and diesel fuel that was starting to leak. 21 March updates...the contractor is hard at work. The latest news and details, updated frequently.
Future McMurdo news...the original master plan is now FOUR years old. Yes, it has seen some major revisions, but now it appears that something is actually to get built. In February of this year the program held meetings with prospective bidders for a new design-build project--an addition and upgrade to the existing SSC (left) to house additional data center and operations space. The contract will not be awarded until after a site visit in 2017-18, with project completion scheduled for 2019-20. This could be the first significant USAP building construction project that engages a contractor separate from ASC. The details....
Another reason for that dome photo at right...there was an opportunity to get some pieces of it ;) . After skipping last year, it seems that there WAS an Antarctic auction this year...5-6 April, accessible only from a mobile app, although the items were available for inspection/pickup at Port Hueneme. Here's the basic website which includes one version of the auction flyer. Another link to the auction brochure with photos is available here. The auction itself was online only, through their mobile app, which no longer contains listings or photos of the items,
as the Ocean Giant just got back to Port Hueneme on 1 March. The website also announces that they are selling off some of the old dome pieces which have been sitting in Port Hueneme for awhile. More info and item photos are on their Facebook page,. Yes, they DID auction off 15 of the dome panels (photo from the auction site)...some of these went for upwards of $800.
So what's that photo of the dome at right all about? As of 1 March, things are nice and quiet at Pole which is as it should be...so I'll share the first of several reviews of the first of THREE recently acquired new books about the winterover experience. Two of them were written BY winterovers...and the one featuring that dome photo is nonfiction, so you can rest assured that no one dies. Seriously...the book is One Day, One Night, Portraits of the South Pole, by Jennifer McCallum and her then-husband and atmospheric scientist John Bird, describing their 2001 winter...which included among other things some amazing kite photography, as well as that Foucault pendulum experiment in the then-under-construction beer can. I said no one dies...but they did witness and describe the midwinter medevac of Dr. Ron Shemenski at temperatures of -95ºF/-71ºC. The couple are Canadians...and after John was offered a winter research assignment with the University of Illinois LIDAR experiment, a frantic scramble ensued so that his wife Jen could certify dual Canadian/US citizenship, which would allow her to be hired as a DA. Here's John's website about the book...from which one learns that John was a speaker, as was US Secretary of State John Kerry at the November 2016 COP-22 climate change conference in Marrakech. I will say that while the book contains photos, it is not a picture book...so if you are interested in a hard copy to read, purchase the paperback; if you want to see the color photos, buy the Kindle edition. If you want to do both, buy both...rather than investing in the $85 color version of the paperback.
Another medevac from McMurdo...remember that a month ago a passenger on the cruise ship M/V Ortelius was flown to McMurdo by that vessel's helicopter and then flown to Christchurch on a regularly scheduled C-17 flight. That occurred during the Ortelius' westbound cruise from Ushuaia to Bluff (Invercargill). Well, on 28 February, during the Ortelius' return cruise to Ushuaia, there was a similar medevac event, with the patient flown to McMurdo by the ship's helicopter on 27 February (NSF press release). This time...there were no more scheduled C-17 flights, so the program had to call upon the AAD for help. Accordingly, the A-319 Airbus flew from Hobart to the Phoenix runway on the 28th, picked up the patient, and flew to Christchurch...not long before a Condition 1 storm hit the McMurdo area.
Lots of icebreaker news...first of all, something that has been obvious for awhile was recently announced...the inactive Polar Sea (left) will not be reactivated...rather it will serve as a "parts donor" for the Polar Star, according to this 17 February US Naval Institute article. This Seapower posting states that the three main shafts from the Polar Sea will be transferred to the Polar Star during its next maintenance period. As for the next generation of icebreakers...on 22 February, Fox News reported that $20 million in new contracts had been awarded to study heavy polar icebreaker design and analysis...the goal being to award the first construction contract in 2019, in order to obtain a new class of ships between 2023 and 2026. Not all of such contracts are publicly announced, but two items of interest I was able to find--this $4 million study contract awarded to Halter Marine on 22 February 2017, as well as details of this 18 March 2016 "Industry Day" held in MacLean, VA. Both of these links include further links to extensive technical details and schedules.
It's that time...15 February, the last LC-130 for 8-1/2 months departed Pole, taking away the last few summer folks and leaving behind 46 souls, many of whom will spend some time watching The Thing movies this weekend. Also, the NOAA team was briefly interviewed by their PR team and asked about their thoughts at station closing. At right, Dave Riebel's photo from that interview. There's also a video(!)
The NGO drama is not over yet. Although ALE has closed operations, solo kiter Mike Horn was still on the ice after leaving Pole on 11 January heading to Dumont d'Urville. He was not relying on ALE or ALCI to pick him up...rather his yacht Pangaea was supposed to get him. BUT...it had to turn back to Hobart due to electrical issues, and it could be a week or more before Pangaea could make it to the French base. On 8 February Mike reached the coast at Dumont d'Urville after some impressive kiting distances--he was not afraid of taking chances with the wind. He was supposed to be picked up on 15 February, but that didn't work. He left DdU on the weekend of 18 February...aboard the French supply vessel M/V L'Astrolabe...and was reunited with Pangaea back in Hobart on the 24th. Thus ending the extended South Pole tourist season for 2016-17.
Back in McMurdo...the Ocean Giant left the ice pier at around 0100 1 February and headed for Christchurch. And it turns out that the predictions of heavy ice conditions were correct. The ice pilot on the Ocean Giant reported:
It was a heavy ice year. Seventy miles of sea ice in McMurdo sound. From Beaufort Island to the ice pier. Did a bit of unescorted crunching barely making four knots at full power. Hooked up with the Polar Star off Cape Bird for a sixty plus mile transit in first year fast ice. First off...Polar Star did a fabulous job with channel preparation and transit execution. Can't say enough how enjoyable it was working with that Captain. He worked his way up the ranks, had a lot of boat driving experience and time on the icebreaker Mackinaw in the Great Lakes.
On the third, the tanker Maersk Peary took its place. If you watched the McMurdo pier webcam you could see how the offload was progressing--as the fuel was pumped ashore, the ship rose in the water. In the early morning of 7 February the tanker was departing--the photo at left is from 0255, and you can see that it is fully ballasted down with sea water. Shortly afterward the Polar Star moved briefly to the ice pier before heading north toward Lyttleton--to be the first Coast Guard icebreaker to call in New Zealand in decades because of the old nuclear weapons thing...here's the stuff.co.nz article updated 8 February, as well as this 10 February NSF press release and this 9 February press release from the U.S. Embassy in Wellington. This port call in New Zealand will save fuel and transit time, as otherwise the Polar Star would have to stop at Hobart, Tasmania.
Oh...also in 1 February there was a medevac--the second non-USAP medevac of this summer season. It seems that a 66-year-old Dutch woman had a stroke while traveling on the cruise ship MV Ortelius in the Ross Sea north of McMurdo. NSF announced that they would assist in the medevac (NSF press release). The cruise ship headed south, and on 31 January the patient was flown by the MV Ortelius's helicopter 60 miles south to McMurdo, from where she would be flown north on the 1 February C-17 flight to Christchurch. Here is the initial 31 January Christchurch Press article, as well as a 2 February update after she'd arrived in Christchurch.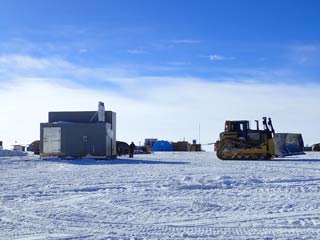 Things are winding down at Pole as it is about 2 weeks before closing. Folks are finishing up with landscaping after the old rodwell building was dug up and hauled off (right) and all but one of the old construction shop Jamesways were demo'd.
If the cargo operations are underway at McMurdo, that means there are less than 3 weeks left before Pole station closing. The last of the NGO skiers/kiters have completed their Pole trips...all except for Mike Horn, who is still heading north, now about 560 miles away from his destination at Dumont d'Urville. He's not dependent upon ALE or ALCI to pick him up...rather, his yacht Pangaea headed south from Perth on 29 January so he can continue the next leg of his travels.
Shipping updates...the icebreaker Polar Star was sighted on 16 January by some of the Polie winterovers at McMurdo for R&R. On the afternoon of 17 January it showed up on the webcam (left) approaching the ice pier...although it would do a bit more channel clearing work before docking. You can watch the activity in and around the pier by selecting the McMurdo Pier Camera from this webcam link...and if you don't see it, check out the 24 hour archive (slide icon). Also, this Coast Guard press release describes their voyage with more photos; it also notes that this year there was more than 60 miles of ice to break, significantly more than the 12-13 miles they found in the past few years.
And the research vessel Nathaniel B. Palmer, after passing the Bay of Whales as it cruised west along the edge of the Ross Ice Shelf (aka The Barrier as named by the early explorers, because that is what it looks like), arrived off McMurdo on the 19th but couldn't dock because the Polar Star was still taking on fuel at the ice pier. Here is Kris Perry's offshore view of McMurdo from the Nathaniel B. Palmer. By Sunday 22 January the research vessel had replaced the Coast Guard icebreaker at the pier. Not long afterward it departed for Lyttelton. The cargo ship Ocean Giant showed up on the 25th...and cargo offload is now well underway, as you can see from the webcam (28 January sample at right). The deck cargo has been offloaded, and they're digging into the holds.
Happy New Year! Yes, the holiday season was celebrated in a traditional manner, with the festive Christmas Eve dinner on the 24th...followed by the 2 mile Race Around the World on Christmas morning...and a holiday brunch. New Years Eve brought a major party in the gym...and the next morning the 2017 Pole Marker (right) was unveiled...UPDATE! The marker designer, 2016 winterover Warren Shipley, provided detailed information about the marker design...and more photos! Check this out!.
It's January...and that means that the shipping season is approaching. The cargo vessel Ocean Giant headed south from Port Hueneme on schedule on about 31 December, it will call at Lyttelton on the 17th; the tanker Maersk Peary was heading southeast after leaving the Gulf of Aden. It will call at Fremantle WA on 14 January before continuing to McMurdo; and the icebreaker Polar Star left its homeport in Seattle some time ago. It stopped in Sydney for a few days, sailed from there on New Years Day, and as of the fourth it was 30 miles west of Macquarie Island. It is supposed to reach the ice edge sometime the week of 8 January. AND...the research vessel Nathaniel B. Palmer is on a science cruise making its way west along the Antarctic coast from Marguerite Bay...scheduled to reach McMurdo around 20 January. Want to know what it's doing? Check out IT guy/friend David Pablo Cohn's blog as well as University of Rhode Island professor Tatiana Rynearson's science blog.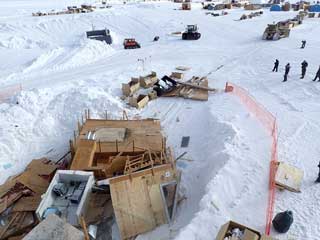 There are lots of projects happening at Pole this summer? Will they all get finished? One reason they might not is because as of New Years Day, Pole had received only 29 LC-130 flights...which is about half of what had been scheduled to date. Partly because of frequent mechanical issues, partly because the plan in recent years is not to have C-17 support during the middle of the season...meaning that the NYANG has to cover all of the flights between ChCh and McMurdo. And partly because of ??? Needless to say, the lack of Pole flights is seriously impacting fuel deliveries, science cargo...and mail. One project which does not require any construction material to be flown in is a major effort to demo or move old unneeded and drifted-in facilities in the vicinity of the summer camp. Including the former structurally unsound balloon inflation facility (BIF) which was undermined several years ago when the sewer bulb overfilled into the firn. One end of the cryo building was turned into the new BIF last summer, although there is some remaining work to do on that facility. Anyway, at left is what the old BIF looked like when it was safely pulled down with the D-7 (?) and some well-designed rigging. More photos are here...and I'll have more soon of the ongoing demo of the old construction trades shop Jamesways.
The first South Pole Traverse of three scheduled for this season showed up on 5 December...yes, Forrest McCarthy was along, and yes, he created this video! (Hmmm...as I wrote this on 14 December Forrest was already chilling out in Christchurch....) The second traverse showed up in time for the Christmas festivities and headed north on the 30th...hauling a bunch of those waste triwalls out.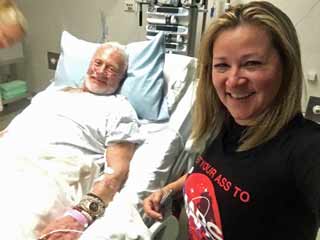 Buzz Aldrin, the second person to walk on the Moon and currently 86, was medevaced from Pole on 1 December South Pole time after suffering from apparent altitude sickness while visiting with a private tour group organized by White Desert. He was flown to McMurdo that evening and arrived in Christchurch the morning of 2 December. Here is my coverage with more photos.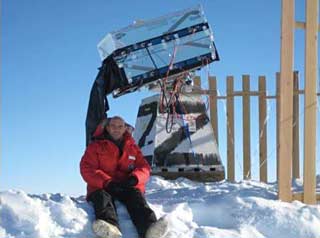 A new solar observatory...or perhaps an updated reprise of an older one. Georgia State professor Stuart Jefferies is leading a multinational team that will reestablish the "South Pole Solar Observatory" starting in December 2016 (Georgia State University press release). Stuart is no stranger to this stuff at Pole...this is his seventh visit, and the hero shot at left is from his previous Pole project in January 2008 (more photos from that visit). His first such venture was in 1987-88 with Marty Pomerantz, when they installed an upgraded optical system at the Pomerantz Land solar telescope site 5 miles east of the station (see this October 1988 Antarctic Journal article ). In 2002-03 and 2007-08, Jefferies was the principal investigator for what was known as the Jefferies Solar Observatory...more recently at a site in the dark sector about 2-1/2 miles west of DSL. The photo at left (from the Georgia State press release linked above) depicts Dr. Jefferies at that site. This first season of a 2-year project will send a total of six people to Pole over the summer to set up at the same location.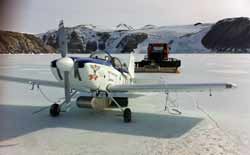 Another strange aircraft story just in...it seems that 61-year-old pilot Michel Gordillo flew south from Hobart on 1 November to begin a successful crossing of Antarctica in a single-engine Vans RV-8 kit-built aircraft (right, Michel's photo of the aircraft at Mario Zucchelli station. Note that he left his skis behind to reduce fuel consumption). In theory this was a scientific venture sponsored by the Andalusian Center for Environmental Research (CEAMA, based at the University of Grenada, Spain). He was carrying an aethalometer for them in an effort to collect carbon particles from the atmosphere. Supposedly the project and flight was approved by the Spanish Polar Committee, but it was NOT recognized by the American or British programs, nor by ALE, none of whom would have provided him with fuel had he landed at one of their airfields. In a way I can't blame them...a solo pilot in a small single-engine aircraft, with admittedly little fuel reserves...collecting upper air samples which are much more easily and safely gathered by NOAA and others.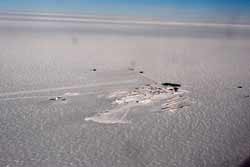 Michel was born in what was then French Cameroon, and gained his flight training and experience in the Spanish air force. On this trip, he arrived at the Italian Mario Zucchelli Station after a 16-hour flight from Hobart. He had ordered avgas to be delivered to him there from Christchurch, but after that flight was delayed he ended up using mogas. His weather window was 9 November, when he left for the 20-hour flight to Marambio. While he was offered emergency landing rights at several sites, none of them would grant him additional fuel. And he reported he was unable to contact Pole by radio...perhaps because of difficulties with his own HF radio. Given favorable tailwinds, he eventually landed at the Argentinian Marambio base (located on Seymour Island on the east side of the Antarctic Peninsula). With two hours of fuel reserve remaining. In any case, at left is his photo documentation of his Pole overflight, looks to be in the afternoon of 9 November. Here's his detailed blog entry where he describes his flight across Antarctica, as well as this news article from the Hobart, Tasmania Mercury.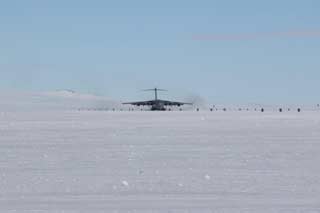 15 November...after 15 months of work by half a dozen folks, the first C-17 flight landed at the new Phoenix runway (right)...twice, in fact. All part of the certification process, which is now successfully completed. Info and photos...
News from the north...includes the severe earthquake that struck New Zealand at 0002 Monday morning 14 November. At 7.8 on the moment magnitude scale, it was rated more severe than the ones that devastated Christchurch in 2010 and 2011, but as it was centered in a more rural area between Hamner Springs and Kaikoura on the northern South Island, there was less severe damage. Still, several people were killed, and damages were significant, particularly in Kaikoura, an East Coast town I'd visited in January 2014, as the main coastal state highway and rail link was severely damaged. Two links...this national article from the Christchurch Press, and another from the New Zealand Herald.
A few days before the earthquake (and as US election results were becoming known, secretary of state John Kerry made a brief visit to McMurdo station. He arrived in ChCh at 1730 Wednesday evening NZ time. The next morning (Thursday 9 November) he met with the NZ foreign minister in the morning and spent time at the Antarctic Centre and CDC clothing issue that afternoon. He flew to McMurdo on a C-17 on Friday morning. Here's the NSF press release and the Press article about his Wednesday Christchurch arrival . Immediately after his C-17 landed at McM early Friday afternoon, he and his entourage of about 13 press and staff (50 more members of his entourage had been left behind in Christchurch) were to board an LC-130 for a flight to Pole, but that was scrubbed due to weather. So he was given a helicopter tour of the Dry Valleys, visited other McM and Scott Base facilities and historic Ross Island huts, spoke for about 40 minutes to a crowd of about 450 folks in the galley on Friday evening, and later attended a smaller gala reception in the Chalet.
He flew back to Christchurch on Saturday 12 November (12 November Christchurch Press article), continuing almost immediately to Wellington where he met with Prime Minister John Key as well as Embassy staff. A few hours before the earthquake he flew to Oman en route to the United Nations COP-22 in Marrakech, where he was expected to speak. Here's the State Department page with full details of Kerry's trip, a link to all of the State Department photos including the ones I've used above, and a 14 November commentary article from the Washington Post with a few more photos.
A couple of days before Kerry's visit, author Kim Stanley Robinson spent a bit of time in McMurdo and also addressed an assembled crowd. He'd previously visited McMurdo and Pole with the Artists' and Writers' program in 1995-96 when he was digging up stuff for his somewhat prophetic work Antarctica. This time his visit was more of a media event, as he was researching the 1911 winter journey by Apsley Cherry-Garrard, Edward Wilson, and Henry "Birdie" Bowers to Cape Crozier to collect an unhatched penguin egg, for a Smithsonian article. He went with Elaine Hood to the site of the "stone igloo" which is well described in Cherry-Garrard's book The Worst Journey in the World. At right, he's seen with Chalet administrative secretary Liz Sutter (photo courtesy Liz Sutter from the "Great Race" website)
After the transiting aircraft, the first "real" summer flight from McMurdo was a Basler which showed up on 27 October with 8 summer folks; it took 6 winterovers north. The opening flights this season seemed to be a bit different...a few years ago there were serious efforts to schedule early arrivals on a Basler before the first Herc, but after their flights kept getting cancelled, an LC-130 actually made the opening flight. This year...there was a second Basler on 29 October, and the first LC-130 didn't show up until 2 November, followed by another Basler. At present (15 November) the LC-130 flights continue to be severely delayed.
22 October was a sad day for the US Antarctic Program...Gordon Hamilton, a 50-year-old glaciologist from the University of Maine, died after the snowmobile he was driving hit a crevasse and fell 100 feet down. This occurred at the Shear Zone, 25 miles south of McMurdo, where the Ross Ice Shelf meets the McMurdo Ice Shelf. As both of these shelves move in different directions, the area needs to be remediated by exploration, blasting, and other means before the South Pole Operational Traverse can journey through the zone with fuel and other supplies for Pole. At the time of the accident, Dr. Hamilton's science team was camped about 200 yards from the traverse remediation team, so it was a sad day for all concerned. Here is NSF's 23 October press release, a 24 October Washington Post article with an excellent photo of Gordon, and a more reflective article about Gordon from the New York Times.
At Pole...the isolation is over. The first Basler landed on 11 October as documented by Darren Lukkari (left)... followed by a Twin Otter soon afterward. These aircraft were transiting from Rothera to McMurdo; the Basler headed north after refueling while the Twin Otter stayed overnight.
News from Colorado...starting on 11 October, many of the winterovers gathered at the YMCA in Estes Park for a few days of team-building stuff, to be followed by fire and/or medical training...after which many of them will be flying south. I met a few of them in Denver the day before.
Summer is coming...and surprisingly the first two McM main body flights, scheduled for 3 and 4 October, were NOT delayed by weather! And the Kenn Borek Air flights (two Baslers and one Twin Otter) are still scheduled for the 11th. In slightly different flight news, the long-time private company operating the Union Glacier camp/runway mainly in support of private expeditions, has completely rebranded itself as Adventure Networks and Explorations (ALE), getting rid of the former Adventure Network International nameplate of the company created by Giles and Anne Kershaw. Here's their company announcement.
And who might some of this summer's private expeditioners be? As far as I know, there is now only one website that is continuing to track them...this one.
Another unique sign of springtime at Pole--frequent NOAA ozone balloon launches. At right is a time-lapse of one of the launches (from about 14 September) showing the balloon illuminated by the glow in the sky. This was created by IceCuber Christian Krueger and shared on the NSF polar programs Facebook and Twitter accounts.
Hopefully the final bit of news from Whidbey Island, WA on this sad subject--the final appeal process for Al Baker ended on 15 September (without his knowledge, presence, or consent). He's been resentenced to the same 52-year term that he originally had received. Details in this 21 September Whidbey News-Times article.
And if the summer aircraft season is approaching, it must be the peak PQ season. Hmmmm, this just in from usap.gov.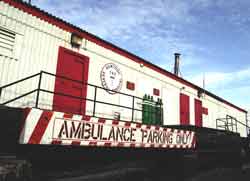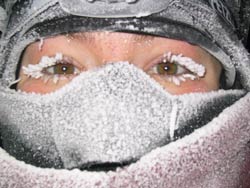 On a more significant medical note, on 13 September NSF and NASA announced a joint medical collaboration, which will sponsor medical research, development and training in extreme polar environments (the NSF press release and the NASA press release). On the NASA side this will be a part of their Human Research Program to reduce the physical and mental risks of space operations on the humans who go there; on the NSF side it will mean that NASA flight surgeons will rotate through NSF's Antarctic clinics (at left, from the NSF press release, Peter Rejcek's 2006 photo of the McMurdo clinic), providing additional assistance and expertise. There will also be physical and psychological studies on volunteers in the Antarctic community. The photo at right, from the NASA press release, I recognized immediately as I'd seen it before. That's Christina Hammock Koch whom I wintered with in 2005...now she's an astronaut! She assured me this was a selfie although that term wasn't in use back in 2005.
No more winfly? That's hinted at in this Antarctic Sun article. The 2015 winter saw flights to McMurdo about every six weeks; plans for next winter call for more frequent flights, perhaps once a month--this would negate the requirement for an early season cluster of flights. In other flight-related news, the new Phoenix runway at McMurdo is undergoing final shaping, leveling and compaction...with certification scheduled for November. Shortly after that occurs, Pegasus will be closed. As for Pole, preliminary work for opening the station has begun. The schedule now calls for two Baslers and one Twin Otter to show up from Rothera around 11 October en route to McMurdo.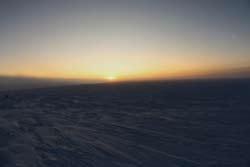 Here comes the sun! As documented at left by UT Darren Lukkari on 21 September...actually above the horizon. Interestingly, it made a brief appearance on the 7th, while still 5.9 degrees below the horizon, thanks to ducted refraction produced by an unusual bit of strong thermal layering. It only lasted a few minutes...a strange teaser. Oh, around the same time, network engineer Adam Jones was caught heading to his A1 room (right) in shirt sleeves...well, the temperature WAS in three digits. What for...well, the construction crew is replacing the floor in the second floor hallway, and the inside hall was blocked off during working hours. As documented in this IceCube weekly news report with photos by Christian Krueger. There's also his shot of that refracted sun. In the previous news report, Christian had shared this time-lapse video of removing the window covers at the end of August. (All of the recent IceCube weekly news reports are available here.)
Sad news from Australia--Anton Brown, the 2015 winterover machinist, passed away on 6 September. He was 57. Here's the brief obituary from the Perth newspaper. He, of course, created the present/2016 Pole marker; I have a few photos of him on this page.
Early in August, an intrepid multinational construction crew got together and erected...a massive igloo. Large enough to sleep five and keep them warm and toasty (well, about 0ºF/-18ºC). And then it was demo'd. Story and photos here.
Yes, as of 16 August the USAP Antarctic support prime contractor is now Leidos. Huh? The details...and of course an updated jobs page.
23 August...the first of five WINFLY flights landed at Pegasus at 1216 on 23 August (left), ending the long winter--or perhaps not exactly, as McMurdo had regular flights every six weeks or so through the winter. This flight was the Skytraders A319 Airbus (left, photo from Antarctica New Zealand). There will be a total of five flights, two more using the Airbus and two using a C-17.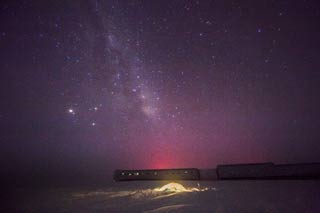 Construction update...the winterovers began construction of the new berthing structure the last week in July...uh, yeah, it was an igloo. It was completed on 7 August, and occupied overnight by FIVE intrepid winterovers. At right, a photo of it showing it glowing from the intense interior illumination. More information about its construction, occupation, and rapid demise--with more photos/credits--here thanks in large part to one of its architects Darby Butts.
On 29 June, the GOES-3 satellite, which had been used by USAP for 21 out of its 38-year life, was decommissioned...only to be officially replaced by that much-faster DSCS-3 bird (more details).
Ulp...my move to Boulder has been, er, moved up, hence not much time to update things. For now, a bit more info on the medevac is here as well as in the summary updates below.
Update at 0100 Thursday SP time/0900 Wednesday US Eastern time...NSF announced that the aircraft had departed Pole. Based on the time of the announcement, I'm guessing that it took off some time after 2300 Wednesday. The NSF DPP Facebook post included the photo at left of the flight operation...taken by Robert Schwarz. No word on the number of northbound passengers.
Update at 1300 Wednesday SP time/2100 Tuesday US Eastern time...the Twin Otter arrived at Pole about 4 hours ago after a 9-hour flight from Rothera. It will stay there at least 10 hours for crew rest...after which the weather conditions will be evaluated for the trip north. The NSF Division of Polar Programs Facebook page is providing the most recent updates, and it should be available even if you are not a Facebook user. Current Pole temperature is a balmy -72ºF/-58ºC.
Medevac updates...the two Twin Otters, each carrying two pilots, a mechanic and a medic, stopped briefly at Centennial airport (near the Denver ASC office, on Tuesday (14 June) Denver time. They then made stops in Texas and Ecuador as they proceeded south to Punta Arenas, which they had reached by Saturday 19 June. On 20 June US time, NSF released a news update, announcing that the aircraft had reached Rothera. They had departed Punta Arenas early that morning local time. Currently they are waiting for good weather for one of the aircraft to make the 10-hour flight to Pole. Two other news updates--one is this updated Washington Post article (originally published on 16 June) featuring an interview with Kelly Falkner (NSF polar programs director)...she indicated that perhaps two ASC workers might be flown out. Also...here is a 21 June mashable.com article with additional info.
Yes, there is a medevac underway. NSF made the public announcement on 15 June SP time, after the two Twin Otters from Kenn Borek Air headed south from Calgary. I really don't know much else other than what is in that press release. This will be the first such medevac since September 2003 when Barry McCue was flown out (link to my coverage). Two years earlier there was the late April 2001 medevac of physician Ron Shemenski...during which the on deck temperature was around -92ºF/-69ºC. Here is my coverage of that event.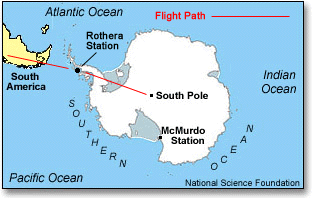 Details of the medevac are of course dependent on the weather as well as on the patient's condition. As of the press release, the earliest planned arrival of the Twin Otter at Pole could be 19 June. The flight will require extensive work by the winterovers to prepare the skiway, fueling equipment, etc. At right is an old NSF map of the medevac route from South America to Pole via the British station Rothera on the Antarctic Peninsula. Here is an article from the phys.org news site which gives a bit more background on the evolution.
Another Polie in the news back home...equipment operator Bruce Tischbein, who has been on the ice since last August, has a feature page on the Zionsville IN Current in Zionsville site. Zionsville is a northwest suburb of Indianapolis.
Lots of satellite news in June! The good news is that the DSCS-3 satellite is now in daily use...although this is presumably still in "testing" mode, as this satellite is not yet listed in the online satellite pass schedules. It is considerably faster--with bandwidth approaching 30 Mbps, significantly better than the 1.5-5 Mbps typically available previously. And its visibility fills in part of the gap between the other satellites, thus extending the daily satellite window from 10-11 hours/day to 14-15. On the flip side (perhaps) of the coin, it was just announced that the GOES-3 satellite is being decommissioned, beginning on 8 June per this blog post from the University of Wisconsin-Madison. The loss of GOES may not be such a big deal, as it has been the slowest of the satellites currently in use...and its visibility window mostly coincides with that of the various faster TDRSS/SPTR satellites. On 15 June it was being moved to a "trash orbit."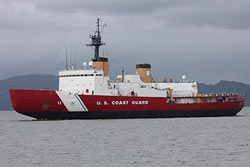 Elusive icebreaker sighting...on 23 May the Polar Sea was observed heading down the Columbia River at Astoria. What you don't see in this photo (left) are the tugboats providing the motive power. The inactive icebreaker was being towed back to the Coast Guard base in Seattle after a five-month yard period at the Vigor shipyard in Portland. This included survey, additional mothballing activity, and presumably an effort to update the cost estimate to put it back in service. Here's the Daily Astorian article (the source of the photo seen here) with link to video ; despite the tone of the article, the vessel is NOT headed for the scrapyard...no such decision has been made. Also, this article from the Puget Sound Business Journal depicts the Polar Sea in drydock, discusses the prospect of future icebreaker construction...and mistakenly identifies the vessel as the Polar Star. Oops.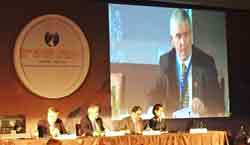 The 39th Antarctic Treaty meeting, running from 23 May through 1 June, is underway in Santiago, Chile. As with the last couple of meetings, the event is mostly below the news radar...perhaps not a bad sign. Anyway, at right is a 23 May photo from the opening day of the meeting. This photo of the first day of the meeting is from Lisa Kelley who is there as part of the IAATO delegation...and yes, she also was the Palmer winter manager in 2010.
The end of May...things are quiet at Pole...well, mostly. Lots of noise about the auroras. Robert Schwarz continues to show them off as he does so well, and he's even added a Facebook page South Pole Skies that anyone can see, you don't even have to give Mark Zuckerberg your vital information. On 15 May, the thermometer dipped below the -100ºF mark...and actually was there for about 3 days. I actually won a guessing contest for this date...well, all I did was pick the middle of the most common month for the first 3-digit temperature. It got close to -105ºF...not sure of the exact measure, but the documentation at left (from Lindsey Clark) must be close.
On 7 April 2016, NSF announced that the new "alpha runway" (right), under construction near McMurdo last season, would officially be named "Phoenix Airfield." Plans are for it to be completed, certified, and in use in 2016-17. The full story and background.... Meanwhile, at Pole, as the remaining twilight faded, the station windows were covered the first week in April. By now (late April) it is really dark, but in late March it was still light enough for Robert Schwarz to create an awesome TWO WEEK timelapse of an entire lunar cycle--the moon rising, circling the station, changing phase, and then slowly setting. You MUST watch it!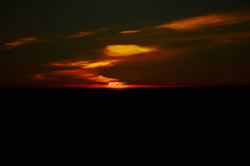 The sun finally set on 24 March, after its usual dilly-dallying around...and after presenting a rather spectacular display. At left...an excellent shot by Darby Butts which shows the green flash. He blew it up, here's a larger version of the green flash.
Satellite update...starting this past austral summer, tests were conducted on another aging military satellite--one of the DSCS-III satellites that is slowly slipping away from an exact equatorial orbit. Not the first time these were considered...their use was mentioned back in 1999 (NSF meeting proceedings)...one conclusion of that discussion was to consider running a fiber optic cable north, perhaps as far as Concordia station at Dome C. Nothing came of that (fortunately perhaps). But now in with the satellites in use continuing to fail, and communications requirements increasing, the DSCS-III is again being considered (Wikipedia article and diagram). Currently it only reaches about 1 degree above the horizon, but when it is a bit below the horizon it sometimes can still be seen due to something similar to the refraction that makes the sunsets last longer. So far no timetable on its use...but here is a September 2015 Federal Times article about the current satellite situation and the proposal to use the Air Force DSCS satellites.
Updates on the pending prime contract changeover that I first mentioned here last July: On 26 January 2016 Lockheed-Martin and Leidos Holdings announced that Leidos would take over the Information Systems & Global Solutions (IS&GS) unit from L-M in some sort of tax-free deal worth about $5 billion. IS&GS is principally L-M's IT operation, but it of course includes the USAP contract. Here's a 26 January Denver Post article highlighting the deal, a 28 January FCW article which provides more detail on what Leidos is taking over, and a 26 January Leidos press release. I understand that there still are some details to work out regarding such things as the building and the data center, but the takeover is supposed to be complete by October. No changes are expected in the subcontractor structure.
Meanwhile back in Chicago, the South Pole Telescope folks were working on a new and enhanced microwave-sensitive camera, the SPT-3G (third generation)...which will have 16,000 detectors--10 times more than the presently installed instrument, and weigh 4 times as much. It will be used in the continuing investigation of gravity waves and measurement of neutrinos. The instrument will be installed in 2016-17...see this University of Chicago news release, a February WTTW Chicago Tonight article, and Brad Benson's 2014 paper about the instrument. At the same time, the SPT is moving forward to become a part of the Event Horizon Telescope array.
On 30 March, the US Air Force issued this press release announcing the successful completion of the 2015-16 Operation Deep Freeze--the 60th anniversary! Yes, shortly before Christmas Day in 1955, the first few Navy folks were setting up their tents next to Scott's Hut on Hut Point, in preparation for construction of what would become McMurdo Station. The press release includes some high resolution photos of some of the aircraft and vessels involved in this past season.
The closing flight did happen on Tuesday 16 February. Leaving behind 48 souls. A bit larger crew than in the past couple of years, in part because of the fairly major winter project to level and clean the fuel tanks in the arch. The closing was actually planned for Monday the 15th...it showed up...but visibility was too poor for it to see the skiway...or for folks on the ground to see the aircraft. So...one day of delay.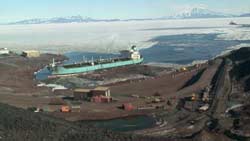 7 February, and now it is tanker Maersk Peary's turn to be almost finished with its mission as seen in this webcam image (left), riding high in the water. The Polar Star lurks in the background. At Pole, the remaining winterovers have been arriving as summer people pack up and the temperatures start to dip below -40º. The stuck Herc finally was repaired, it departed on 27 January, while the broken Twin Otter left on 3 February.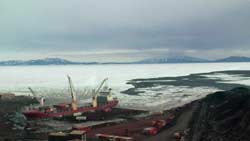 1 February...the Ocean Giant was finishing up loading the retrograde cargo and trash (left)...I've been watching the webcam photos and most of them have been cloudy or hazy. This is one of the better ones...but better yet is this 4-minute YouTube timelapse video of the Ocean Giant evolution, filmed by Merchant Marine Academy (Kings Point) cadet Tanner Evans (with no less than 6 GOPROS). At Pole, the ALE tourist camp was being dismantled on 17 January, but the visiting season is not quite over yet. Emma Tamsin Kelty, with Chilean guide Pachi Iberra, are still en route, they should arrive in a day or two. And the next visitor hasn't left Australia yet. Charles Werb is about to embark on a "snow sail" to Pole...after first being driven several hundred miles south of Novo by Arctic Trucks folks. Hmmmm. (Update...he made it to Novo but not to Pole...details here.)
29 January...an interesting period for Pole flight operations...or the lack thereof. There have been few flights for various reasons--one of which is the fact that at this time of year the primary effort is to recover folks who have been at field camps...another of which is that some of the LC-130's aren't working. One of these was stuck overnight at Pole--on 18 January it boomeranged and returned due to bad weather at McMurdo. The next day...the crew had timed out on flight hours, and then folks couldn't get the aircraft started.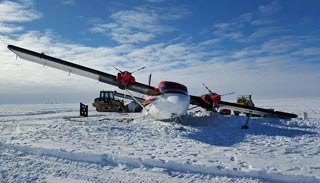 Then on 20 January, a Twin Otter taking off for Rothera en route to Calgary at the end of its charter, lost a ski while taking off, prompting a "this is not a drill" station emergency response (right). No one was injured, but all flights were shut down for a couple of days for the accident investigation and repairs (more info/photos). As a result, there were people sleeping everywhere. Finally on 26 January a Herc arrived, and the population dropped back to 156 (remember the max is supposed to be 150). As of 26 January the broken LC-130 was still there.
Meanwhile in McMurdo...the tanker Maersk Peary arrived on the 21st, while the Polar Star is also still hanging around, with some of its activities hampered by engine problems. Here's a series of articles about the mission, posted by freelance writer Brandon Reynolds for KQED--the 22 January article describes some of the propulsion issues.
Antarctic death...Henry Worsley, who visited Pole a few weeks ago on his crossing from Shackleton Bay to Shackleton glacier...was evacuated a mere 30 miles from his destination on 22 January...and died in a Punta Arenas hospital on the 25th. More details here.
Some older items of interest (other old news is in the archive):
WIRED magazine has a feature article on Jerry Marty, Carlton Walker, and the station construction in the July 2002 issue. Read about the settlement problems...why the place wasn't considered fit for occupancy for the 2002 winter.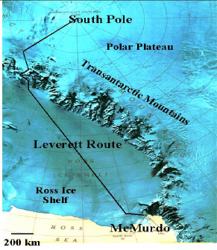 Pole land cargo traverses in the works...in October 2002 NSF flew a specially equipped D8 from Christchurch to McMurdo aboard a C17...this equipment was be used to prepare a road south towards the Leverett Glacier, eventually hopefully to Pole. This is to augment the LC-130 flights for station construction cargo as well as for ICE CUBE and forthcoming science projects. More information...
Another new science project...in 2002 a 10-meter submillimeter telescope (up from 8 meters!) that will search for new galaxy clusters and study dark energy. Plans were to attach it to the DSL (dark sector lab) University of Chicago press release. It was originally scheduled to have a ground shield that is larger than the Dome (built by Temcor, the same company that built the dome...). The telescope was completed in 2006-07, and the huge ground shield was eventually cancelled.
On 8/13/02 NSF had a meeting with potential contractors and suppliers for a possible fiber optic cable to Dome C. Yes, you read that right (news article). Since Pole is way below the horizon for the commercial geosynchronous satellites, one option is to run a cable about 1050 miles to the newly constructed French/Italian Concordia Station at Dome C. (This station is scheduled for full-time occupancy next winter.) The project calls for several years of studies and trials, with the actual stuff involving traverses to get the cable to Pole and Dome C as well as along the route.
Back in mid March 2002 two other iceberg events happened. First, there was another piece of the Thwaites Ice Tongue (75°S-108°W) about 2100 square miles (NOAA press release) which got designated B22. And then there was the collapse of another hunk of the Larsen ice shelf east of the Antarctic Peninsula. The Larsen Ice Shelf B disintegrated within the past couple of months, as evidenced by photos and animations from the NSIDC in Boulder, which also has links to other coverage. The BBC has an excellent article about both events.
Check out the amazing panorama of the inside of the dome by Marc Hellwig--seen here on Dana Hrubes' April 2001 page--warning it may make you dizzy!
The venerable New South Polar Times mailing list moved to a home on Yahoo, thanks to 2001 w/o science tech Andrea Grant. There have been no posts in the past few years, but the archived posts are here.
The American Society of Civil Engineers (ASCE) had a major feature on the Pole construction in their December 2000 magazine, including articles by Frank Brier and Jerry Marty. That section is no longer online, although I did archive the original article by Dennis Berry and Forrest Braun (BBFM Engineers, Anchorage) which features the details of foundation design and the jacking systems.
Here is the link to my 1999 Doc Jerri medevac coverage. The spectacular April 2001 medevac flight to Pole is covered here. And my archive of other news, links to press releases, and older media coverage is here.
Other Antarctic news sites...
Pythom.com has pretty much supplanted the Explorers Web site. Both continue to be operated by Thomas and Tina Sjogren, the "Wearable" expedition folks that trekked to Pole in 2001-02, as well as Correne Coetzer, who also made a ski trip to Pole in 2006-07. They are up to date on all the Pole NGA ventures as well as Vinson, Everest, the North Pole, and other similar attractions, and they have an excellent guide for planning your own stroll to Pole.

Brendon Grunewald's old 70 South news site has evolved into the Polar Conservation Organisation, but it still features lots of Antarctic and related news from everywhere, updated daily by anyone, yes, you too.

The Antarctic Sun is extremely prolific of late. The current editor is Peter Rejcek, a 2004 Polie winterover. Sun archives run back to 1996-97, the final year when the McMurdo newspaper was a Navy publication, the Antarctic Sun Times. Before then in the old days it went by other names....here is the story.

NZ Antarctic Philately pages by Steven McLachlan . The news page features many current events, including many pictures from the various private expeditions at Pole this past summer. He also has information on the 99-00 cruises of the Polar Duke south of NZ in support of German and Italian science projects, 98-99 construction of the new base at Dome C...

The Australian Antarctic Division (AAD) published biweekly newsletters on NGA (private) expeditions, cruises and tourist events. Unfortunately this was discontinued in May 2003, and the archives are no longer available. But they do feature a separate news page for the official Australian program.

The NSF Polar Programs (PLR) page contains links and a search engine. Most recent press releases are also here, scroll to the bottom.

The rest of the story... can now be read online or offline in the newsletter of the Antarctican Society. Highly recommended. Here is the latest contact info as well as the historical background about the group.

[top] | [home]
WEATHER
The weather...How cold is it really? F or C? Real-time data is still out there in a few places if the satellites and automated weather stations (AWS's) are up. Try your luck, some of these sites might be working now. Unfortunately what all of these automated sites lack is, after all, the WEATHER! The new station has WINDOWS, unlike the old met office in the dome, but the met person still has to walk outside to see everything that is going on.

A current Pole weather page complete with the sat photo, with thanks to Steffen Richter!
The BAS folks have a comprehensive met section with links to weather at Pole and other major stations.
From NOAA, current Pole weather! (ignore the error messages)
from NOAA, various data is here, lots of newer stuff!
from NOAA, detailed hourly and minute-by-minute data from 1975 to...last week (update)! (FTP site)
Also from NOAA...here's their detailed index to ALL the met and atmospheric information from...everywhere.
from the NICO AWS 70 miles east of Pole (here's the graphical view).
HENRY, 70 miles north. Take your pick (graphical version).
[the "Clean Air" AWS at Pole was removed in January 2005]
Forecasts from the Weather Underground based on Pole data (best) and the NICO AWS.
Here's the Willy Field AWS near McMurdo (graphical view)
McMurdo weather (Weather Underground)
The Palmer (Bonaparte Point) AWS: text and graphical
Palmer Station forecast from the Weather Underground
The sunlight/twilight charts for Pole (or anywhere), from 2004/06/08 AMANDA/IceCube w/o Ethan Dicks
The current time with a graphic view of the day-night terminator from space
The U. S. Naval Observatory has many calculators for sunrise/sunset, twilight, the moon, planets etc...
Peter Guest, meteorology professor at the Naval Postgraduate School in Monterey, CA, has an extensive page
of polar met resource links...as well as information on his polar meteorology course
A historical South Pole weather page prepared by meteorologist Lis Grillo in 1996
A new 2012 paper from the Wisconsin AMRC met people, "Fifty-year Amundsen-Scott South Pole station surface climatology",
by Matt Lazzara, along with Linda Keller and recent w/o meteorologists Tim Markle and John Gallagher

(here are links to the Antarctic Meteorological Research Center (AMRC, University of Wisconsin) data pages: home page and station map) with links to current and historical data, photos, and other information about all of them.

(Tricks: some wind speeds are given in meters per second. One m/s is about 3.6 km/hr, 2-1/4 mph, or 2 knots. Also, they may use a Julian date, this is the sequential number from starting from 1 through 365 or so. For example, 07031 is January 31, 2007.)
Now about those satellites...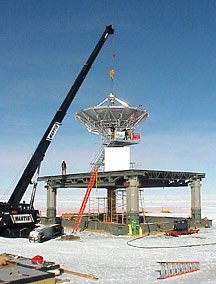 For most of this decade until October 2008, things were simple. Pole used the MARISAT/GOES terminal, originally constructed in 2000-01 (left) to communicate with 3 satellites that used to be geosynchronous...here's a May 2000 Christian Science Monitor article about one of them--MARISAT. The RF building and MARISAT/GOES terminal 1 mile south of the station were first turned on in 2001, but they suffered through cold weather mechanical and electronics problems off and on ever since. A radome was added in 2004-05 (photos), but that didn't cure everything...during the 2008 winter the gear drive system failed again...but this time a MacGyver effort by the satcom tech and station mechanics got things rebuilt and running (Antarctic Sun article).
As for the satellites themselves, since they were old the orbits wobbled so the station could see them a few hours a day. MARISAT-F2 (Maritime Communications Satellite), GOES-3 (Geostationary Operational Environmental Satellite, as it was a NOAA weather satellite), and TDRS-1 combined [the links for individual satellites here are to Wikipedia articles] gave a window of almost 12 contiguous hours per day with an original theoretical 5 MBPS transfer speed, which has been upgrades several times over the years to more than 60 MBPS. Most of the increased bandwidth goes to data transfer. The oldest of these three, MARISAT-F2 was decommissioned in October 2008 after deterioration in its telecommand link (Antarctic Sun article). This cut the total window by two hours and the bandwidth by a bigger percentage. A year later in October 2009, the TDRS-1 satellite (or TDRSS-1, depending on the NASA contractor and acronym you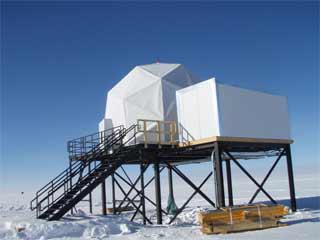 prefer--TDRS is Tracking and Data Relay Satellite and TDRSS is Tracking and Data Relay Satellite System) also disappeared from service. The last TWTA (traveling wave tube amplifier) failed, and NASA moved it to another temporary orbit for decommissioning. The last day of service was 21 October 2009 NSF announcement and (Spaceflight Now news article).
During the 2009-10 summer some field tests were conducted using the Intelsat/Paradigm/Astrium-operated Skynet-4C British military satellite, which was slowly increasing in visibility at Pole. Here is the October 2009 contract award announcement, a 2010 announcement from Intelsat, and a more detailed 2010 Intelsat report on the initial testing (interestingly, these satellites use the Oakhanger ground station southeast of London in the UK--while working for Ford Aerospace I visited that station in 1980 as part of a US Air Force satellite contract I was then involved with...and Philco-Ford,
a predecessor to Ford Aerospace, actually manufactured the first Skynet satellites in the 1960s). The Pole equipment was designed, some equipment was bought (January 2011 SPAWAR request for information), a dish and receiving system was installed in the large radome with the GOES dish during the 2011-12 austral summer (Skynet and GOES are in opposite directions), and USAP bought time on the satellite. But when the installation was completed, the satellite could not be located. Turns out that the Skynet orbit had been adjusted so that it was behind MAPO, so the earth station would need to be relocated. Instead, arrangements were used to use a different satellite from the same family, NATO-IVB, and tests were conducted successfully during the 2012 winter. It is currently accessed using the antenna in the GOES radome (left, photo from Bartley Davis). This satellite is currently providing a T1 (1.5 Mbps link) for at least 4 hours a day...and it now appears on the various satellite uptime schedules and scrolls (such as this one). NATO-IVB was launched from Cape Canaveral in 1993, here's a generic photo from Astrium. The SKYNET-4C is still available for use as well, but this would require a new antenna installation at Pole.

Until midwinter 2016, in addition to NATO-IVB and various TDRSS satellites, Pole was using GOES, which provided a 1.5 Mbps inbound and 1024 Kbps outbound data rate for about 6 hours a day. But during 2015 tests were conducted on a DSCS-3 satellite which was slowly drifting into view. Then, on 29 June 2016 NSF announced that the GOES-3 satellite was being decommissioned...and being replaced by the much-better-bandwidth DSCS-3 satellite. More information on that is here. As for the shrinking constellation of NASA TDRSS satellites--they have been TDRS F3, TDRS F4 (until it was retired in 2011), TDRS F5 (scheduled for retirement in November 2014--August 2014 USAP service announcement), and TDRS F6 via a second antenna terminal, the SPTR-2 (South Pole TDRS Relay) link completed during the 2008-09 summer (right, a construction photo from Dave Smith; here are more), and here is an April 2009 USAP page with a link to an Antarctic Sun article--lots more info. These satellites often are available for much shorter periods on an ever-changing schedule, and at a greater expense to NSF. They provide a 5 Mbps IP data link, and a separate 150 Mbps one-way (northbound) link for bulk science data. Not all of the "above-the-horizon" time (what typically appeared on the old scroll satellite availability page) is actually available to USAP--the program aims for about 4 hours per day, and at the time this created a complex daily scheduling job for a friend in Denver.

A significant upgrade to what we once knew as the MARISAT-GOES terminal is planned for 2016-17 to improve its capability to handle DSCS-3 traffic.

In addition to the larger geosynchronous satellites there is, of course, Iridium, which is always available for official/emergency phone calls. Additionally there is a data link consisting of 12 Iridium phones, each capable of a 2400 bps data link, which are multiplexed to produce a 28 kbps data link. This is used for 24/7 email (for small emails <50k or so). Other resources linked here:

-the recently upgraded and enhanced USAP satellite information pages with links to the weekly satellite schedule PDF file (which requires Adobe Acrobat or reader for access) and even more geeky information.

-a brief NSF 2006 Powerpoint presentation by Erick Chiang and Pat Smith, titled "Data Communications Supporting Astronomy/Astrophysics at South Pole Station" which addresses the conditions and future plans at that point in time.

-a May 1995 report by Bob Loewenstein, Bill Smythe, and Brent Jones, Science Requirements for South Pole Station Computing and Communications. Some interesting facts, figures, and historical background. 1 GB/day of data transmission--hmmm, where would that leave IceCube?

[top] | [home]
SPORTS (?!)
The 2016 Antarctic Treaty consultative meeting (ATCM XXXIX) was held in Santiago, Chile between 23 May and 1 June. Interestingly (or not) I saw absolutely NO media coverage...and a review of the papers presented confirmed the reason for the lack of media interest. Something I always look for are the Russian reports on the Lake Vostok drilling, but due to budget cuts, there wasn't any field activity, and their only report was this technical paper about drilling fluids. The 2017 meeting will be 22 May-1 June in Beijing, China. Here is the official Treaty home page. From there you can navigate to the final reports, or you can search the various meeting papers by selecting the "Meeting From/To" and/or the submitters.
Nowadays there are a number of commercial marathon/ultramarathon ventures in the Antarctic...most commonly sought out by people who want to complete a marathon on all seven continents:
As for nongovernmental visitors to Pole, the 2011-12 season was the biggest ever for Pole, as it had been the centennial year of Amundsen's and Scott's arrival at what has been called an "awful place." But folks continue to show up. There are two principal tourist operators--flights from Punta Arenas to Patriot Hills (nowadays Union Glacier instead) and beyond are operated by Antarctic Network International (ANI)/Antarctic Logistics and Exploration (ALE). ANI continues to be actively booking tourists. The other operation is based out of the airstrip at Novo (Novolazarevskaya), a Russian base which is served by flights from Cape Town. It is operated by Antarctic Logistics Centre International (ALCI) and The Antarctic Company (TAC). These organizations do not appear to be seriously booking private tourist flights at present, but another British based company White Desert, has established a tourist destination "Whichaway Camp" near Novo (no, nowhere near the Whichaway Nunataks) with penguin colonies and mountains nearby. TAC also operates its "Oasis" guesthouse about 10 miles from Novo at Schirmacher Oasis. Novo is a 3000m blue ice runway originally built by ANI near the Russian Novolazarevskaya base, in the past it was known as Blue One, and on some maps you may see it designated as "White Desert." Perhaps the most serious travel agent booking Pole trips is the Chicago-based company Polar Explorers...they are booking trips to Pole via PA/Union Glacier for US$45,000 ex PA.
Here's the current listing of NGO treks/ventures planned for 2016-17 or later years...(expedition links from previous seasons are on the news archive page; see these links).
HAPPENING (underway or likely this season):

Arctic Trucks

had another big season underway, but I was not aware of it until I saw this photo (by Sheryl Seagraves) of several of their vehicles at Pole on 13 December. That is their most ambitious project which they're calling only "film support," although a friend on the second South Pole Traverse who passed them said that their project involved National Geographic. They reported that they were taking 3 Hilux AT44's (two 6x6s and one 4x4) on a round trip from Union Glacier to McMurdo, although the photos I've seen also show that they had a minivan along...I originally thought the minivan was also a Toyota product, but no, it was a Hyundai Santa Fe. Featuring Ernest Shackleton's great-grandson Patrick Bergel. They were very secretive...the venture details about their return trip from Union Glacier to McMurdo were not revealed until 20 April 2017. Here's the venture website, as well as a news article from the Daily Mail. That trip is 700 miles from UG to Pole and 995 miles to McM along the traverse route each way, for a total of about 3400 miles round trip, with 4 people. Plus, one of the vehicles made an extra trip earlier in December to drive 250 miles out along the traverse route to pick up ailing Aron Anderson and his guide Doug Stoup...who were then driven to the last degree start point 68 miles from Pole. Two other Arctic Trucks projects out of Novo--one is pioneering a new route from the ice shelf (ship offloading point) to Novo to the ice shelf for White Desert (the company/camp supporting Buzz Aldrin earlier this season)and thence to the Wolfs Fang blue ice runway White Desert is developing (more information on that project from White Desert's April 2016 Environmental Evaluation Report). Their other project is preparing and maintaining the FD83 runway and refueling site at 83ºS. There is nothing new on their website, all the current info is from their Facebook page.

Aborted! Lynx Adventure Antarctica

is a group of 4 Finns led by Patrick "Pata" Degerman who plan a round-trip snowmobile expedition from Novo to Pole (sponsored by Lynx snowmobiles, of course). They plan to begin on 21 December, hope to celebrate New Years at Pole, and will attempt to climb an unnamed unclimbed peak in the Wohlthat Mountains (71º35'S-12º-20'E) on the way back. The other team members are Mika Listala, Pekka Ojanpää, and Jón Ólafur Magnusson. Here's a 9 December 2016 American Snowmobiler article about the trip. They arrived at Novo on 22 December...with 6600 lbs of equipment and gear. But...not of their sledges got loaded on the aircraft with them...and they dealt with the fact that they wouldn't get all of the gasoline they'd ordered. But...after setting off, on 29 December they posted that their largest sled had cracked. So they opted to turn around, head north, and focus solely on climbing mountains. They bagged their first peak on 4-5 January.
the Brit who was the last NGO traveler to reach Pole in 2015-16, has planned her own solo round trip venture for 2016-17--unsupported and unassisted skiing from Hercules Inlet to Pole, and a return after a resupply at Pole...she claims that 1400 mile distance has yet to be completed by any solo female. The link is to her blog...she doesn't have a trip-specific website, but she's also posting public updates on Facebook. It's a go...she arrived at Union Glacier in the morning of 12 November and was flown to her Hercules Inlet start point on 16 November. She got a great start but had issues with her stove and fuel canisters, requiring a resupply from ALE which eliminated her unsupported/unassisted status. As of 29 November she was continuing south after fixing a few other stove issues. By 25 December she was at 88ºS; by 1 January she was halfway through the last degree, having difficulty with the soft snow that has plagued others. She reached Pole about midnight on the 5th/6th.
is a Swedish adventurer...who ended up in a wheelchair after cancer surgery at age 9. He's planning a sit-ski venture to Pole in 2016-17, guided by Doug Stoup, on the 400 mile Leverett Glacier (aka South Pole Traverse) route. This Swedish language website doesn't have much detail, although there's a 29 August video in English on the blog link, and he's also calling the venture the Pole of Hope expedition. Aron's blog posts are here (in Swedish). He and Doug were training on Svalbard in early April. He's trying to raise money for the Barncancerfonden (Childhood Cancer Foundation). The two men arrived at Union Glacier on 28 November. They were flown to their starting point on 2 December and started south the same day. And he arrived at Pole on 23 December per this Telegraph article, but what the article doesn't mention is that he did not travel the entire 400 miles on his own power. Per his blog, on 14 December, after completing 150 miles in 13 days, he decided that his stomach issues would make it too difficult to complete the entire distance. So, he and Doug would wait for a vehicle from the Arctic Trucks team (see above) to arrive...and it transported him to 89ºS, from where he completed the 68-mile "last degree" distance.

Aborted! Michele Pontrandolfo (his diary page)

from Italy, was giving another try this year for a kite ski crossing from Novo to Hercules Inlet via the Pole of Inaccessibility and the South Pole--last year he had to call things off, at first he opted to bypass the POI and was later evacuated due to lack of decent winds. His website in Italian has little updated information on this trip, nor does (yet) the sponsor Moncler site. The best information is from his Facebook page...it indicates he arrived at Novo on 29 October. He finally got favorable winds and set out on 12 November...the Moncler tracking site confirms that he was underway, on 1 December he was at 71.25ºS-11.2ºE. But a bit later, the tracking site indicated he'd returned to Novo (and later back to Cape Town). His 16 December blog post confirmed that the trip had been interrupted due to "bad weather conditions and unexpected technical events."
from Sweden, is on the first Swedish solo round trip from Hercules Inlet to Pole, in what she calls the Solo Sister expedition. Her trip south is to be unsupported and without kite/wind assistance; at Pole she will pick up additional supplies including kites for the trip north. As of 6 November she was in PA waiting for good weather for the flight south, which she finally boarded on 12 November, and she was dropped off at her Hercules Inlet starting point on the 16th SP time. By 27 November she'd reached 82.2ºS. And then, she reached Pole on 25 December (1820 UTC 24 December)...her time of 38 days 23 hours and 5 minutes is a new womens' ski speed record for the 700 mile/1130 km journey from Hercules Inlet. The previous record, 10 hours slower, was held by Hannah McKeand, of the UK, who'd made the trip in December 2006 (and, as ALE camp manager at Pole, met Johanna upon her arrival). Here's an English language news article from The Local Sweden.. She swapped out some of her gear at Pole--including getting a different sled more suited to kite-skiing, and headed north on the 31st. With her kite, she was making good time...by 3 January she was already 175 miles from Pole. She arrived back at Hercules Inlet on 12 January...she'd covered 60+ miles per day on the trip north, with a 120-mile day on the 11th.
is a Canadian firefighter from Quebec City. He was set to do the Hercules Inlet route to Pole, hoping to be first Canadian to do that alone without outside assistance or kites. Here's a 3 November interview with him by python.com. He was dropped off at his starting point on the morning of 29 November SP time...by 30 December he'd crossed 87ºS...and on the morning of 4 January he was 122 miles from Pole. His occasional blog posts are only available on his French language site, and I never got a password for his VIP site after paying $3 :( He reached Pole in the early afternoon of 10 January after a journey of 42 days 5 hours. Here's an excellent article about his success in the Québec City French language newspaper leSoliel (use your favorite translator).
is the South Pole Expedition Army Reserves 2017--a 6-man team from the British Army Reserves who planned to ski from Hercules Inlet to Pole in 2016-17. This unsupported unassisted trek will be led by Lou Rudd, who is guiding Alun George, Chris Brooke, Alex Brazier, Oliver Stoten, and James Facer-Childs. In February they spent time training in Norway; the official "expedition launch" was held on 10 March at the Palace of Westminster in London. Recent events are better documented on their Facebook page...in early October they were training in Iceland. The route includes a start at Hercules Inlet...after reaching Pole they will continue over the Titan Dome and down the Shackleton Glacier, finishing at the Ross Ice Shelf. As of 7 November they were in Punta Arenas waiting for good weather for the flight to Union Glacier; they'd arrived by the 13th. They were dropped off at Hercules Inlet on 16 November; by 28 November they'd reached 82.5ºS. By 23 December they were almost at 89ºS, with 3 or 4 more travel days to go. They reached Pole at 0600 26 December SP time...and after a couple of days of rest and medical exams from the ALE physician, they continued on toward Titan Dome and the Shackleton Glacier. All except for Alun George, who'd suffered from significant muscle loss...the doctor recommended he not continue. By 3 January they were a few miles north of Titan Dome (which is at 88.5S) heading for the Ross Ice Shelf. They reached their goal--the Ross Ice Shelf at the bottom of Shackleton Glacier, on 21 January.

Małgorzata Wojtaczka (Polish language site, if necessary click the English flag or use your favorite translator, not everything is on the English site)

at age 51, is attempting to be only the second Pole to traverse to the South Pole...after Marek Kaminski did it in 1995 and 1997. She's completed the trip from Hercules Inlet in 69 days on a solo unassisted (and no kites) ski venture. She was flown south to Union Glacier on 16 November and to the Hercules Inlet start point on the 19th. As of 31 December she'd crossed at 86ºS, and on 20 January she was at 89.1ºS. She reached Pole at 0100 SP time on Thursday 26 January...per this Radio Poland article.

Risto Hallikainen

of Finland, is on a solo unsupplied unsupported round trip from Hercules Inlet to Pole...he first said that he would not be leaving depots on his way south, but he later said he'd leave one at 84ºS. There's nothing public out there that I can find other than what is on pythom.com. Here is their 11 November interview with him. The trip could take most of the short season and the clock is ticking...he was flown to Union Glacier around 12 November and got started from Hercules Inlet on the 16th. On 3 December he was at 82.9ºS...he reached Pole on 29 December SP time and waited for doctor's clearance before heading out on the return on the 31st. On 3 January he was at 89.3ºS, and on 18 January he'd reached 82.6ºS. He completed the return trip at about 1200 25 January SP time...for total trip time of 71 days. There is more info on this Facebook page.

Aborted! Hank van Weelden

of Edmonton, Alberta, attempted to do a bicycle trip FROM Pole to Hercules Inlet. Why--because it's easier riding downhill with the wind--or so he said. His bicycle is a Carver custom model with dual fat tires front and rear...something else unique, but hopefully better to weather the soft snowfields and hard sastrugi he'll encounter. He said his bike weighs 48 lbs and his pulk would max out at 156 lbs. He was to get 3 resupplies on the way north. He's scheduled to start his trip around 15 December. He has no website that I can find, but here's a 15 November interview he gave to pythom.com, and here is his Facebook page. He arrived in Punta Arenas on Wednesday 7 December PA time. He was flown to Pole and started heading north on the 20th SP time...but...his first 3 days he only completed 16 miles...pushing his bike and pulk (260 lbs) most of the time. So on the 24th he was flown north to ALE's Thiel Corner refueling site at 85ºS where he hoped to find better snow conditions. But...after one good day of travel on the 24th, he called it quits the next day after 14 hours travel. He hoped to be back in PA by the 30th, although he'd still have a bit of travel to get to a spot where aircraft could pick him up. He was back home in Edmonton on 2 January. Here's a 5 January article about his trip from the Bangor Daily News.
was guiding an unsupported Fuchs-Messner Start traverse with three clients--Katrina Follows, who is being sponsored by Mary Kay Cosmetics--she's a UK native currently living in France; Canadian mountaineer and motivational team builder/speaker Scott Kress from Leamington, Ontario (Scott's blog); and American Paul Adams, who now lives in Greenwood Village, CO but also identifies as an Iowan. The expedition diaries are posted here. They were flown to Union Glacier on 15 November Chilean time and were dropped off at their starting point (82.4ºS-65.2ºW)on 18 November. By 8 December they'd reached 85.5ºS...and on 20 December they were approaching 88ºS. By the 28th they were well within the last degree, and they reached Pole on the 31st. Here's a 27 January article about Paul Adams from the Mason City Globe Gazette in which he claims to be the first native Iowan to reach Pole in this manner.

Carl Alvey

the British guide, is taking New Zealander Bob Maxwell to Pole along the Messner route. Bob had planned a 2015-16 snowmobile venture from the Ross Ice Shelf along the traverse route to Pole, which apparently didn't happen. They were also dropped off (presumably with Ryan Waters' team) on 18 November. I have not found much web or social media information detailing their venture. But ALE reported that they arrived at Pole on 28 December SP time.
guided a trip to Pole along a new route south from the base of the Reedy Glacier (at the far southeast inlet of the Ross Ice Shelf)...about 375 miles. Their daily dispatches are here. He's taking two clients...

Rob Smith, who planned two polar trips in 2016. In April 2016 he completed what was planned to be a last-two-degree Borneo-based venture to the North Pole...he actually started from 89º40'N and completed the trip in about a week. That was part of his training for his planned South Pole venture. Rob, a resident of Harpenden (about 30 miles north of London) is a cancer survivor who intends to raise money for cancer research. Here is a 14 March 2016 Herts Advertiser article about Rob, and this 25 November Evening Standard article confirms that he was flying to Chile on 28 November. His latest blog posts indicate that his ankle is causing him major problems.

and Keith Tuffley, also from the UK. Not that much else out there about him, except that he did take his fat bike to Barneo this past boreal spring and ride around a bit before completing a ski trip from 88.4ºN to the North Pole with three other clients, guided by Audun Tholfsen.

They arrived at UG on the morning of 6 December SP time and were flown to their start point (85ºS-144ºW) 48 hours later. They're now well underway...as of 24 December they were well onto the plateau and passed 87ºS, and by 3 January they were approaching the last degree. They reached Pole on 10 January.

(blog posts and position reports are at the pole-to-pole link; click on "follow his journey") is underway on his kite/ski crossing of the continent. He's South African born but currently lives in Switzerland. On about 22 November, he set sail on his 115-foot ice-strengthened yacht Pangaea from Cape Town, heading for Antarctica--as of 3 December he was at 64.1ºS and had been traveling through ice. He landed near Novo, from where he is crossing the continent on skis with hopefully some help from his kites. He visited Pole and continued on to Dumont d'Urville, from where he'll hopefully be picked up by Pangaea and continue to New Zealand. This May 2016 Monaco Yacht Club news article includes some earlier information on the trip, a small map of the Antarctic crossing route, and a photo of his yacht. In 2008-09 Mike made a similar attempt to land his yacht in Marguerite Bay south of Stonington Island (at 67º43'S-68ºW) and cross the continent, but that was thwarted by strong winds ashore (and his lack of a contingency rescue policy) so he opted to sail to Punta Arenas, from where he was flown by ALE to the continent and completed a traverse from Hercules Inlet to Pole on 19 January...he started back north but had to be picked up by air as the Patriot Hills season was ending. Here is an Mike Horn 8 November SA Breaking News article about his venture. There may also be more info about Mike's current venture on his Facebook page, where he reported having a successful day on 30 December...completing 127 miles, despite suffering a broken ski (yes he has spares). He hopes to reach Pole by 15 January so as to have time to complete the planned trip to DdU. By 3 January he was at 85.5ºS and making good time, although he had to improvise after losing his stove and cooking pot. He reached Pole on the morning of 10 January...and had dinner at the ALE camp with Hannah McKeand (thus losing his unsupported status for the full traverse) but opted to leave the next day. He's now getting closer to DdU...on 4 February he was at 69.5ºS-137.5ºE, with about 205 miles yet to go--perhaps doable in 4-5 days of good weather. But his yacht Pangaea had to turn back to Tasmania due to electrical issues. He left Dumont d'Urville on the weekend of 18 February...aboard the French supply vessel M/V L'Astrolabe (!). On the 24th, he was reunited with Pangaea in Hobart.



POSTPONED, CANCELLED, OR DOUBTFUL:

Postponed... The Longest Journey

is a planned 2016-17 solo unsupported venture by Australian adventurer Geoff Wilson. He's no stranger to long journeys...in 2013-14 he completed the "Pink Polar Expedition" from Novo to Hercules Inlet, which he'd originally planned to be a more complete crossing of the continent, but for which he'd unable to obtain the proper approvals. This time he's planning to again leave from Novo and cross the continent via the Pole of Inaccessibility, Pole, and Vostok, completing the trip at Casey. If successful, it will be the longest solo polar journey in history. This is supposed to begin in October--he's been training in various parts of the world--but he recently announced he was postponing his trip.
was originally a planned 2015-16 trip to drive two repurposed Hummer H1 vehicles converted to electric/biofuel technology and using Mattrack-type treads. The vehicles were to have a 3.2-liter turbodiesel straight 6 engine powered by aviation-grade biofuel. That engine powers a generator...the drive wheels are powered by by electric motors. Apparently the planning has been underway since 2009 with several postponements (it had most recently been announced for 2014-15). The vehicles were to be flown to Union Glacier by ALE, and the team would be sheltered in...a repurposed and modified 1962 Airstream trailer (!) Here is a 1 May 2015 digitaltrends.com article about the project, as well as a 2015 Autodesk article about some of the planning and design efforts. Early in 2016 they announced plans to do the trip in 2016-17, and at the end of February they did a round trip test drive of the vehicles--with their modified 1962 Airstream trailer--from Kuparuk to Barrow, AK, a total of 400 miles (as well as the rubber-tired road trips from Anchorage to Deadhorse and return). That trial is not mentioned on their website, but it is previewed in this Alaska Dispatch News story and followed on their Facebook page. Nothing much new has been posted since the end of the Alaska venture so I question the likelihood of the trip.

Cancelled... Fat bike to Pole (!)

Well, this was something that you could have shelled out for starting in 2015-16, but I guess they didn't get enough €. TDA Global Cycling was offering a "last degree" fat tire ride to Pole for the 2016-17 season (111 km or roughly 60 nautical miles/one latitude degree). For only $70,000 ex PA (and not including the mandatory training at Lake Winnipeg, Manitoba) they also promised you could keep the fat tire bike. Not.
an experienced long-distance Australian cyclist (and a tennis pro, but with no previous polar ventures) had originally announced the "Breaking the Cycle South Pole" trip for 2013-14, but that has now postponed several times...in March 2016 she said she's now planning it for 2017-18. For the postponed 2015-16 venture she was to be supported on snowmobiles by expedition leader Eric Phillips and filmmakers Claudio Von Planta and Phil Coates. She'll be riding the first-of-its-kind 2-wheel drive bike, built by Steve Christini in Philadelphia...it uses a series of gears and shafts to power the front wheel. In 2013 she trained with it in Svalbard. At present it appears that her route will start at the base of the Leverett Glacier, following the South Pole Traverse route to Pole, and then continuing to Hercules Inlet. Her trip will support AIDS treatment programs and education. This photo (from her web site) shows her bicycle; the silver tube visible on the right side of the front fork contains one of the drive shafts which transfers power to the front wheel. She was training in northeast Greenland in April-May, but not much posted since then... (?)
was to be all about Rob Small, who barely survived a 2010 house fire in Zanzibar...he required 200 days in the hospital and more than 30 operations. To raise awareness and funds for burns, he'd planned a December 2016 trek from Shackleton's January 1909 furthest south (88º23' S) to Pole, a distance of 112 miles. During the trip, his medical team would be monitoring his physiology--one thing that will be studied is the fact that burn-scarred skin is more prone to causing hypothermia than unburned skin. He'll be accompanied by physician Greg Williams (one of the surgeons who treated Rob), and photographer/ videographer Seb Coulthard. Rob is from the UK, having grown up in Aberdeen. Dr. Greg Williams was born and raised in Kingston, Jamaica; here is an interview about the venture he did in March 2016 for iamajamacan.net. The trip was originally planned for 2015-16 but postponed after Seb Coulthard broke his wrist. Looks like it's off again...in September 2016 Rob was being vague about the schedule.
has been planning the first ever microlight aircraft expedition for, well, since 2012, per this a September 2012 news article from the Wilts and Gloucestershire Standard. They've continued to have a media presence ever since...more recently in the same newspaper on 9 June 2015. At present, their website briefly mentions this as a "2016 Antarctica" venture, but there is no specific timetable...if this were a go for 2016-17 there would be lots of news out there about their final preparations. The plans now involve flying 3-5 aircraft to Pole along the South Pole Traverse route (supported by ground vehicles). They then might continue to Union Glacier and perhaps overfly Mt. Vinson. This group is supported by a Ministry of Defence program which assists the recovery of injured and amputee service people. The venture plans kept changing; earlier plans involved the team landing on the western Antarctic Peninsula, assisted by the Royal Navy's ice-strengthened HMS Protector, which would land the venture on the western Ronne Ice Shelf in the Weddell Sea. They would then fly to Union Glacier. There was also some sort of overflight of Mt. Vinson planned. Afterward they would fly back to Union Glacier from where they and the ultralights will be flown back to Chile. This venture was once announced for December 2014, to commemorate the centenary of Shackleton's trans-Antarctic attempt. Here's a newer 4 August 2014 Gizmag article. The aircraft of choice continues to be the the P&M PulsR Microlight.

Eirliani Abdul Rahman

a Singapore resident, hopes to be the first woman from that nation to reach Pole by foot, in a venture planned for 2016-17. She will be accompanied by her Lithuanian rock-climbing partner Ruta Sidlauskaite, and the women will be guided by the experienced Sarah McNair-Landry. Eirliani will be attempting to raise money for/awareness of child sexual abuse survivors. No website or blog for this venture as yet, only this 3 May Channel NewsAsia post. And no announced route...although the planned 1100 km/685 mile distance matches the length of the Hercules Inlet route. She describes her plans in this 26 April Outdoor Journal blog post. But there has been no further news after the initial announcement.



SCHEDULED FOR FUTURE SEASONS:

is planning a new South Pole adventure he's calling the South Pole Energy Challenge. In December 2017 he will lead 3 others including his son Barney on a man-hauling trip to Pole...relying solely on renewable energy. The renewable energy will new technology solar panels...as well as backup liquid fuels made from coffee beans, food waste etc. In December 2016 he was spending a week at the Union Glacier camp with an international team, making additional plans for the 2017 trip...in a venture he was calling IAE 80ºS.

Astrid Furholt (Norwegian language site)

of Norway, is planning a 2017-18 ski trip to Pole following Amundsen's original 850-mile route from the Bay of Whales site and up the Axel Heiberg Glacier to the plateau...a
are a serious troop of expeditioners...they've done many serious treks over the years, and as of October 2016 they'd already spent several months training for a South Pole venture, which is currently scheduled for 2018. They're getting nutritional advice from scientists at Southampton Solent University, per this 24 April 2014 Daily Echo article.
a 33-year-old actuary from South Africa currently working in Singapore, has announced plans to do an unsupported, unassisted "fastest known time" trip from the coast to Pole. There's nothing on his blog yet about his detailed plans...his most recent post discusses his completion of 100 miles (out of a planned 300 miles) of the Yukon Quest ultramarathon in February. This 9 March article in The Actuary has more information.
is a British Army team of women who are planning a 1000+ mile walk from the base of the Leverett Glacier to Hercules Inlet via Pole and the

SPoT

route. This is planned for 2017-18, but they've already been busy training. Here is a September 2016 Telegraph article about their plans and preparation.
an 26-year-old adventurer from Papillon, MO (a St. Louis suburb) has announced plans for a 600-mile trek from Union Glacier to Pole in 2018-19. He's been quite active in the past, having completed the 1900-mile Te Araroa trail across New Zealand in February 2016. There's actually nothing yet on his website about the planned trip, but he has been discussing it recently on his public Facebook page, and more details are in this 27 June Papillon Times article.

Priya Venkatesh

a management training instructor living in Bangalore, has announced plans to put together an all-Indian team for a South Pole venture in 2017-18. She previously visited the continent in 2011 as part of Robert Swan's 2041 program "Leadership on the Edge." Not much out there yet except for several December 2016 news articles such as this one from The Times of India.
from Buckinghamshire in southeast England, is planning a solo unsupported full trip to Pole in 2017-18. No word yet on his exact route, but I'm guessing it is from UG or Hercules Inlet. In April of 2016, he completed a "last 2 degree" trip to the North Pole, and March 2017 he's planning a 350-mile solo ski training trip in Norway. Here's a 28 February 2017 article about his plans from The Bucks Herald.


Here are my records of the 2015-16, 2014-15, 2013-14, 2012-13, 2011-12, 2010-11, 2009-10, 2008-09, 2007-08, 2006-07, 2005-06, 2004-05, 2003-04, 2002-03, 2001-02, 2000-01 and 1999-2000 NGA expeditions. Keep in mind that the older expedition web sites tend to disappear, although I keep many of them around for historical interest. And until I adjust things, the archive page may open a bit slowly. Note that the 2000-01 Russian "Millennium Expedition" (skydiving/ballooning) is covered on a separate page.
[top]
---