South Pole News Archive
[I recheck the links now and then, but still they tend to disappear...sorry]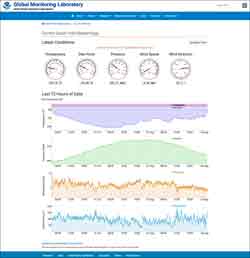 The Pole weather was "cool" in the last week of July 2020. Several times the temps dipped into 3 digits (ºF), beginning last Thursday 31 July at about noon local time. At right is an archive photo of the NOAA 72-hour weather display page (which uses UTC, 12 hours behind Pole time during the winter). Oh, the temperature dipped below 99.9ºF again more than once in the next few days...You can follow along in real time on the NOAA live weather page which provides a record of the past 72 hours in both metric and English units.
At the end of June, construction of the new ice pier at McMurdo was well underway (left), although successful completion will require appropriate weather and sea conditions. So far so good...more information and construction details are here.
I've covered the latest information about how various national Antarctic programs are dealing with the COVID-19 pandemic here before...here is the general news from June 2020. S
NSF plans for the upcoming Antarctic Season (11 June)
Australian Antarctic Division plans (26 June)
Antarctica New Zealand (9 June)
British Antarctic Survey (9 June)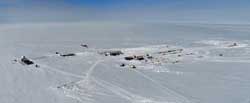 26 June, we have some news from the Arctic (well, actually from Washington DC). Battelle just issued a press release announcing that they'd been officially awarded the NSF Arctic support contract, which operates Summit Camp in central Greenland and Toolik Field Station in Alaska, and also supports NSF research throughout the Arctic including in Asia and Europe. The contract award was actually announced on 20 December 2019, but the losing bidder, Jacobs Polar Services-CH2M Facility Support Services, protested more than once. The contracting process had started in 2017. More information, including credits for that aerial photo of Summit Camp (or Summit Station if you prefer) is here.
And there is unhappy Antarctic news. At 1340 UTC on 21 June, a fire broke out in the met office at Russia's Mirny station. It destroyed the building known as Radio House which housed various science labs and berthing for 11 of the 23 people on station. It spread to the main accommodation building but that building survived. No one was injured, and communications with the rest of the world have been restored. Three articles: this 22 June Washington Post article based on wire services, a longer 23 June article from list23.com, and a pdf report with map (in Russian) from Russia's Arctic and Antarctic Research Institute. Here's Google Translate's English version of the text.
And an older bit of news that didn't get much publicity...on 8 May 2020 at Ukraine's Vernadsky station, cook Vasily Omelyanovich apparently committed suicide due to personal reasons. This was his fifth deployment to Vernadsky, which is about 30 miles south of Palmer Station. During my deployments to Palmer in the late 1980s, the base was the British Antarctic Survey's Faraday Station...I saw it from a distance once as we sailed past, but did not get to visit. It was transferred to Ukraine and renamed in 1996. Here is a 9 May 2020 news article from the Ukraine describing Vasily's death. That article states that "the issue of delivering the body to Ukraine is being solved." Accordingly, the Laurence M. Gould called at Vernadsky to transport the body north, this was overnight on 16-17 June after departing Palmer Station on the 16th.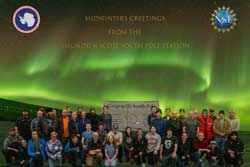 Happy Midwinters Day! The official solstice day was Saturday 20 June, when the Midwinters dinner celebration was held! At left is the official Midwinters Day greeting card. Photoshop was involved, so no Polies froze to death.
In other Antarctic program news...the latest information from the Western Hemisphere is that the Laurence M. Gould, which left Palmer Station with the rest of the summer folks on 16 June local time, arrived at Punta Arenas on 21 June after taking yet another "scenic route." Instead of the usual route through the Beagle Channel, they passed through the east end of the Straits of Magellan so as to avoid the need for the channel pilot. Sixteen souls are wintering at Palmer Station...for more details see this corner of my Palmer website.
Other and earlier COVID-19 related stuff...on 11 June, NSF announced their plans for the upcoming 2020-21 season...keeping the stations operational, maintaining long-term and statutorily required projects--most of which can be operated by ASC employees. Here's a similar 9 June announcement about the New Zealand program from Antarctica New Zealand. I've heard that the PQ requirements for the upcoming summer and winter seasons have been adjusted to restrict people who may have a significant tendency to contract COVID-19...and also that people deploying to McMurdo and Pole next season may have to quarantine in New Zealand for 3 weeks before deploying.
Updates 27 May US time...first of all, let's give a shoutout to the auroras that have been happening at Pole! Here at right is a rather spectacular shot from mid-May that IceCuber Yuya Makino shared recently, from the 27 May Week 19 at the Pole IceCube report. Otherwise, as the Polies have been collectively social distancing from the rest of the world, they have already started prepping for the Midwinters Day dinner scheduled for 20 June. Elsewhere...NSF is still planning to announce their plans for the 2020-21 season by the end of May, but we already know that there will be no media visits, film crews, or Artists/Writers people deploying. And as I've mentioned in the next paragraph, the Nathaniel B. Palmer is in Humboldt Bay (Northern CA) where it will be hanging for awhile.
Updates 16 May US time: Normally at this time of year, NSF would be soliciting news media visits to Antarctica, but these have been canceled for the 2020-21 season (the 11 May NSF announcement).. Elsewhere...here is an interesting 12 May report by Dr. Pradeep Tomar, the winterover medical officer at India's Bharati Station (on the coast at 69.4ºE, roughly 120 miles east of Mawson). He describes what life is like on the only continent still untouched by COVID-19. He mentions that India has called off its Arctic science expedition which was scheduled for April, and that Australia will undertake no major Antarctic science projects in 2020-21. AAD's most recent announcement on the subject (6 April) confirms that. Meanwhile, the New Zealand program announced on 13 May that they would announce a plan for their upcoming season by 1 June. The last McMurdo flight happened during the week of 3 May; the next flights currently scheduled are for WINFLY in August. And back in the US of A, the Nathaniel B. Palmer stopped briefly in San Francisco Bay and has been at Fairhaven, CA (on the Samoa Peninsula in Humboldt Bay, west of Eureka) since mid-May per the most recent (18 May) USAP schedule.
Updates 11 May US time...here's the latest BAS news release from 1 May, it outlines that all of the BAS stations are in winter status. The James Clark Ross was heading north from Rothera, and it was to meet up with the cruise ship Hebridean Sky which was docked at Port Stanley and already housing summer station crew and wharf construction workers who had previously been brought north by the JCR. The cruise ship will be taking the summer folks back to the UK. As of a few days ago, the Falklands were COVID-19 free, as was the Antarctic continent.
As for the Palmer Station winterovers, the official USAP schedule for the Laurence M. Gould was revised on 5 May--it includes the "Palmer Station Turnover" cruise departing Punta Arenas on 31 May. The vessel has been in PA since 21 March 2020. Meanwhile, the Nathaniel B. Palmer, after calling at Port Hueneme for a few days, is now heading to Oakland. Earlier on 11 May it was west of Santa Cruz. Meanwhile at McMurdo, the last flight until August arrived and departed on 6 May. This was the Australian Antarctic Division's A-319 Airbus operated by Skytraders Aviation. It arrived from Melbourne with cargo only--no USAP passengers--and departed for Sydney the next day with 21 northbound passengers. They continued to the US after an overnight stay. The on-deck photo at right by James Penkusky was shared on Facebook by NSF.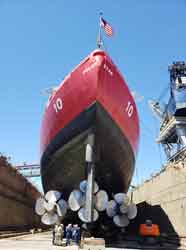 Updates 30 April...on 27 April NSF issued a new status update on the US Antarctic program...flights to get the non-winter crew out of McMurdo were completed successfully, one additional flight is currently planned for May--probably a return trip from Melbourne, and options are being considered to the the winter crew to Palmer Station. Meanwhile, the Nathaniel B. Palmer is heading north toward the West Coast (presumably to Port Hueneme)--as of 30 April it was at 15ºN-110ºW... directly south of the tip of Baja California. The Laurence M. Gould is still at Punta Arenas. The status update also outlines planning priorities for the upcoming season.
Meanwhile, the other "big red boat," Polar Star, entered drydock at Mare Island on 13 April...it will spend the next four months there. By 16 April it was high and dry (left...photo and info from the Polar Star Facebook page).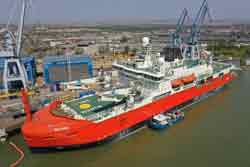 Southern hemisphere updates Wednesday 15 April (US time)...despite the 7 April BAS press release stating that the James Clark Ross would depart Rothera on 27 April...it actually departed on the 9th from the now-completed new wharf, as described in this 16 April BAS news story. CORRECTION...that wasn't the last JCR departure from Rothera...it made another trip departing for the last time around 27 April. If you have access to Facebook, here's a short timelapse of the James Clark Ross being the first vessel to dock at the new wharf. That BAS news article also mentions that the cargo vessel MV Billesborg was the second vessel to dock at the new wharf. Some personnel deployments to Rothera and King Edward Point (KEP) (South Georgia) were canceled...and oh, the MV Billesborg later headed to KEP where another new wharf is under construction (17 April 2020 BAS blog post with links to project info). More earlier info is in this 7 April BBC article. On the other side of the Southern Hemisphere, the Australian Antarctic Division announced on 30 March that they had chartered the construction vessel MPV Everest to resupply its stations in 2020-21 (press release), as completion of the new AAD research icebreaker RSV Nuyina was delayed because of the current pandemic. It looks ready to sail, but it still needs important harbor and sea trials. At right is a photo of the Nuniya at the Galați shipyard in Romania...photo shared 15 April on the AAD Facebook page.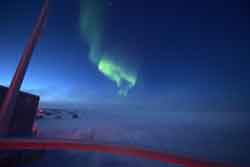 At Pole it has been getting darker...and on Monday 13 April the first auroras of the season made their appearance. Here at left is a sample view shared by Zach Tejral. And it's been getting colder as well--here's a link to the NOAA weather page. Also, here's the 6 April Antarctic Sun report by Kelly Thomas, describing the first two months of winter. And on 10 April, NSF Polar Programs director Kelly Falkner issued this news statement regarding plans to protect the continent from COVID-19; it includes the statement "There are currently no known or suspected cases of COVID-19 in Antarctica." Meanwhile, 3 scheduled flights to McMurdo were underway in mid-April by the Australian A-319 Airbus, but they were not bringing any passengers south. And some of the northbound passengers had originally been scheduled to stay at McM longer.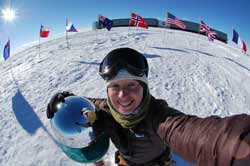 It could be said that Pole winterovers become experts in isolation...now there is some concrete advice out there from a couple of them. First...from Christine (Christy) Schultz who was the 2011 wo NOAA Corps officer--this 3 April AccuWeather news article describes some of her social distancing experiences--not only at Pole, but also on NOAA research vessels and at the Mount Washington Observatory. Alas, the article video seems to have been taken down. At right, Christy's selfie from the article. And then there's that ultimate Polie social distancer Christina Hammock Koch...as if our 2005 Pole winter wasn't enough for her, she spent nearly a year 250 miles away from the rest of us on the International Space Station, returning to Earth in February 2020.
This 25 March Washington Post article describes experiences and advice not only from her, but also from that famous Canadian ISS astronaut and guitar player Chris Hadfield. At left...my 2005 winter photo of Christina in the old cryo barn...the large white vessel left of her is full of liquid helium. Careful observers will notice that we are more than 2m apart.
Southern Hemisphere updates Thursday 9 April 2020 (US time)...the Nathaniel B. Palmer docked in Punta Arenas on 29 March...the one New Zealand citizen caught flights to Auckland via Santiago (he was quarantined for 14 days), while the Americans took later flights to Miami also via Santiago. The 10 British researchers who were dropped off at Rothera, along with 20 others, had been flown to the Falklands where they were quarantined for awhile at the Malvina Hotel in Stanley; they were flown to the UK overnight on Sunday 5 April on a MoD flight that refueled in Senegal as the usual refueling stops on Ascension Island and Cape Verde were closed. But there's a lot going on involving Rothera. The James Clark Ross is currently there unloading supplies for the winter, while summer personnel from the other BAS stations (Signy, King Edward Point, and Bird Island) already are on board. But there are about 90 other summer people at Rothera that need to be gotten home...most of these are construction workers working on the successfully completed new wharf at Rothera. They will be ferried to Port Stanley by the James Clark Ross (JCR), while the remainder of the Rothera winterover crew will be ferried south from Port Stanley. Meanwhile, BAS has chartered the cruise ship Hebridean Sky operated by Noble Caledonia, currently moored off Port Stanley, to house some of the folks from Rothera and eventually take them back to the UK. The Rothera winter will begin on 27 April when the JCR and the last Twin Otter head north. News sources...this 7 April BBC article "Coronavirus complicates journeys home from Antarctica" and this 7 April BAS news release.
As for USAP, at the end of March NSF issued a report addressing operational changes in the polar programs in response to the COVID-19 pandemic. For McMurdo, the April flights will not be taking any folks south...and as New Zealand has recently adjusted their travel restrictions, the northbound pax from McMurdo will be able to fly to Auckland and back to the US. For Palmer Station, the summer staff will remain on station until such time as the winter crew can safely deploy, and winter science events have been canceled.
Southern Hemisphere updates Thursday 26 March 2020 (US time): the Nathaniel B. Palmer arrived at Palmer Station before dawn on Tuesday morning 24 March. At left, a photo of the approaching vessel from Maggie Amsler; at right, a photo of a Zodiac approaching the station by Zee Evans from the USAP photo library (link to original). Folks who had been scheduled to stay until mid-April had been given only a few days warning to close out their projects/labs and pack up to head north...which they did the same day after transferring science cargo, baggage, and passengers to the vessel by Zodiac. Currently after 11 people left there are still 20 people at Palmer Station...with about a 2-3 month supply of fuel and food. There are no plans at present for the Laurence M. Gould to show up with resupplies and winterovers anytime soon. And while the Palmer has, at present, permission to dock in Punta Arenas, there's no path as of yet for people to even leave the vessel, much less head north to the US given quarantine restrictions, border closures, and flight cancellations. In fact, the group of people who went north on the Gould earlier this month had a police escort from the pier to the PUQ airport, and once there, they learned their SCL-IAH United Airlines flight had been canceled. It took some high-level negotiations to get it reinstated. Stay tuned. Meanwhile, here's PolarTREC educator Sarah Slack's 26 March blog post from the Palmer (I mentioned her earlier). You can follow the links to her earlier posts and the project science.
The Polar Star arrived in Seattle on Wednesday 25 March 2020 after a successful Antarctic trip, which not only included breaking ice for the McM resupply, but also involved Antarctic Treaty inspection visits to Mario Zucchelli (Italy), Jang Bogo (South Korea), and Inexpressible Island (China)...this was the first American inspection trip since 2012. Details from this 25 March Coast Guard press release.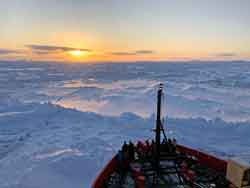 Updates from the Southern Hemisphere...most recently from US national media: this 24 March Washington Post article "One continent remains untouched by the coronavirus: Antarctica" which includes commentary from a number of stations and folks, including 1990 Pole winterover and friend Michelle Rogan-Fennimore who is currently the executive secretary for COMNAP. Meanwhile, the Laurence M. Gould arrived from Palmer Station and docked at Punta Arenas this weekend, flying the quarantine flag. Americans aboard flew to Santiago on Sunday Chilean time and were on a flight to Houston on Monday. The scheduled 2020 Palmer winterover crew are...hanging out in the USA and may yet deploy in a few weeks. Meanwhile, the Nathaniel B. Palmer called at Rothera on Sunday 22 March, and the 10 British researchers aboard were dropped off there so that they could be flown to Stanley (Falklands)...originally thought to not happen until June. Its next port call is Palmer Station to pick up some of the summer people and at present (24 March) they think they'll be able to dock at Punta Arenas as they've been quarantined at sea since 26 January. As for getting home from there, things are questionable for people of all nationalities including Kiwis,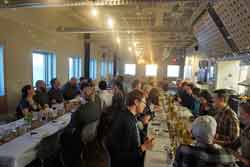 as restrictions and flight cancelations change daily. The Nathaniel B. Palmer has been participating in the International Thwaites Glacier Collaboration, otherwise known as the THOR project. You can follow along with what's happening aboard the Palmer with Sarah Slack, a Brooklyn, NY middle school science teacher who is a PolarTREC participant with one of the international projects--specifically this one. Above left: a photo from the bridge of the Palmer at sunrise on Sunday 15 March, as the vessel entered the Bellingshausen Sea from the Amundsen Sea--this photo is by Cindy Dean and from the USAP Photo Library (link to original). Another wrinkle...there is a cruise ship with ~90 Australian doctors and dentists that was turned away from Argentine ports at gunpoint last week. Stay tuned as things are subject to rapid change, I have friends aboard the NBP. As for the winterover Polies...they've been in social isolation from the rest of the world for six weeks...and they had the traditional sunset dinner on Saturday 21 March (right, photo from Zeke Mills).
And what about that other research and support vessel, the Polar Star? Fortunately, unlike last season when there reports of fires and other casualties, this year we've heard nothing. Or perhaps there's another reason...the vessel has had a severe communications failure during the northbound voyage, so no news may mean just...no news. As of 23 March it was west of southern California and heading north.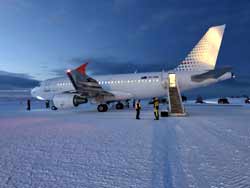 Things are getting weird in the world. Presumably not for the 42 Pole winterovers, as they've already been social-distanced from the rest of the world for more than a month. But for McMurdo...the RNZAF flight scheduled for this week (as early as 18 March) will not be bringing any people south...only taking people north. And those northbound passengers may find themselves required to self-isolate in NZ for 14 days per NZ Customs restrictions at the time.. And things are also getting interesting on the other side of the continent as Chile has closed its borders to all foreigners effective 18 March. Apparently they will allow the Laurence M. Gould (LMG) to dock in Punta Arenas (scheduled date 21 March) as well as the Nathaniel B. Palmer (scheduled date 25 March)...but the arrangements for the 2020 Palmer Station winterovers to arrive in Chile and head for Palmer are still uncertain.
Another medical update...this one totally unrelated to COVID-19, the disease caused by SARS-CoV-2...on 14 March the AAD conducted an emergency medevac from McMurdo...their chartered A-319 flew south from Hobart to McMurdo and flew an ill patient to Christchurch. Conditions were challenging as the temperature at McM was -22ºF/-30ºC with wind chill. Here is the AAD news article; the photo above left of the aircraft on deck at McMurdo is from that article.
The Pole summer is ...over! The last flight out headed north on the 15th leaving 42 people behind to watch several traditional movies and otherwise get along with each other for the winter!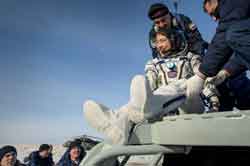 Fellow 2005 Pole winterover and friend Christina Hammock Koch...now much better known to the rest of the world as Astronaut Christina...returned to earth on 6 February after 328 days on the International Space Station...a NASA record for women! Two NASA news articles...this 6 February article with a great photo of her (at right) details the return of her and her teammates in Kazakhstan, and this earlier (3 February) article outlines the many projects she was involved with while in space. Throughout her mission she's had a great cheering section of Polies and other ice folks...after all she also spent time at Palmer Station.
5 February shipping season update...the Ocean Giant has completed offload, loaded cargo for the trip north and pulled out at about 1500 McM time on 4 February...to be replaced at the pier almost immediately by the tanker Maersk Peary; meanwhile, the second cargo vessel SLNC Magothy completed loading cargo at Port Hueneme and headed south on 22 January (dvids news article with photo). And this 23 January USNI News article about the Polar Star describes the icebreaker's uneventful breakout of the shipping channel...while the Winter Quarters Bay area was free of ice, 23 miles of ice had to be broken out further north, west of Ross Island. Here's another earlier (29 January 2020) Seabee Magazine article about the cargo offload evolution, as well as a later 20 February Military Sealift Command article about the completion of the cargo evolutions.
Icebreaker procurement update...on 31 January the U.S. Coast Guard announced they were procuring a contract to extend the life of the Polar Star until the second of the new Polar Security Cutters was available. Details on my icebreaker procurement page which I update as needed.
The IceCube project did a significant amount of work at Pole during the 2019-20 summer...not only the usual wiring fixes, server upgrades, digouts and measurements, but they also spent significant effort to dig out and inspect the various drill camp modules in preparation for the 2022-23 "IceCube Upgrade" which was funded in July 2019. Two of the camp generator modules, which had been sent to McMurdo for use at other field camp sites on the continent, were returned to Pole by the third South Pole Traverse. Also, another new optical Cherenkov telescope was installed on the roof of the ICL (IceCube news article). Also...this 28 January IceCube news article presents an off-the-ice interview with the 2019 winterovers Kathrin Mallot and Benjamin Eberhardt...and Benjamin has prepared a great 5-minute timelapse video (right) of the winter horizon and skies!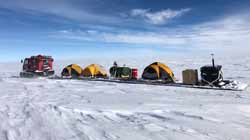 By 18 January the third of four seasons of the 88S Traverse had returned to Pole...this effort led by principal investigator Kelly Brunt is performing GPS elevation measurements of the ice sheet to help validate measurements by NASA's ICESat-2 satellite, which was launched in 2018. For each of the past 3 seasons, Kelly and her team have traversed a 90º quadrant of the 88ºS latitude line. The four-person team used two Pisten Bullys which pulled HDPE plastic "magic carpet" sleds with their equipment and pre-erected tents (left, photo from Kelly Brunt). You can read more about this and previous years' traverses in this blog.
A death in Antarctica is never good news...and it happened on 11 January 2020. Staff Sgt. George Girtler IV, a member of the 109th Airlift Wing, passed away from natural causes. The cause of death was pulmonary embolism, a blockage of blood vessels in the lungs. Here's a 24 January Stars and Stripes article, an Air Force Times article, and an obituary from the DeVito-Salvadore Funeral Home in Mechanicville, NY.
The end of the Pole NGO tourist season came early on 19 January 2020 SP time when an ALE group guided by Christian Styve and including Lucy Reynolds arrived from Hercules Inlet...the team spent 2 nights at the Pole tourist camp before heading north, as the camp was being dismantled. My record of the season is here. Meanwhile, there is news from last year's happenings...in 2018-19 the Brit Lou Rudd and Oregonian Colin O'Brady completed what both claimed to be "solo unassisted Antarctic crossings." The "Antarctic crossing" part was somewhat controversial as neither actually traveled from coast to coast, and "unassisted" is also questionable, as both used the prepared and well-marked route. Now that O'Brady's book The Impossible First came out recently, National Geographic has taken a more detailed look at Colin's claims in a 3 February article "The problem with Colin O'Brady" by Aaron Teasdale. Give it a read! Oh...on 13 February Colin responded to the National Geographic article with a 16 page letter reasserting his claims and requesting National Geographic to retract its article (seen here in Willamette Week, a Portland, Oregon weekly. Meanwhile, after a significant discussion on Facebook, in late February Australian polar guide Eric Philips posited a letter to NatGeo in support of Aaron's article and asking for signature support. I of course agreed, and the resultant letter was set to NatGeo with a list of more than fifty "leading polar explorers, guides, and adventure specialists" including...me. Read the letter here! On 4 March Willamette Week reported that National Geographic stands by Aaron Teasdale's article, although three clarifications were made. The "Impossible Row" has continued to draw media interest...such as this this 28 May 2020 article by ExplorersWeb freelancer Martin Walsh. He depicts the route map of the Ohana ("family" in Hawaiian), notes that the boat's track had to be diverted to avoid the search area for the missing/lost Chilean military C-130 aircraft (Wikipedia article), and mentions that Colin O'Brady was NOT the originator or leader of the rowing event...rather that was Icelandic ocean rower Fiann Paul...who'd recruited a team of experienced oarsmen but was unable to secure funding...so O'Brady, the only non-rower on the team, was brought in. Walsh's article also notes that the chase boat operated by the Discovery Channel was one of the conditions that Chile imposed on the venture.
Here's the current listing of NGO treks, ventures, a flight(!), and a rowboat trip(!!) which mostly happened in 2019-20.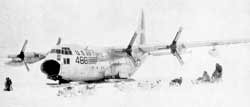 The end of January marks the 60th anniversary of the first ski-equipped C-130s to arrive on the seventh continent! NOT flown by the Navy...but rather the Air Force, which had pioneered the concept and done deep research and tests in order to support the DEW Line and the DYE sites in northern North America and Greenland. The first Herc arrived at McM on 23 January 1960, and the first one of these landed at Pole on the 28th. A complicated story...as the resupply of Byrd and Pole had fallen behind, there was concern that the Russians might occupy these stations if they had to be abandoned. At right, the first Herc at McMurdo is met by more traditional means of transportation. The rest of the story!
New Years Day marked the annual ceremony of unveiling and placing the new Pole marker...this one was designed by 2019 winterover Luis Gonzalez...who actually was on station on 1 January so he got to unveil his design, seen at right (more info and photos).
Other stuff that has been going on at Pole...a large IceCube team showed up to evaluate the long-stored drill camp modules in preparation for the future IceCube Upgrade...by the 21st they'd pretty much finished...meanwhile SPoT 3 was nearing Pole bringing a couple of the drill camp generator modules that had been used for other field projects.
The first cargo vessel Ocean Giant arrived at McM on 22 January and immediately started offloading the Modular Causeway System (MCS) aka the pontoons. By the 25th the pier was almost ready to start the cargo offload, as seen at left from a McM webcam photo. You can follow along here by selecting the Ice Pier camera, and there are photo archives from the past 24 hours.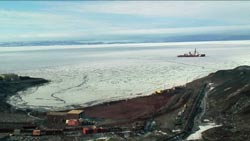 Shipping updates...the Polar Star HAS been sighted from McMurdo, as documented on the McM Ice Pier webcam which does not at present (~noon 9 January McM time) show the vessel, although a photo from the previous day (right) when the weather was better shows the icebreaker hard at work. The first cargo vessel Ocean Giant is well southwest of Los Angeles and is scheduled to reach Lyttelton around 13 January, the second cargo vessel Magothy is scheduled to reach Port Hueneme from Honolulu on 10 January, and the tanker Maersk Peary is now approaching the NW Australian coast...it will call at Fremantle between 12-15 January.
The new year also traditionally brings the first arrivals of NGA skiers/kiters/trekkers...well, actually the first of these arrived in late December. No speed records to Pole this year, but there are other records including an unquestionable Antarctic distance record by Aussie Geoff Wilson (despite his skipping a stop at Pole due to leaky fuel bottles) and a questionable rowing record from South America to Antarctica. Details...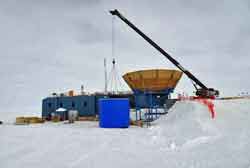 At Pole, Christmas was celebrated in traditional fashion with a great holiday feast as well as the "Round the World" race...these events allowed for a bit of a break from the summer projects...such as getting glaciologist Kelly Brunt's traverse ready--the third of 4 90º quadrants along 88ºS--a GPS survey in support of the ICESAT-2 satellite. A major project this season is the replacement at MAPO of the Keck Array telescope system with the BICEP Array...as seen in the mid-December photo by Steve Bruce at left.
In Port Hueneme, the cargo vessel MV Ocean Giant departed for McMurdo via Christchurch on Christmas Eve...carrying not only cargo but also the floating modular causeway system (MCS) that was first used at McM in January 2012. A second cargo vessel, the MV Magothy is scheduled to arrive in Port Hueneme for onload in a few days. This DVIDS news service article has more information. And what about the tanker, you may ask? After skipping a year, the Maersk Peary is expected to show up near the end of January. Currently (31 December) it is approaching Sri Lanka, and it will also call at Fremantle before heading to McMurdo.
And to kick off the shipping season, the icebreaker Polar Star is already south of Cape Adare. Earlier it called briefly at Sydney and also spent a few days in Hobart...as seen in this 22 December photo from the Australian Antarctic Division (antarctica.gov.au) Facebook Page along with the Aurora Australis which was departing for Casey.
And some Antarctic news from 250 miles up in space...as of 28 December 2019, friend and fellow 2005 Pole winterover Christina Hammock Koch set a record for the longest single space flight by a woman--289 days. She is scheduled to remain on the International Space Station until February 6, which would be a record of 328 days. The all-time space flight record is held by Valeri Polyakov, a Russian who spent 437 days aboard the Russian MIR space station in 1994-95. Here's a UPI news article.
Robert DeLaurentis completed his overflight of Pole on 17 December 2019...an 18-hour out-and-back flight from Ushuaia (without a previously mentioned refueling stop on King George Island), and the longest ever flight by a Gulfstream Turbine Commander. Since then he flew on to the Falkland Islands before continuing north on his "Pole-to-Pole" venture.
Meanwhile, the various nongovernmental Antarctic treks to Pole are continuing...while in the Southern Ocean, Colin O'Brady's six-man team completed their "impossible row" from Cape Horn (off Hornos Island) to the Antarctic Peninsula on 13 December at 1200 (UTC) and reached the Peninsula on 25 December at 1355 UTC, after covering 755 statute miles. They faced 30-40 knot winds and 40-50 foot swells. At right is a hero shot of the team from Colin O'Brady's Instagram page. By comparison, the 14-day 1988 Sea Tomato row by 4 men led by Ned Gillette, traveled from Cape Brecksock (60 miles northwest of Cape Horn) to Harmony Cove on Nelson Island, perhaps 120 miles north of the Antarctic Peninsula mainland. Here's a good New York Times article about the Sea Tomato's voyage...although you have to be a subscriber to view it.
On 26 November, the Polar Star left its Seattle homeport to begin its long journey to McMurdo (photo at left from the Polar Star Facebook page). This article from the Navy League's Seapower includes another photo. It should reach the ice edge during the first week of January, to be followed by the first cargo vessel, the tanker, and the second cargo vessel. Interestingly, the second cargo vessel will not call at Lyttelton, but at Tauranga, a port in the Bay of Plenty region of the North Island.
At Pole, preparations are underway for the Thanksgiving dinner on Saturday the 30th...not without a bit of difficulty as the automatic dishwasher is out of action awaiting repairs. Interestingly, instead of paper plates they are relying on extra help from volunteers and from McMurdo. Other things that are going on--a practice C-17 airdrop happened this week...this time it was just an overflight without anything dropped, but on 23 October, test supplies were actually dropped.
Elsewhere, a large summer IceCube crew is at Pole (and McM) to check out and inspect the drill site modules in early preparation for the 2022-23 IceCube Upgrade Two of the generator modules are at McMurdo, having been used by the WISSARD and SALSA field projects in recent years...and some of the modules at Pole have been moved close to Cryo where electric power is available. And as some of these modules have CO2 fire suppression systems similar to the one which caused two deaths at the Mt. Newall site last year...special safety precautions are being taken to make sure the systems are disabled. And over in the dark sector, the crane pad next to MAPO has been completed (right, photo by Bill Johnson), so that the SPUD/KECK instrument can be replaced with the new BICEP instrument.
By 22 November I believe that all of the 2019 winterovers have left Pole...but not all of them have made it to Christchurch yet. So between the summer people and next season's winterovers there are now over 100 people on station. A couple of the new wo's are John Hardin (from St. Louis) and Yuya Makino (from Takayama, Japan)...the 2020 IceCube winterovers who arrived on 8 November. Here's an IceCube News story about them with more information. And by the way, IceCube was now taking applications for the 2021 winterovers.
A strange addition to the Antarctic nongovernmental ventures...on the 15 November "Tonight" show, Colin O'Brady announced he's planning a rowboat trip across the Drake Passage for this December. Also check that link for an update on the ski and kite treks...more have been announced, more are underway, and as of the 20th a number of the people were stuck in Punta Arenas.
The first LC-130 finally arrived at Pole on 9 November 2019 as seen here...in this photo from Robert Schwarz...who left Pole for the last time on it just after taking this photo. From reliable sources I've learned that the price charged to NSF for Herc flights (as well as the C-17 flights between NZ and McM) have gone up significantly this year...hence the late deployment of the New York Air National Guard from Schenectady, NY. But...the first Herc flight to Pole last season happened 3 days later, on the 12th. The details...this spreadsheet documents the first flight dates to Pole from 1956 although I'm missing 3 years of info.
Also of interest...the photo at right (also from Robert) does not depict the beginning of the South Pole Sculpture Garden...rather, some of the old arch sections are being used to build a wall around the MAPO building and telescope mount. The Keck Array instrument that Robert monitored, as well as the DASI mount which supported it, will be removed and replaced with a new mount supporting the first receiver of the BICEP Array as well as relocated Keck receivers.
The season for nongovernmental skiers/trekkers/other visitors to Pole is now well underway. The first to start out, Australian Geoff Wilson, is now heading south from near Novo, and other travelers have been flown to ALE's Union Glacier camp beginning with their first visitor flight from Punta Arenas on 10 November. This 11 November ExplorersWeb article gives a good overview of the expedition plans, and of course I've updated my more detailed references to all of the ventures here, as I've been doing for the previous 21 seasons.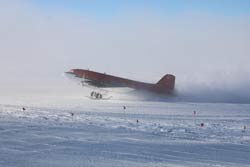 Flight updates...on Wednesday 23 October, the Basler returned from McMurdo for the opening flight of the season (right, photo by Mark Kirkeby). It would return the next day with more summer folks. Summer is underway and some of the winterovers are already in NZ. Later in the week two more transiting Baslers passed through, these were chartered by the Australian and Chinese programs. What about the NYANG LC-130's? The first of these were scheduled to leave Schenectady on Monday 28 October (25 October National Air Guard news article) and get to Pole on 11 November.
Polar Star updates...in mid-October it finally was out of a six-month drydock period and anchored in San Francisco Bay after some sea trials...and by the 25th it was back in its Seattle homeport. The icebreaker can be followed by anyone on its public Facebook page.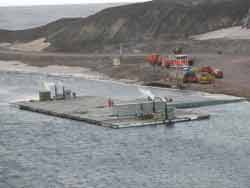 I previously mentioned that there were to be two cargo vessels in the 2019-20 season in order to deliver all of the required construction material and equipment for the McMurdo AIMS project. But (according to sources in McMurdo and elsewhere)...it seems that due to an unusually warm winter (there was open water at McMurdo until late July), there isn't an ice pier. So...once again the ship offload will require a Modular Causeway System (MCS) aka a pontoon pier, as was used in January 2012. At left is a photo of the pontoon pier being moved into position in January 2012 (my full coverage of that evolution is here). And this 30 September U.S. Naval Institute article describes the major role that the Polar Star will play in the McMurdo expansion projects.
On Tuesday 15 October 2019 (US time) I flew to Columbus, Ohio to attend the "Women in Antarctica" symposium at the Byrd Polar Research Center. I got there a day early so that I could dig through some of the old Operation Deep Freeze cruisebooks. The event timing focused on the 1969-70 science project in the Dry Valleys led by Dr. Lois Jones, and two of the members of that team were present and gave talks. The research team (and two other women on the ice at the time) also had become the first women to visit the South Pole in November 1969. Nearly 100 people attended. The event was featured in this 23 October Antarctic Sun article which also highlights some of the many women involved with the U.S. Antarctic Program. Some of these women were present at the Columbus symposium.
perhaps 75% women and a number of friends, and I had lunch one day with Kelly Falkner, the NSF Polar Programs director. And on Friday, while this symposium was underway, about 200 miles above us the first all-woman spacewalk was underway on the International Space Station...including Christina Hammock Koch (whom I wintered with at Pole in 2005--she also spent time at Palmer and Summit Camp) and Jessica Meir was a researcher at McMurdo on a project studying emperor penguins. Here are several NASA blogs about the spacewalk as well as an 18 October Washington Post article with video. At right is a NASA photo of Christina (left) and Jessica preparing for the spacewalk (from one of those NASA blogs).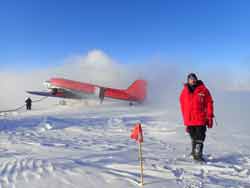 Also on Tuesday 15 October (South Pole time) the isolation of winter ended briefly, as this Basler showed up en route to McMurdo from Rothera. It was only on deck long enough to refuel, but it did bring freshies. It was a nice day, not much wind and a balmy -71ºF/-58ºC. This photo is from (and of) Gavin Reynolds. This aircraft (or perhaps another) would later return from McMurdo for the first official/opening flight of the season. A second transiting aircraft--this time a Twin Otter--arrived from Rothera on Saturday. Because it flies slower than the Basler, the three crew members stayed overnight before continuing to McMurdo the next day. Meanwhile, the end-of-winter major station cleaning was finishing up, as was another winter project--repainting the power plant floor.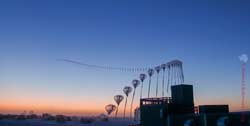 September means that it's ozone season at (and above) Pole...meaning that the NOAA folks have been launching two ozone balloons per week to examine the "ozone hole." That gives Robert Schwarz opportunities to take those unusual balloon launch timelapse photos, such as the one at right from 9 September. Interestingly, this year the ozone levels are a bit unusual, as the ozone hole is looking smaller, and the "lowest ozone" over Pole may be the highest in awhile due to a crazy tiny and offset polar stratospheric vortex. This is producing "sudden stratospheric warming," the most significant since September 2002.
The weakening of the vortex may result in the strongest Antarctic warming on record, and as the upper atmospheric temperature rises, the ozone-destroying super-cold polar stratospheric clouds are inhibited from forming, and the disrupted winds will carry more ozone-rich air from the tropics to the polar region. More on this process in this excellent 6 September article from The Conversation (Australia). As for the details, the graphed data from these ozone balloon launches can be seen on this NOAA page, while a simplified explanation of what happens to ozone in the atmosphere is depicted in the poster at left, which was prepared by NOAA researcher (and 2009 Pole winterover) Patrick Cullis and CU Boulder PhD student Kelsey Tayne. Much more of NOAA's ozone information and data, including huge graphic and pdf versions of that poster, can be found on this Global Monitoring Division page.
The Polar Star was at Mare Island (CA) Dry Dock for repairs and refurbishment since the end of April 2019...and was scheduled to head back to Seattle at the end of September 2019. Here is a good 12 September KPIX San Francisco news report about the vessel, including an excellent video. And, as for the new "polar security cutters" aka icebreakers, this 16 September USNI article "Polar Security Cutter Fuses Performance Requirements With Maintenance Needs" describes some of the engineering innovations for the new vessels, a June Seapower describes that the first three new cutters will be based in Seattle along with the Polar Star, Healy, and the parted-out Polar Sea. (thank you Chris Rock). These and other articles and information are on my page covering the icebreaker procurement progress, which I am continuing to update as needed.
On 7 September 2019, Pole had a video teleconference with the astronauts aboard the International Space Station, who include NASA astronaut Christina Hammock Koch and ESA astronaut Luca Parmitano. Unfortunately, for privacy reasons the Polies were not permitted to share photos of the astronauts, so here at right is a photo of...the Polies, from Sheryl Seagraves. Here's another photo (which Sheryl DID have permission to post) showing the video screen with a view of earth from space. Christina wintered in 2005 with me as well as with two of the 2019 winterovers (Robert Schwarz and Bill Johnson). Oh, the people at Palmer Station had a similar videoconference a week later on 14 September.
And astute viewers of that photo of Polies in the large conference room will observe that the cardboard window covers had just been removed!
On 1 September 2019, WINFLY FINALLY happened. The first flight arrived at McMurdo on 1 September, THIRTEEN days late. Sustained bad weather was, as usual, at fault, and the storm also caused power outages in town.
The end of August means for Pole: nautical twilight, when the Sun is between 12 and 6 degrees below the horizon. so the remaining auroras are increasingly washed out. Otherwise, things are quiet...August events have included the 8-ball pool tournament (for which the table was refurbished for the 4th time) and the Winter Film Festival (an interesting video about this from Viktor Barricklow). And for McMurdo: departing winterovers' travel plans are trashed, freshies scheduled for McM are...hopefully donated to ChCh charities, and Christchurch hotels etc. are overfilled with folks waiting to head south because of bad weather. The first WINFLY flight was supposed to happen on 19 August, but Mother Antarctica has been having other ideas, ie Phase 1 conditions.
I do like to hear about Antarctic winterover reunions, as I've attended several for the Pole and Palmer winterovers. Turns out that half a dozen of the 2001 Polie winterovers gathered recently at friend Paul Daniel's place in Grosse Pointe, Michigan. Here's the Grosse Pointe Times article, with an amazing photo!
Between 1-11 July, the 2019 Antarctic Treaty meeting (ATCM XLII) was held in Prague, Czech Republic. Once again there was nothing interesting enough to see coverage in the American media, but this was NOT the case in Australia. China's proposed "code of conduct" for their Kunlun base at Dome A was apparently defeated, according to this ABC (Australia) article "Australia declares China's plan for Antarctic conduct has 'no formal standing.'", as well as this related article "Defence wants to roll out military tech in Antarctica despite Treaty ban on military activity." Dome A is, of course, in the midst of Australia's Antarctic territory. As early as 2014 China had proposed an ASMA for the Kunlun area, but this had also been rejected. Of interest here is the fact that the proposed area is quite similar in both size and nomenclature to the ASMA surrounding Pole...but as a friend pointed out, unlike Pole, Kunlun does not get the hordes of visitors arriving by foot, ski, vehicle, and aircraft. At right is a map of China's proposed "code of conduct" area; here are links to the intersession discussion about the Code of Conduct as well as to the proposed code (MS Word documents).
Less media-worthy but of interest to Antarcticans...the Russians made a preliminary announcement of plans to replace the winterover facilities at Vostok with space for 35 summer people or 15 wo's (to be completed in 2023-24); and the Poles proposed a major replacement of their Arctowski Station facilities on King George Island, scheduled for completion in 2022-23.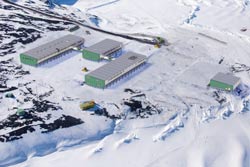 Too early for mention at this Antarctic Treaty meeting--New Zealand is proposing a major replacement of most Scott Base facilities (left)...early info is here!
This has been out for awhile, but it is a sad 2 August Los Angeles Times article about the Polar Star's voyage to McMurdo last year. There will be at least one new US icebreaker eventually, but our American neighbors to the north are planning to build SIX new icebreakers!
Another amazing bit of July 2019 journalism appeared in Scientific American about Pole life at least during the summer: "The Last Good Gig: A Summer at the South Pole," by Michael Nayak. Subtitle quote: "Nobody has lukewarm feelings about Antarctica, and some people don't fit in anywhere else."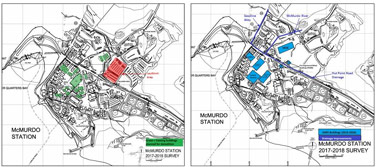 A bit more information about the McMurdo upgrade...NSF released the draft environmental impact evaluation in February, although I just recently found it here. Lots of detail about schedule, planning, and the specific projects--as well as discussion of future projects not officially part of the approved AIMS project. Here's the link to the final version released in August; these are both PDF files. The graphic at right is from the report...note that it differs a bit from some of the earlier information I've seen. For example, the VEOC is depicted with a rectangular footprint, whereas earlier preliminary design drawings showed it as a T-shaped structure. I'll add more details as I wade through the environmental statement (which the US presented at the recent 1-11 July Antarctic Treaty meeting mentioned above).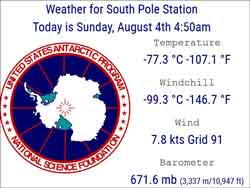 Late winter often brings the coldest temperatures of the year...at left is documentation of what will probably be the coldest temperature for the 2019 season: -107.1ºF/-77.3ºC. Earlier in the winter, South Pole saw its first triple-digit temperature of the year (-100.5ºF/-73.6ºC) on 18 July. This was the coldest it got, and the -100 lasted less than a day.
A side note...last year there was NO tanker delivery to McMurdo...only the one cargo vessel. In 2019-20 there will be a tanker, as well as TWO cargo vessels. One will be the traditional vessel doing a return trip from Port Hueneme...the other will be a one-way southbound charter to deliver supplies, materials, and construction equipment for the AIMS project.
IceCube is getting an update! In June, NSF formally approved funding for a $37 million upgrade...to install seven new and deeper strings near the center of the existing array. This will enable the detection of lower-energy neutrinos...to overlap with the detection ranges of other neutrino detectors around the world. The project won't actually happen until 2022-23, but preliminary planning last summer involved the digging out and inspection of the IceCube drill camp modules which have been stored on the berm. Several new detector types will be used, including some being tested for a still-out-there IceCube-Gen2 project. Coverage from IceCube includes 2 16 July press releases--"NSF mid-scale award sets off the first extension of IceCube" and "The IceCube Upgrade: An international effort", as well as this article from the Wisconsin State Journal.
Surprise visitors...the international team "One More Orbit" overflew Pole on 9 July as a part of their record-setting globe circumnavigation over the poles. The 8-person crew aboard a Gulfstream G650ER jet started and finished from the Kennedy Space Center in Florida and completed their trip in 46 hours 40 minutes 22 seconds, including 3 "pit-stop" refuelings in Punta Arenas, Mauritius, and Kazakhstan. They beat the previous record by almost 6 hours...and the crew was the first to include 2 women--another record. Here's a CNN news article as well as an archive of the project website, which includes a map of their flight route. While over Pole, some of the winterovers had an opportunity to speak with the pilot over radio.
Interestingly, there will be another overflight in November...postponed from last summer, by pilot Robert DeLaurentis in his much modified Gulfstream Turbo 900 aircraft. The project, titled "Flying through Life," will not be a record-setting attempt...rather a 3-month project involving stope in many countries as well as overflights of both poles.
Midwinters Day 2019 happened! Technically it occurred at 0354 22 June South Pole time...some of the traditional midwinter events (such as showing "The Shining" happened last weekend. The big midwinter dinner happened on the 22nd. At right is the midwinter greeting card that the station sent out to other polar stations...here's a larger image along with more info/photos about the card, midwinter, and the dinner. The tradition of sharing midwinter greetings is an old one...somehow the greetings have become much more elaborate since we sent out this one in June 1977.
Otherwise, there is a fair amount of construction news for the upcoming summer...mostly at McMurdo, although the Palmer pier replacement project is scheduled to get underway. Pole, the first phase of the "blue building" lift (ARO?) is scheduled as well as upgrades to the kitchen exhaust system. At McM, Dorm 203 (formerly dorms 203-205 are scheduled to be demo'd at the end of the summer along with several warehouses, and new lodging begins in January near building 175. During the 2020 winter, NSF will move from the Chalet to Building 165, as the Chalet will become a "social space" to replace the eventual demo of the Coffee House and Southern bar. There also will be a fair amount of excavation and blasting for site preparation and aggregate production. More on this later.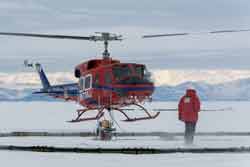 A new USAP helicopter support contract awarded to Air Center Helicopters on 29 April 2019, after a 1-year solicitation process. The new company, located in Burleson, TX (a south suburb of Fort Worth) is replacing Petroleum Helicopters, Inc. (PHI), the Louisiana company which has provided program helicopter support ever since replacing the Navy's VXE-6 after the 1995-96 season. Interestingly, PHI filed for bankruptcy in March of 2019. The November 2018 photo at left depicts a PHI helicopter supporting groundwater research in the Dry Valleys (more information and links).
Old news perhaps (well, millions of light years), but on 10 April 2019 a consortium of observatories and organizations released an actual image of a black hole (right) created from observations taken in April 2017. One of these observatories in the Event Horizon Telescope consortium was...the SPT at Pole. The story is here. While the actual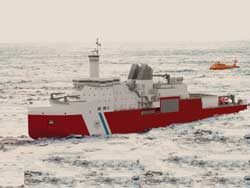 black hole itself was below the Pole horizon, valuable observations were taken of a nearby variable quasar which was used as a calibrator source for the black hole observations.
On 23 April, it was officially announced that a contract for a new heavy icebreaker (aka "Polar Security Cutter") had been awarded to VT Halter Marine Inc., of Pascagoula, Mississippi. The price is $746 million, with options for two additional heavy icebreakers (if approved by Congress) that would bring the total price to $1.94 billion. Construction on the first vessel is planned for 2021 with delivery in 2024, although the contract includes financial incentives for earlier delivery. There are too many news reports and press releases with financial and technical details, so I've addressed and linked to them here. The conceptual image at left was provided by VT Halter Marine in their 7 April press release.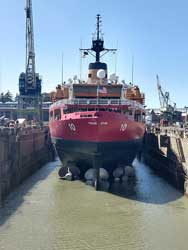 And in other icebreaker news, in late April the Polar Star was headed to the Bay Area for another yard period at Mare Island Dry Dock, LLC. And on 30 April she was maneuvered from Berth 12 into Dry Dock #3, as seen in the photo at left. That photo was one of several posted on the U.S. Coast Guard Cutter Polar Star Facebook page...and anyone should be able to see those photos here.
I've mentioned before that the first part of the major McMurdo modernization known as AIMS was funded in February...one of the first projects to be constructed will be the new heavy shop, otherwise known as the Vehicle & Equipment Operations Center (VEOC) (right). I've dug into the details about AIMS as well as about the "pre-AIMS" projects that are already underway. Here's what is and will be happening.
And there's also that "polar security cutter" project, otherwise known as new heavy icebreakers for the Coast Guard. This 1 April military.com article (thanks to Russell Rapp for sharing) indicates that the contract for the new icebreaker could be awarded as soon as April 2019, and it also clarifies what the 2019 budget means--that budget appropriated $665 million for the first heavy icebreaker (per this U.S. Naval Institute article), but it turns out that heavy icebreakers are more expensive than that. The 1 April article includes an interview with Coast Guard Commandant ADM Karl Schultz, who pointed out that the first of the three planned icebreakers could cost between $925 and $940 million, that additional money for the first icebreaker was also available from previous appropriations, and that the second and third heavy icebreakers would be cheaper. So what contract might soon be awarded? Here's the RFP which was originally issued on 14 February 2018. Needless to say most of the technical details are classified, but the main takeaway is that (per Amendment 10) the technical proposal was due on 24 August 2018 and the price proposal was due on 16 October. There are reportedly 5 bidders, and if you are curious about how to build an icebreaker, many of the amendments include interesting technical Q&A.
Lots o stuff has been going on since I last updated things here. New stuff at Pole...the sun "officially" set at the equinox, which happened when the Sun crossed the equator into the northern hemisphere at 1558 on 21 March. But as usual, it hung around a bit longer, until 1330 on the 23rd. Which conveniently happened to be the same day as the sunset dinner. Other new northern hemisphere stuff--there's an auction of Antarctic surplus stuff this month--online, with the goods actually at Port Hueneme. The auction website has been taken down.
And it's time for the annual update for the Pole winterover statistics, as well as a closer look at the 2019 Pole marker and how it was fabricated!
Speaking of icebreakers...old news perhaps except that this was just announced...on 10 February the Polar Star experienced a FIRE on board as they headed north, 650 miles from McMurdo. One of many engineering casualties on this still-not-over deployment. Fortunately, the fire was extinguished after about two hours, and no injuries were reported. Here is the 28 February Coast Guard press release as well as this 1 March gCaptain article.
More news about the budget bill that was signed into law on 15 February, as it relates to science and the polar reasons. NSF's total budget was increased 3.7% to $8.075 billion (AAAS Science news article), which includes $103 million to begin work on "renovations to its facilities in the Antarctic" (otherwise known as AIMS project) initially at McMurdo. Here's the NSF press release, the AIMS project site, as well as my coverage of one of the first projects, the IT&C Primary Operations Facility, now underway and with its own webcam. Also, this 22 February Anchorage Daily News article has additional information about the Coast Guard icebreaker project.
More marine news...first, on its way north from McMurdo, the Polar Star made a first-ever port call in Wellington...arriving on Monday the 18th. It was scheduled to leave on the 22nd after giving the ship's crew some liberty in New Zealand's capital city. Two news articles with photos--from stuff.co.nz and radionz.co.nz (thanks Russell Rapp and Chris Rock). But there's more...at right is a great photo of the Polar Star with Wellington in the background....this photo is from USAP veteran/2008 Palmer winterover Carla Appel...here she is sitting in the Captain's chair on the bridge. Carla's photos were taken by Ola Thorsen.
Elsewhere at sea on the other side of the continent, the Nathaniel B. Palmer has been involved in the multinational Thwaites Glacier Collaboration project...but it was diverted to Rothera to allow one of the people on board to be landed and medevaced by air to Punta Arenas. Here is the NSF press release. Also, Rolling Stone reporter Jeff Goodell was aboard and was blogging about the cruise here. And further east, on the other side of the Antarctic Peninsula in the Weddell Sea, the South African icebreaker SA Agulhas II was headed for another project researching the Larsen C Ice Shelf when it first searched for Shackleton's sunken ship Endurance. Alas, the AUV (mini submarine) sent down to explore the sea bottom...got lost. So no data. Here is the BBC News coverage.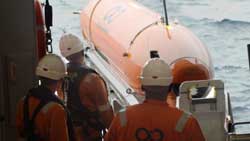 At right, a photo of one of the AUV's from the expedition website.
From Washington DC...a couple of news tidbits below the headlines...the passage of the spending bill means there will be no further shutdowns of the National Science Foundation this fiscal year, and also, the Coast Guard received $655 million for continuing funding of the first "Polar Security Cutters" (aka icebreaker)! There is also $20 million for long-lead material procurement for a second new heavy icebreaker. Here's the U.S. Naval Institute article (thanks Russell Rapp!).
And the winter has begun at Pole! The last flight of the season headed north on Thursday (Valentines Day!) leaving 42 souls at the bottom of the world for 8 months (photo from Sheryl Seagraves). A few Pole statistics...there were about 78 LC-130 flights; meanwhile the three South Pole Traverses (SPoT) delivered 313,891 gallons of fuel and 40,000 lbs. of cargo, while 40,000 lbs. of steel was shipped north.
And ship offload is over...at about 0200 on 10 February the cargo vessel Ocean Giant left the ice pier (without icebreaker assistance!) and headed north (remember, no fuel tanker this year). A few statistics: 10.5 million pounds of cargo were delivered and 9.1 million pounds of cargo (retrograde, science equipment and samples, and trash) were shipped north.
Some sad news. Richard (Dick) Bowers passed away on 29 January 2019 in Indianapolis, Indiana at the age of 90. He was the Navy Seabee construction engineer in charge of constructing the original South Pole Station in 1956-57. In the photo (right) he is at left with scientific leader Paul Siple at the first Pole Christmas party, which was held in the science building on 23 December, as the first group of construction personnel were to leave on the 24th. The two men had celebrated the previous Christmas in a drafty tent on Hut Point, where LTJG Bowers had also directed some of the 1955-56 construction of McMurdo. He had wintered at McM in 1956. Here is his obituary as well as an April 2019 Antarctic Sun tribute article. I was fortunate to have met Dick several times at Antarctic reunion gatherings, he was a great person. The photo at right is by Dick Prescott from the USAP photo library (link to original).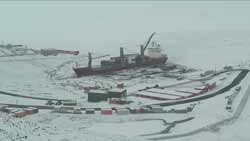 On about 30 January the cargo vessel Ocean Giant showed up at McMurdo, and ship offload is now in full swing. At left, a webcam photo from the 31st, after McMurdo got a dusting of snow. Previously, on 25 January: the Polar Star docked at the ice pier (below right) (check the webcams to see what is going on now). The cargo vessel Ocean Giant should be appearing in a couple of days. As for the tanker...well, there will not be one this year. Thanks to tankage capacity, the wind turbines, and energy conservation, this will be the first season since before IGY when no tanker will show up. Back in the day (50s/60s) before there was enough tankage, the program would require several tankers to keep McMurdo and the inland stations well supplied.
21 January...the seasons are changing. The NGO "tourist" season is over, as the last of the ski trekkers (Masatatsu Abe) had arrived on the 17th. By the 21st the ALE camp was closed up, and the last staff and clients flew back to Union Glacier on a Basler per this Mattieu Tordeur blog post (in French). Earlier, Mattieu had high praise for the ALE camp's cook Zach...here reporting that Zach had previously wintered at Pole. Hmmm...I'm thinking this must be sous chef Zach Kinberg who wintered in 2017. And at McMurdo, the shipping season is underway. The Polar Star has been sighted off McMurdo...yes, "despite breakdowns and missed pay, Polar Star reaches Antarctica" per the 18 January Maritime Executive article of that title (thanks Chris Rock and Russell Rapp). As for the breakdowns, yes...electrical problems including a couple of electrical outages, failure of one of the two evaporator (fresh water making) systems, and (as happened last year) another propeller shaft seal leak which required divers to make repairs. Here's a 22 January workboat.com article, and a 29 January KVAL TV (Eugene, OR) report about the icebreaker's latest difficulties.
There have been a number of news articles in the past couple of weeks about the rapid melting of Antarctic ice, including this brief 14 January Washington Post article that says "Antarctica is melting more than six times faster than it did in the 1980s." The source of this news...an article published in the Proceedings of the National Academy of Sciences first released on 8 January. It is open access, so have a look at the basic findings!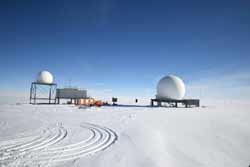 At Pole, one of the biggest efforts is the upgrade of the DSCS satcom systems (more photos/info). A new radome was erected next to the RF building, it is being fitted out, and the module installed next to the 9-meter GOES terminal is being fitted out so that that dish can be used for DSCS. This past weekend saw the fourth annual "berming man" work project/party...otherwise known as part of the continuing effort to make unwanted stuff on the berm go away. Other stuff being made to go away (perhaps)--a few more pieces of the summer camp area. Discussion and planning was underway to safely demo some buried structures, including "Chades" (the head module that once was surrounded by Hypertats),
and the Building 68 substation, which may still be providing power to some summer camp facilities. At left, one of my July 2008 photos inside the Building 68 substation from when I was asbuilting things...access was from a roof hatch and down the ladder. Not many folks have been in here since.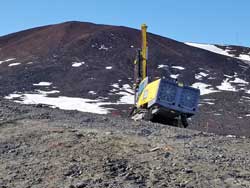 Meanwhile, the construction activities underway at McMurdo include a significant project to install new buried fiber optic cable...site clearance for the new Ross Island Earth Station uphill from T-site and west of the wind turbines. This project will ultimately replace Black Island as the primary satellite terminal. The photo at left (from David Huntsman) shows a rock drill at work on the site--Crater Hill is in the background. The effort this season is involving 648 holes in support of six blasts. More than 55,000 cubic yards of material (soil, permafrost, and rock) must be removed from the hilltop for the foundations and to provide clear visibility. Here's a general site plan...the project details are available here. The earth station will access satellites to be launched by a NOAA partnership which "includes the NOAA collaboration with the European Organization for the Exploitation of Meteorological Satellites (EUMETSAT). EUMETSAT will launch a series of enhanced satellites beginning in Fall 2021 that will outstrip the current capacity of the present BITF satellite communications infrastructure supporting the collaboration between NSF and NOAA." Another major project just getting started is the new Network Operations Center.
I've described this project here before; the first phase involves an addition to the south side of the SSC. Site clearance is currently underway, while construction is scheduled to begin in February. Because of the anticipated interest in the project, an additional McMurdo webcam is keeping an eye on it...at right is a sample (13 January) image; the link is here.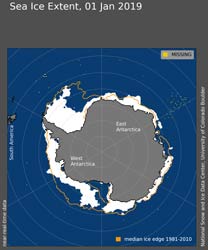 It's January...and that means that the McMurdo shipping season is already getting underway. First, at the end of December the cargo vessel Ocean Giant was in Port Hueneme loading nearly 7 million tons of cargo, including 498 containers, as described in this 31 December 2018 navaltoday.com article. The vessel departed on 3 January; by the 13th it was more than halfway to Lyttelton, where it will call on the 19th. As for the ice conditions, on 3 January the NSIDC reported that the Antarctic sea ice extent on New Years Day was 2.11 million square miles, the lowest extent observed in the 40-year satellite record. The extent map is at left, here is the full report. What this means...I've heard a report from the Polar Star that they have only 16 miles of ice to cut through, compared to 40+ miles last year. As of the evening of 12 January, Polar Star was working at 77º-42'S, well south of Cape Royds and several miles west of Tent Island. As for the tanker, it doesn't look like the Maersk Peary will be the one this year...as of the 13th it was in the Med en route to Rotterdam. Meanwhile, the McMurdo ice pier webcam has also been put in operation--go here and select that tab.
Science stuff..On New Years Eve, the second year of the NASA ICESat-2 traverse got underway. This year, glaciologist Kelly Brunt is accompanied by fellow NASA glaciologist Adam Greeley, with support from equipment operator Matt Means and mountaineer Chris Simmons. They'll do another quadrant along the 88th parallel adjacent to the sector done last year, doing a high-precision GPS survey in support of the recently-launched ICESAT-2 satellite. They'll be out for about 2 weeks. At right, a panorama of the traverse equipment that Kelly shared (photo by Matt Means). And here's a closeup of some of the equipment, including those pre-pitched tents (photo by Adam Greeley).
That pesky government shutdown...it isn't any fun for the furloughed employees, but "the U.S. Antarctic program remains operational 'for the foreseeable future.'" per NSF OPP director Kelly Falkner...from this 28 December Washington Post article. Meanwhile, the "great race" across the continent between Colin O'Brady and Lou Rudd is over.
Colin finished first, and Lou met up with him at the finish two days later. The New York Times covered both their finishes in articles about Colin's finish and about Lou. And of course it must be noted again that neither man admitted that they used a "road" aka the South Pole Traverse (SPoT) route for 1/3 of their travels...as cussed and discussed by ExplorersWeb. The article includes Colin O'Brady's finish line hero shot (left)...behind him is the SPoT route marker denoting the edge of the Ross Ice Shelf. I have more coverage and discussion here.
Traverse news...the first of 3 traverses arrived on 4 December...and the second one (SPoT 2) showed up on the 16th. Interestingly, Thor, one of the people on SPoT 2, posted this highly interesting blog about the trip (incomplete archive site) I like his sense of humor!
As for other nongovernmental venturers...they've all been struggling with bad weather and lots of snow (!) Some folks have quit, and a noob has just started. Oh, the New York Times published an update on the Rudd/O'Brady competition on 18 December. But my updates are now more current, although I had remiss in updating things...just spent a couple of weeks rambling and tramping in New Zealand.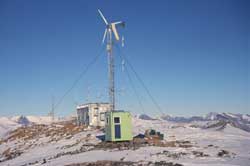 MORE sad news...two more USAP deaths on the ice. In this case it was two fire techs who were working on systems at the remote repeater site on Mt. Newall in the Dry Valleys. They were discovered on 12 December by a helicopter pilot who was waiting for them to return to his aircraft for the flight back to McMurdo--the pilot found them unconscious on the floor. One of the workers was pronounced dead at the scene; the other was pronounced dead a few hours later at the McMurdo medical clinic. The site was originally set up in the 1980s to support field operations in the Dry Valleys, and it later would transmit seismic and other data from several CTBT monitoring stations. The site includes a wind turbine and solar panels as well as diesel generator backup and a large battery bank, and it is equipped with a CO2 fire suppression system. The CO2, or perhaps carbon monoxide, may have caused the deaths. At right is a photo of the site, the main repeater site building is behind the green New Zealand repeater building. Here is the 13 December New York Times article, the 12 December NSF press release, and my coverage, updated in late January.
There's another McMurdo webcam out there! In addition to the various USAP webcams available here, a University of Oregon project has set up an underwater webcam known as the McMurdo Oceanographic Observatory (MOO). It is 70 feet deep, offshore of McMurdo Station, and it has several different cameras which can be seen here.
An interesting media update on the race between Colin O'Brady and Lou Rudd to cross Antarctica alone and unassisted, is in this 29 November New York Times article. They are on essentially the same route but are some miles apart and haven't seen each other since they started. As of 3 December SP time, Colin had traveled 408 miles and was 102 miles from Pole, while Lou Rudd was about 35 miles behind him. My links and more information for these and other expeditions are below. As of 23 December the race was almost over, as both men were speeding down the Leverett Glacier traverse route with less than 200 miles to go.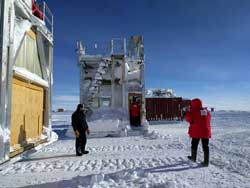 What will be going on at Pole during the 2018-19 summer? A contractor will be on site assisting ASC folks with the electronic/IT portion of the DSCS upgrade that was begun last season. On the science side, the IceCube drill camp components are already being dug out for inspection...this is in preparation for a future project (next summer?) to drill for and install seven new strings (October 2018 IceCube press release). Some of the drilling equipment will be retrograded for refurbishment as needed (at left, the two drill towers and some of the camp modules--photo from Sheryl Seagraves). The new project is called the "IceCube Phase I Upgrade." Meanwhile, in support of the recently launched ICESat-2 satellite, the second of four traverses will be conducted to calibrate and validate GPS altitude data. This year, glaciologist Kelly Brunt will be accompanied by Adam Greeley as well as two ASC support personnel; they will traverse about another 300 km along the west quadrant of the 88ºS latitude line, connecting with the segment that was traversed last year. The total distance traveled will be about 750 km or 450 miles. And the "cosmic dust sucker" (aka CRREL's "Sampling comet dust from Antarctic air" project) will be decommissioned and moved to the building berm. And speaking of CRREL, they will show up with the new GPR SPoTbot robot to do another subsurface survey of what might be left of Old Pole. Another project which seems minor unless you've tried to sleep in one of the berthing rooms with (seemingly) paper-thin demountable partitions--some of these partitions will be replaced with more permanent/soundproof walls.
Elsewhere on the continent, the first South Pole overland Traverse (SPoT) of three planned for this season left McMurdo for Pole on 12 November 2018, with 8 tractors and one Pisten Bully. And the nongovernmental tourist/traverse season is well underway as well.
The first LC-130 finally arrived at Pole on 12 November. And there was another the next day, getting (I'm thinking) the last 4 winterovers, including Robert Schwarz, to McMurdo at 0230 on the 15th. Whew! And not only did IceBridge take an amazing aerial photo of the station on the 3rd (right), but Robert left on a DV flight which did a couple of photo passes, giving Robert a chance to take some great aerial photos. Which are here.
An update on Pole flights (or lack thereof)...the first LC-130 Pole flight of the season was scheduled--and actually happened, on Monday 12 November--I'm thinking that this may be the latest first Herc flight ever. Why...various reasons, the major one being the relocation of Williams Field which didn't get completed until the 4th (the airfield move and other information is discussed in this 23 October Antarctic Sun article). In any case, the first aircraft didn't get to McMurdo until Friday 9 November. From NSF: "This was the first LC-130 flight of the Antarctic research season and officially opened the newly relocated airfield" (photo at left by Mike Lucibella). By the way, all but one of the NYANG's LC-130 aircraft now have those 8-bladed propellers, a modification which began in 2008.
Palmer Station update...Paul Kyllonen, age 57, a contractor employee died at Palmer Station due to natural causes at about 1130 local time (UTC-3) on Tuesday 23 October 2018. Here is the preliminary death announcement from the 1 November 2018 Ely (MN) Echo and the 24 October NSF press release. At right, a photo of the Palmer Station community carrying the remains to the Laurence M. Gould (photo by Zenobia Evans). The research vessel had been scheduled to arrive at Palmer Station on Thursday the 25th and return to Punta Arenas on 3 November. There have been previous several USAP deaths on this this side of the continent, but they all occurred aboard ship, either at sea or in Chilean ports.
And the Pole opening flight DID happen, on Thursday 25 October 2018 SP time. With a Basler (!) Why? Although the Hercs have started arriving in Christchurch, Williams Field is being relocated a couple of miles, and it won't be ready for a couple of weeks. This 23 October Antarctic Sun article discusses the program's attempt to recover from the earlier weather delays, and it mentions the Williams Field project. Anyway, the first flight brought in 15 people and took out six (that is about the maximum number of pax that can be carried northbound.
21 October...the past week finally saw some completed Antarctic flights. At left, the first Kenn Borek flight--a transiting Basler from Rothera heading to McMurdo, arrives on Monday 15 October...bringing freshies from Chile (photo from David Wolf, also seen in this 20 October Detroit Free Press hero shot). And at right, a C-17 unloads passengers at McMurdo's Phoenix Airfield (photo from the NSF Polar Programs Facebook page)--one of two flights to arrive from Christchurch on Tuesday the 16th after that record weather delay. By the end of the week, McMurdo saw a total of 5 C-17 and 3 Airbus flights between Tuesday and Saturday, so the main body operations are finally starting to get underway. And some of the winterover Polies could be heading north as early as Tuesday the 23rd. Presumably on a Basler, as the NYANG Hercs didn't start heading south from Schenectady until 17 October McM/Pole time, scheduled to get to Christchurch on Monday the 22nd (18 October National Guard news article).
Updates on the Polar Star...on Wednesday 17 October it returned to its Seattle home port after six months of maintenance at Mare Island, per this Thursday Coast Guard press release. What went on at Mare Island--here is my earlier page of information and photos. Also of interest, for the first time since 1995, this season the Polar Star's 2018-19 mission will not only include clearing the channel into Winter Quarters Bay, but also conducting official inspection visits of foreign Antarctic stations in accordance with the Antarctic Treaty. The inspection visits will involve a joint team of Coast Guard, State Department, and NSF/Antarctic Program personnel, and they will also require specialized training for the helicopter crews and support teams, as the Coast Guard expertise for polar helicopter operations has atrophied since the 2005 closure of the Polar Operations Division at the Coast Guard's Aviation Training Center in Mobile, AL. Source of this info--page 13 of the first issue (Autumn 2018) of the Coast Guard Roundtable newsletter.
14 October update...all Christchurch-McMurdo flights have been cancelled until at least Monday the 14th after what Antarctica New Zealand is calling the "longest delay in decades" for the start of the season (14 October Christchurch Press article), and there are at more than 500 people in (and somewhere near) ChCh waiting to fly south. Reportedly this has broken the record for the longest delay of the first main body flight. Here's an earlier NSF Polar Programs announcement on Facebook. Meanwhile, at least the first of the NSF chartered Twin Otters arrived at Rothera on the 9th (presumably Rothera time).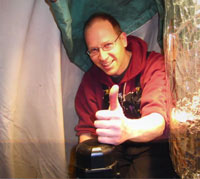 Other interesting stuff from NSF--this 11 October "discovery" news article about that awesome astrophysicist (and German citizen) Robert Schwarz, who is just finishing up his 14th winter. One of those winters was shared with me. There IS a video as well! At left, a random screen grab.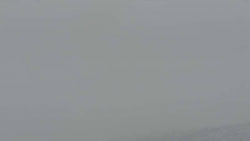 9 October...while the weather at Pole isn't THAT bad (well, it is breezy, 16-20 mph winds, overcast, with blowing snow, temperature -47ºF/-44ºC, wind chill -79ºF/-62ºC), it has been very bad at McMurdo for over a week. The first main body flight was supposed to arrive on 1 October. By now at least seven flights have been cancelled, leaving perhaps 300 people stranded in Christchurch. Some of them have been moved out of town to ski resorts and other places away from ChCh to make room for the new arrivals, while someone unsung isn't getting much sleep while reworking passenger manifests and reprioritizing people, only to rinse and repeat. Looking at the McMurdo webcams, things look like they are improving at the moment, but here's what things looked like at about 0500 McM/Pole time on the 9th (right). Of course, when things finally calm down there will be lots of snow clearing and runway work before flights can land. Current predictions...flights perhaps as early as Friday (the 12th) but more likely not until Monday. Oh by the way, here are the NOAA weather sites for McMurdo town and the Phoenix Airfield. Oh, bad weather on the other side of the continent has delayed the transit of the Kenn Borek aircraft from PA/Rothera to Pole. The first of these was originally scheduled to show up at Pole around the 5th.
30 September: the Defense appropriations bill saw final passage and presidential signature this past week. But although it includes funds for Navy shipbuilding, and the Navy is involved with the Coast Guard icebreaker procurement, the icebreaker funding is included in the Homeland Security funding bill, which won't get discussed in Congress until after the midterm elections. So...in the meantime the Coast Guard has renamed the icebreaker program the "Polar Security Cutter" per this U.S. Naval Institute article. Hmmm...
27 September--lots of news! First, that sunrise dinner happened last Saturday the 22nd...and yes, the sun has been sighted. Dinner documentation at left in a photo from David Wolf--showing the amazing station cake along with Robert Schwarz at front left, IceCuber Raffaela Busse at front right, and SPT guy Adam Jones a few seats behind Raffaela in the white T-shirt (photo thanks to David Wolf).
Elsewhere (in Minneapolis) pieces of the next newest BICEP Array telescope are being received and assembled at the University of Minnesota. It will replace the current SPUD/KECK telescope in MAPO, but not until 2019-20...so Robert Schwarz will have one more winter on that project. For more info on the BICEP Array assembly, grad student Mike Crumrine has started this blog with more photos and details! And for even more, here's Mike's August paper "BICEP Array cryostat and mount design" with background, history, and photos.
Elsewhere...a glacier update. It seems that the Board of Geographic Names has changed the name of what was the Marchant Glacier. Why? Sexual harassment accusations against Boston University geology professor David Marchant, made by Jane Willenbring who worked with him in a 1999-2000 field camp. Most recent coverage: this 24 September New York Times article and this 20 September E&E News article which depicts the glacier location in the Royal Society Range not that far from McMurdo. Earlier coverage with details: this AAAS/Science news article has more information and links to the earlier story and investigation, which included this December 2017 letter from the House science committee to NSF director France A. Córdova.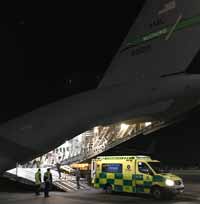 Interestingly, also in September NSF announced new measures to protect researchers from harassment, sexual and otherwise--here's their 19 September press release, and here is the related fact sheet.
Older medevac news I just learned about...on 25 August just after the final WINFLY flight had returned to Christchurch, the C-17 crew learned of a medical emergency at McMurdo. So instead of heading for Guam, they prepared to go south again (at left, a St. John ambulance provides medical supplies to the C-17 prior to the flight south). When the aircraft reached McM, the weather was a bit severe...temperature -65ºF/-54ºC and wind chill -94ºF/-70ºC. But the mission was successful--a critically ill patient (who had just been flown to McMurdo on the final WINFLY flight) as well as another patient requiring medical attention reached Christchurch within 24 hours after the medevac request. The full story is in this US Air Force press release which included the photo at left as well as another photo of the C-17 on deck at McMurdo.
12 September...first, I'll briefly mention that the Pole sunrise dinner is scheduled for Saturday 22 September. More recently...an amazing new map of Antarctica has just been made public. What is called the Reference Elevation Model of Antarctica (REMA) has just been released by a collaboration of Ohio State University and the Polar Geospatial Center at the University of Minnesota. Here's their basic 4 September announcement page, and if you follow the link you will encounter the documentation page with download links. Be careful what you click on--the full image with all layers is more than 43 tb and your hard disk probably will cough at that. But you can get an annotated (with lat/lon lines and info) or an unannotated PDF here. Both are about 48mb. The best article by far that I've seen about this map project is this 7 September New York Times article, which includes sample image grabs from the huge map as well as links to the Minnesota project site.
3 September...spring is coming, and with it the end of the aurora viewing season. Actually, Pole has been in some form of "twilight" since 1 August, when "astronomical twilight" began. with the sun less than 18º below the horizon. Currently the place is in the midst of "nautical twilight" with the sun between -12º and -6º below the horizon. Back in 1977 we of course didn't have the internet to look this up, but our high-powered (!?) computer had a program that would calculate the sun angles.Anyway, that twilight photo by Johannes Werthebach appeared on the NSF Polar Programs Facebook page among other places. Of course, the aurora shows were "eclipsed" literally on 28 July by the total lunar eclipse. The weather was windy with blowing snow, but folks still enjoyed the show. The photo at right is one of several photos and videos from Robert Schwarz--(more of his stuff here). Mars is above the moon.
Other events that happen this time of year--WINFLY! Perhaps not quite as big a thing these days as there were some winter flights, but between 23 and 26 August there were several flights (delayed by weather of course) by the Airbus 319 and the C-5. Interestingly, it doesn't look like the "frequent flyers" (ie folks with a lot of ice time) get the airliner flights with windows vs the Air Force aircraft.
And at Pole...August saw an actual "Iron Chef" competition in the galley--something a bit more real than the "Iron Chef" videos we used to watch at Pole on Sunday afternoons during my 2008 winter. Also in August, the winter project of replacing the station corridor cement board subfloor and vinyl flooring was completed. This winter the target was the second floor of A3 between Medical and the bridge to B2. The photo at left by Marco Tortonese shows Peter Gougeon and Ted Violette finishing up one section. And a bit earlier, the official midwinter photo was taken on the last weekend in July (more on that later).
Icebreaker update...on 13 August the president signed a $717 billion defense authorization bill, which authorizes SIX new Coast Guard icebreakers, with the first to be delivered in 2023! Of course, there's still the funding bill out there somewhere (?!)...here's the CNBC news article (thanks Chris Rock) and the actual text of the authorization act. Other insight, this 21 August U.S. Naval Institute article, outlining the 3 August Congressional Research Report (thanks to Bruce DeWald).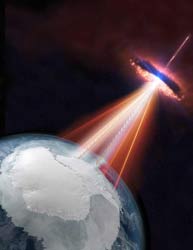 Major science news! It seems that a high-energy neutrino detected by IceCube on 22 September 2017 was quickly traced by the Fermi Gamma-ray Space Telescope back to a "blazar" otherwise known as TXS 0506+056, a quasar just off the left shoulder of the constellation Orion, powered by a supermassive black hole. Or so it is thought. IceCube, one definition of which is a "neutrino telescope," has a resolution approximately equivalent to the size of the Moon as viewed from Earth, and the TXS galaxy/black hole is about 0.1º away from the track suggested by IceCube. IceCube has detected a few other high-energy neutrinos since it was first in operation in 2005 (with one string operated in conjunction with AMANDA). I won't go further into the scientific details--rather I'll refer you to this page which provides more information and links, including the IceCube press release which featured the rather amazing graphic at left.
Historic flights...there have been many many round-the-world flights, but to date there have been only three that have passed over both the North and South Poles. Another one had been announced in October, titled the Polar Explorer, but it isn't happening...that website is dead, and my contact hasn't responded. It sounded like a good idea and I was sorta considering going...its Airbus A340-400 was to leave from JFK on 26 October (CNN news article). The Antarctic overflight segment was to begin from Rio Gallegos and fly over the Antarctic Peninsula, Pole, Vostok, and Casey stations before landing in Perth. Prices were to start at $11,900, with an on-board staff including Antarctic and aviation experts as well as a hairstylist, yoga instructor, wine and liquor specialists, and...aviation author Brian Baum, who at age 18 was aboard the last such flight in October 1977. Oh...the photo at right is Jerry Gastil's photo of aircraft as it flew over us 1977 Pole Souls (I actually did NOT see it). Here's more information about that 1977 Pan Am Flight 50, as well as the earlier flights--Polar Byrd I in November 1968 (still the only tourist charter airliner to land and refuel at McMurdo), and Pole Cat in November 1966.
Icebreaker news: the procurement process for the next generation of icebreakers IS continuing...the latest announcements include this gcaptain report from one of the bidders, Bollinger Shipyards, who would build the icebreakers at their Tampa, Florida yard. There are reportedly 5 bidders, perhaps also including Fincantieri Marine Group (Washington DC), General Dynamics (San Diego), Huntington Ingalls (Pascagoula, MS), and VT Halter Marine (also in Pascagoula). All of these companies were contracted for the initial design studies, per this February 2017 Coast Guard news update. As for the current icebreaker procurement contract status...the latest amendment (13 July) states that the technical proposal is still due on 24 August, but the price proposal deadline has been extended from 24 September to 16 October. Thanks to 2000 Pole winterover Chris Rock for this news!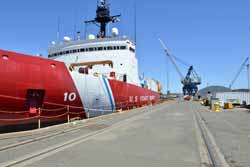 More icebreaker news...in April, the Polar Star (which we all know is America's only heavy icebreaker, recently entered the Mare Island Naval Shipyard (on the bay 25 miles northeast of San Francisco) for what may be 5 or more months of major drydock and yard work. The major stressors...two of three propeller shaft seals failed, requiring some urgent temporary repairs to stem the leakage...and one of the three 25,000 HP gas turbines also failed. Here's my page of coverage, with more photos and links to videos. H/t Russell Rapp for this info!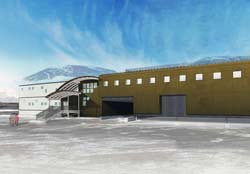 McMurdo news...the program has just officially announced approval of construction of the IT&C building...the project can also be described as a major addition to the SSC, as seen in the conceptual photo at right (the addition is to be to the right of the existing/white SSC). Despite the title of this announcement, its text indicates that construction will start in February 2019, as confirmed by a friend in McMurdo. And in related news, in April 2018, Parsons was brought on board as a Leidos/ASC subcontractor (similar to PAE, GSC and the other program subcontractors), to work on McMurdo Station upgrade projects. Here's the 12 April Parsons press release; my full coverage of this is on this page of my my McMurdo site.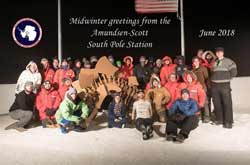 1 July...happy (belated) midwinter! The big celebration and dinner at Pole happened on Saturday the 23rd. A few days before that, the midwinter photo/greeting card (left) was created...have a look at more about the event!
As described below, there haven't been many opportunities to see stars and auroras in the past several weeks. BUT...there were some last year. Denver resident, photographer, and 2017 winterover Hunter Davis was interviewed in mid-June by Denver's channel 31...and of course the interview includes clips of his photos and videos such as the one at right. Have a look and listen!
15 June...the mostly windy and stormy weather has continued, and that means that there haven't been many chances to see auroras. The full moon at the end of May didn't help either. Among other things, the storm left this interesting drift (left)last week inside the doors of the LO arch (photo by Raffaela Busse from the 14 June 2018 IceCube weekly news update). During the first full week of June, several daily wind speed records were broken, the highest being 45 knots/51.8 mph/83.4 km/h on 2 June. Meanwhile, the folks at Pole are getting ready and psyched for the midwinter dinner coming up in a week.
In other news, a recent paper in Nature determined that more than 3 trillion metric tons of ice have melted away from Antarctica between 1992 and 2017. Two good reports, this one from Live Science, and this one from The Conversation. And from the northern hemisphere, here's the 23 May report to Congress on U.S. Coast Guard icebreaker procurement, from the U.S. Naval Institute.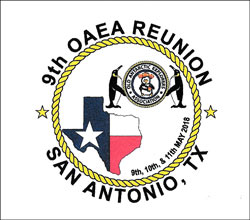 29 May update...things at Pole continue to be quiet...but it has been warm of late. Which means it also has been windy. During mid May the winds got up to 30 knots/56 km/h, which meant visibility went down and the amount of required snow shoveling went up. Otherwise and elsewhere, the ninth Old Antarctic Explorers Association reunion was held in San Antonio 9-11 May (logo at right), here's a link to my photo album.
Other interesting Antarctic stuff...icebreakers may be cheaper if bought in quantity. Here's a May U.S Naval Institute article outlining a report to Congress about the heavy polar icebreaker procurement program--buy one for $1 billion, buy 3 for only $2.1 billion. So far, about $360 million has been funded for the preliminary procurement process. And speaking of icebreakers, here from MarineLink is a historical jump back to November 1944 when the first of the four (actually there would be more than four) Wind-class icebreakers was commissioned.
And then there's a hot project called SALSA (!) scheduled for the next austral summer. Actually that is the Subglacial Antarctic Lakes Scientific Access project, which will bore into subglacial Lake Mercer, which lies below the confluence of the Mercer and Whillans ice streams. The project will use a hot water drill similar to what was used for IceCube, and drill a 4000-foot hole to reach the lake. Here's the project website...note that Bob Zook will be involved, as the project will include the deployment of the Deep SCINI underwater ROV--this will be the first ROV deployment into an Antarctic subglacial lake. In 2017-18 a traverse team hauled 500 tons of equipment and supplies to the drill site...here's a great video!
A bit of iconic history, otherwise elsewhere described as the "WikiLeaks of Antarctica..." is the iconic book Big Dead Place. Author Nicholas Johnson, unfortunately, is no longer with us after he blew his brains out in 2012 (archived page), but his work survives. And his work was given a new lease on life. On 30 April, ABC's program Earshot aired a 30-minute podcast/download which describes and details Nicholas' work, life, and the rest of his story. The interview and accompanying web pages include the voices and photos of several friends. Two ABC links of interest: this page gives basic information about the episode along with links for listening to or downloading the story...and this page gives additional background information as well as more photos. But that is not all. Nicholas' sister worked to get THE BIG DEAD PLACE WEBSITE back up to coincide with the release of this documentary. At least for awhile...the site died at some time after November 2020 and this is an archived link. Have a look! Not everything is there, but there is a lot of the good stuff. The photo of Nicolas at left shows him at work in the McMurdo waste barn in about 2001...it's from Kathy Blumm and used by permission.
There were not one, but TWO significant Antarctic celebrations at USAP small stations in late March...of course, the expected one was the sunset dinner at South Pole on 24 March (left above, photo by Raffaela Busse). But there was more...on 20 March a major celebration was held at Palmer Station commemorating the 50th anniversary of the dedication of the permanent station! More details of that, as well as links to documentation of the 1968 dedication event...are here.
Other important stuff...the Pole winterover statistics page has been updated for 2018 Check it out!
As I also keep track of NSF's Arctic program, I'll mention that the Arctic support contract is being rebid. It was previously awarded to CH2M Hill for a 4-year base period beginning on 1 February 2012, with options for two 2-year extensions. More recently, CH2M has been acquired by Jacobs in 2017, but the Arctic support contract organization site Polar Field Services has not been updated to mention Jacobs (perhaps this is because the person in the Littleton office who used to update these things, Kip Rithner, is no longer with us. Anyway, the draft RFP was to be issued in April, with proposals due in September and award due in August 2019, presumably to begin on 1 February 2020. Already at least one company (Parsons) is seeking to hire people to work on the proposal. The presolicitation info is here.
A bit of news from the Antarctic Peninsula area...a research team from UCSB was studying raised beaches (a sign of historic sea level changes) on Joinville Island just north of the Peninsula. But when it came time for the Laurence M. Gould to pick them up, the sea ice conditions were too think. So instead they were picked up by an Argentine Navy helicopter (right) on 11 March for eventual transfer to the Gould. Info/photos/video....
"Breaking" news from...the Washington DC Navy Yard (my first duty station in my early 1970's Navy days). On 2 March, the official request for procurement (RFP) was issued for from one to three new heavy icebreakers...in what is called the Heavy Polar Icebreaker (HPIB) program. The RFP release was announced in Coast Guard commandant ADM Paul Zunkunft's 1 March State of the Coast Guard address, and described in these Navy Times and US Naval Institute news articles. The official RFP posting is here, although most of the the technical specs aren't/won't be available to the general public. The first vessel is supposed to be available in 2023, and there are provisions for possible armament. While the icebreakers are destined for the Coast Guard, the procurement is being handled by the Naval Sea Systems Command, which has much more experience with the procurement of large military vessels. Five bidders are expected to submit proposals.
18 February...last week of the summer season. As with the first weeks of the season, several flights were cancelled. But there WAS a final flight on Friday the 16th. But first...earlier that day there was a partial solar eclipse (right, photo by Robert Schwarz). More than 40 percent of the Sun was covered! It was a bit hazy as you can see, and the weather continued to deteriorate, so the last flight opted not to do a fly-by. After it disappeared, there were 40 winterovers left behind--this is the smallest winterover crew since 1998--before the elevated station construction got underway.
10 February...the summer season is winding down...people are leaving, winterovers are arriving, and it is cool (-35ºF/-31ºC). The summer construction and science season is over...more details are here.
Yes, there was yet another government shutdown, although it didn't last long enough to have any effect on USAP (although I didn't get up in the middle of the night to see if the NSF and Coast Guard websites had been shut down).
Speaking of the Coast Guard, on 6 February they put out this news article about the Polar Star's adventures and misadventures on their 2017-18 trip to McMurdo. The ice conditions were not as bad as last season, but there was that "flooding" and "engine failure." At left, one of many Coast Guard photos (by CPO Nick Ameen) from the Flickr album accompanying the article--this shows it breaking ice in McMurdo Sound on 13 January. Other photos depict some of the repair efforts. Meanwhile back in the USA, the U.S. Naval Institute has announced that the RFP for a new Coast Guard heavy icebreaker is expected this month. I will be watching for that. Hmmm...FIVE prospective bidders?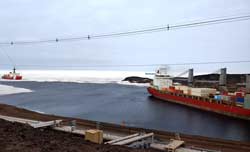 A wrapup on the McMurdo shipping season...after the Ocean Giant arrived on 19 January (photo below left) and was securely tied up, the "offload" portion of the evolution took only 2-1/2 days. The backload would take a bit longer, but it departed on the morning of 2 February...to be replaced at the pier by the tanker Maersk Peary. At right is a rather unique photo (from Michael Christensen) of the Ocean Giant departing, the Polar Star standing by, and the Maersk Peary lurking until the coast is clear. The tanker would tie up later that day...and stay until 6 February. Here's a webcam view of it heading off in the distance.
22 January...yes, there was a government shutdown. But this time, since the one in 2013, USAP has changed its funding structure so that there is no immediate impact. For a time the Armed Forces Network was shut down, cancelling TV broadcasts to McMurdo, but later it was declared "essential" meaning that folks could watch the NFL playoffs on Monday instead of, say, flying LC-130's to Pole. But it is early yet. In 2013, things went along normally for about a week before things started getting shut down and people started to lose their jobs.
And it IS the shipping season! The Polar Star first appeared off McMurdo around 14 January. By the 19th it was at the pier, checking in before heading back out to continue breaking out the channel. In the photo at left, the Nathaniel B. Palmer is waiting for the Coast Guard to go away so it can dock. The cargo vessel Ocean Giant left Lyttelton on the 18th and is supposed to reach McMurdo around the 25th. And the tanker Maersk Peary is now south of Australia after a stop in Fremantle.
17 January: after the successful lowering of the beer can stairs and adjusting all of the attached piping, some of the attention has turned to doing a bit of jacking and leveling of the elevated station itself. It's early so no photos yet.
But...the calendar and the news bring to mind the discussion of another US government shutdown this week. What might this mean for the US Antarctic program? Too early to tell, of course. And hopefully we won't have to find out. The last time a shutdown actually happened was in October 2013...resulting in major program disruptions and lost jobs--many people already deployed to McM or en route were sent home. Some never were rehired. And the end of the shutdown happened less than 24 hours before the Palmer Station summer science season would have been cancelled. Details!
13 January: here is a glimpse of one of the more visible summer construction projects--a new equipment module to better manage reception of the DSCS satellite. Here's the foundation support structure (from Sayer Houseal)...yes, more photos coming soon. Otherwise at Pole...the berms continue to be attacked...including the third annual Berming Man (no bonfires were created for this event)...and Kelly Brunt's NASA ICESat-2 traverse has completed and the team is back at Pole (latest blog post).
The NGO trekkers continue to arrive and approach as their season starts to wind down. Veteran Ben Saunders reached Pole on 29 December but opted not to continue his planned unsupported trip to the Ross Ice Shelf due to a shortage of food (Telegraph article). And Robert Swan opted to leave his South Pole Energy Challenge trek temporarily as he felt he was slowing the progress. He rejoined his group, along with some "last degree" folks, at 89ºS. They are one of the last 2 NGO teams/individuals still trying to reach Pole. Looks like the deadline for them to reach Pole before ALE pulls out is 17 January.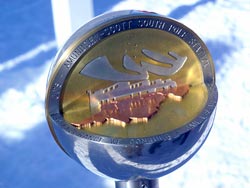 2 January...Happy New Year! Of course New Years Day brings with it the unveiling of the brand new South Pole marker...co-designed by BICEP3 winterover Grant Hall and IceCuber Martin Wolf. Here are the details. The quote "By endurance we conquer" is a translation from the Latin of "Fortitudine vincimus" which was the Shackleton family motto. More info with photos...this 6 January Saxony FreiePresse article (in German)--which includes the photo of the makers at right. From left--the fabricator, machinist Matt Krahn, and the designers Grantland Hall and Martin Wolf (Martin's photo).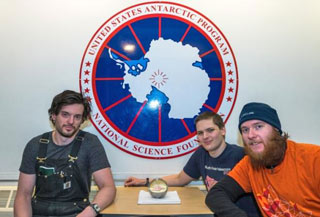 The past weeks have brought significant progress to the summer construction projects--one of these--a significant effort to lower the stair tower in the beer can was recently completed. This was required because the station is settling faster than the vertical tower structure. The project involved setting up screw jacks on each of the ten columns and slowly lowering the steel structure 12 inches in two six-inch lifts. Modifications to the plumbing, piping, and elevator systems were also required. The result--perhaps one or two less stair steps in that torturous stair climb! Meanwhile, the other projects including the ice tunnel wall cutting and escape raise work, as well as the new DSCS platform are also well underway.
The McMurdo shipping season is fast approaching. The first part of that will be the icebreaking by the Coast Guard's Polar Star. It departed Honolulu on Friday 15 December local time (gCaptain article) and arrived in Lyttelton on the 29th. They stayed there for the New Years weekend, during which time some of the crew were to participate in a tree-planting project in the area of last year's Port Hills fire (stuff.co.nz article). They were to head south on 2 January, taking with them a New Zealand naval officer who will be observing things. Meanwhile, the cargo vessel Ocean Giant left Port Hueneme on 2 January SP time and is now heading southwest toward Lyttelton...and the tanker Maersk Peary is heading southeast in the Indian Ocean after transiting the Suez Canal and the Red Sea.
Merry Christmas! At right...the Christmas dinner, which happened on Christmas Eve. Christmas morning brought the latest rendition of the Race Around the World. That dinner photo is from Kelly Brunt...she and her NASA traverse team were a bit delayed in their departure, so they were around for the festivities, before eventually setting off around 2 January. As for their traverse project...read on: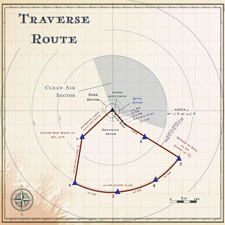 16 December...an interesting NASA science traverse is about to get underway from Pole. Glaciologist Kelly Brunt, along with cryospheric scientist Tom Neumann (and a lucky mountaineer and mechanic to be named later) will set out on 21 December in two Pisten Bullys, each towing a magic carpet (plastic sled) carrying their supplies and equipment. This will be a 470-mile 2-3 week traverse. The goal is to provide accuracy assessment and ground truth for the IceSat-2 satellite (which will be launched in 2018 to measure and track ice sheet elevation changes). They will head north initially along the SPoT traverse route, and then turn east to follow the 88ºS parallel to 131ºE, where they will turn south and head back to Pole (map at left). Most of this terrain is unexplored. They will collect GPS elevation data and set up reflector cubes that the ICESat laser beams may be able to find. Both Kelly and Tom are no strangers to the ice--Kelly has worked on various other projects on continent and remotely with IceBridge as well as in Greenland, and Tom wintered at Troll in 2007 before the first year of the Norwegian-American traverse. More project info... as well as their blog!
11 December. By this point the major summer projects are finally ramping up after the early season flight delays. On station, the big ones are the rework of the ice tunnel escape raises (emergency access ladders--something that has been cussed and discussed for several seasons), the upgrade of what originally was the GOES-MARISAT antenna (both of those satellites are no longer around) to handle the current DSCS satellite, and the relocation of the sheet metal shop--the last of the old construction Jamesways originally put up to support the elevated station construction. Meanwhile, on the science side, perhaps the largest project is the expansion of the Askaryan Radio Array (ARA) project from three to six sites--the first major expansion of this University of Wisconsin project since it was originally set up west of the IceCube laboratory in 2011-12.
Otherwise, the first group of NGO tourists visited Pole recently after having been flown in from Union Glacier...and most of the long polar and other NGO treks are well underway.
The Coast Guard icebreaker Polar Star headed south from Seattle a week ago...as of 11 December they were approaching Hawaii. The cargo ship, presumably once again the Ocean Giant, will be heading south from Port Hueneme at the end of the month.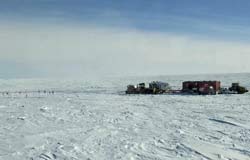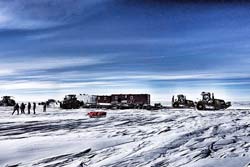 4 December...the first South Pole Traverse (SPot) reached Pole last Thursday the 30th. Two photos: the one at left is from Sheryl Seagraves, some of the equipment in front of the station shortly after arrival. The photo at right is earlier and also of interest. It was taken by members of the Spectre Expedition team, who met up with the traverse team on about 25 November at about 87ºS. The expedition was headed north to the Gothic Mountains where they intend to do some significant rock climbing...they briefly followed the traverse route, which allowed them to get some serious kiting on the freshly broken tractor trail. The second traverse left McMurdo around the same time, and should get to Pole around the 21st.

Tuesday 28 November: the dearth of flights continued...until yesterday. On Tuesday the 21st was the last ChC-McM flight to bring Polies south--the New Zealand Air Force 757. But they ended up being stuck in McMurdo over the Saturday Thanksgiving holiday, as did the last seven 2016 winterover Polies who'd flown north to McM on the 22nd. But as I write this, an aircraft just left Christchurch, which should get those last winterovers in ChC early Tuesday morning. And the waiting Polies in McMurdo, including a large SPT crew, reached Pole around 2300 on Monday the 27th.

21 November: a bit more of an update on the Pole flights (or lack thereof). As of the 20th there had been exactly THREE Herc flights to Pole...the most recent of which was that DV flight mentioned below. Which had an extremely rough landing...touching down on the last 1000 feet of the skiway. Well, there WAS another Pole flight on 18 November...but it was a C-17 doing the annual airdrop practice, and it obviously didn't land. But it DID stop at McM on its way north to pick up waiting Pole wo's and others and transport them to Christchurch, although they did carry enough fuel to not land on the way north if the McM weather had turned bad. Did the airdrop drop anything useful? No. Just sand or shredded paper (?). Another good bit of insight on the recent McMurdo weather--this blog post from the University of Wisconsin automated weather station team stating that the McM weather at this time of year is the worst that blogger Carol Costanza and others have ever seen. Slight update...this morning, folks were being checked in at the CDC for a southbound C-17 flight...they haven't posted that they were sent back to their hotels, so hopefully they are in the air as I post this.

18 November...and it has been more than a week since there have been any McM-Pole flights...or ChCh-McM flights, for that matter. Bad weather can be blamed for some of this...a couple of days ago McM was in Condition 1. But at other times the weather seemed perfect. So...this has left the remaining winterovers are stuck at Pole, while others have been stuck at McMurdo...not to mention many southbound pax also stranded. The most recent ChC-McM B-757 was just cancelled, and the next McM-Pole flight is currently scheduled for Sunday 19 November...the NYANG normally does not fly on Sundays.

Perhaps the last flight in and out of Pole may have been this one on 9 November. After leaving Pole, McM was socked in so the aircraft and passengers spent the night at the Italian station on Terra Nova Bay. There were no Polies on board, it was a DV flight, so presumably there were USAF public affairs folks aboard...so presumably that's why that article was written.

But that's not to say that there haven't been flights into Pole. On the 13th, the first AL&E Twin Otter showed up from Union Glacier, bringing staff to start opening up the NGO/tourist camp. And the NGO trekkers have already started heading south. Meanwhile, the first AL&E Ilyushin IL-76TD aircraft arrived at UG from Punta Arenas on 4 November--two weeks earlier than last year due to good weather. And the flight brought Ben Saunders, the Ice Maiden team, as well as Astrid Furholt and Jan Sverre Sivertsen" (archived site).

8 November...as usual, more LC-130 flights had been scheduled in the past week, and cancelled for various reasons, some for weather, some for ??. But the second one finally did show up late evening on Tuesday the 7th, taking about 30 winterovers north. The summer season is well and truly underway.

More strange sad news from Washington state about an old subject...Al Baker's 52-year prison sentence for murdering his reported fourth wife Kathie Hill Baker in June 2012. On 6 October 2017 it was reported that he'd filed another appeal, this time claiming that his trial attorney had been ineffective. ??...read the story yourself in this 6 November Whidbey News-Times article.

Trivia with a bit of an update: to date the NOAA winterover teams have included a total of 13 women over the years. As of now, the 2018 w/o team will consist of two women--both the NOAA Corps officer and the civilian tech. Only once before did the NOAA team include two women--that was in 1993 when there were three NOAA folks wintering. The two women were Katy McNitt Jensen and Kathie Hill, who was not part of the ongoing NOAA global monitoring team, but rather monitoring a separate wind profiling project. Yes, THAT Kathie Hill who was murdered in Whidbey Island, Washington, in 2012...per the above paragraph.

What happened (or didn't happen) with NGO visitors in 2017-18:

Yes...the winter is over! The first Herc arrived on Wednesday 1 November 2017, after 2 Baslers showed up on the previous Monday and Tuesday, bringing the first eight new people. The Herc brought in 40 more folks. And now the winterovers have started to leave! Of interest to me of course was this NOAA webcam photo (left) which appeared on Monday. No...it is not an LC-130 taking off between the station and ARO...rather a small photo suspended in front of the camera with the bamboo fishing pole. The NOAA guys are great people.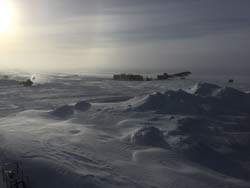 26 October...DA PLANE! At right, the first of two transiting flights showed up on 22 October from Rothera en route to McMurdo...amidst the huge piles of snow from recent storms. New people!! This Basler stayed only an hour to refuel, but the Twin Otter that showed up a few hours later stayed overnight...well, two nights, actually, before the weather at McMurdo improved. Before it departed, a second Twin Otter showed up. And yes, the flights brought freshies...including mandarins, pineapple, Kiwi fruit, and more. Photo from Richard Osburn, thanks! Here's a closer look at the Basler from Martin Wolf...note the prop blades! Meanwhile, some of the 2018 winterovers have gathered for training in Colorado.It looks like a big year for field camps/small aircraft, as there were to be as many as FIVE more Baslers and Twin Otters passing through Pole in the coming days...some of these aircraft are chartered to USAP/NSF, others to other national programs including Australia. The isolation is over...can the LC-130's be far behind? The opening flight is currently scheduled for 1 November.
Other preparations for other visitors...AL&E got their first two opening/setup flights into Union Glacier in the past week. Just in time, perhaps, as the first expeditioners heading to Pole (as well as Mt. Vinson) will be arriving shortly. Who is coming this year? Remember that this is the only website that has been listing and tracking these expeditions for 19 straight years...
18 October...the first main body C-17 arrived at McMurdo on 13 October, several days late due to weather delays...not at all unusual at this time of year. Meanwhile, the LC-130 Hercs have been heading south from Schenectady...the first one left on 13 October, and two more departed on the 17th. All 3 should be in ChCh by the end of this week (Stars and Stripes article). Also expected next week at McMurdo is the FAA's Challenger 600 business jet...for runway certifications. As for Pole, the opening Herc flight is scheduled two weeks from today, and the transiting Twin Otters could arrive from Rothera by the end of this week.
Some new and different stuff...PODCASTS! Actually the Antarctic Sun podcast isn't exactly new...there were two episodes last season and two more so far this season. The most recent episode takes a look at "The Galley." It's available from the link at left as well as from your favorite podcast app. And there's another one-off one out there...last July the folks at the Antarctic Report interviewed that intrepid German 13x winterover Robert Schwarz. For over 30 minutes. Have a listen!
7 October...less than 2 weeks until the Twin Otters show up at Pole en route from Rothera to McMurdo. Perhaps bringing freshies. And weather permitting, of course. Lots of storms lately. A week ago there were 41-knot winds, and at -50ºF the wind chill was in three digits.
Poetry time! Since this past May, Antarctic-themed poetry has been being collected for an exhibition to be staged this summer at Pole. This is a project of 25-year-old Auckland native Laetitia Laubscher--participant in the University of Canterbury's Antarctic studies program. Less than a month left for entry submission...info is here.
The winter auroras are but a memory...but Robert Schwarz captured them in this awesome 2017 highlight reel. Most of this is time lapse, but several of the clips are in real time. With great musical accompaniment. As Robert says...turn off the lights, relax for 15 minutes, and have a watch!
As of 6 October 2017, people in Christchurch can once again see Robert Falcon Scott...or at least his statue, which was toppled by the February 2011 earthquake, which caused it to tumble from its plinth, and upon hitting the soft ground...break its legs, which were the weakest point. In the immediate aftermath of the quake, other priorities were more urgent, although for a time in 2012 the damaged statue was on display in Hagley Park in a glass case. At left, a late September view of the statue being reinstalled. It was formally unveiled on 6 October.
Serious attention was turned to the restoration of this statue in early 2016, after repairs to other statues had been completed...and after other options, such as displaying the unrepaired statue and constructing an entirely new memorial, were considered. The issues included not only displaying an accurately restored and strengthened statue, but also meeting building code safety requirements. Accordingly, a scheme was developed (and tested) to use carbon fiber rods drilled into the legs and fixed using adhesive at the broken joints. The plinth was reinforced by drilling and epoxy grouting stainless steel rods. And the statue was attached to the plinth using a heavy steel spring to provide flexibility during future earthquakes.
22 September 2017...the sun is up! I'll spare you a refracted image from earlier this week, but instead present Martin Wolf's photo (right) today of the real Sun above the horizon! Time to bring out the lawn chairs, shorts and cold beers (yes, that happened too). The beer was cold, as it should be--as of now (about noon on Friday) it's a cool -95ºF/-71ºC. The official sunrise dinner, with a food truck theme, was held on Saturday the 23rd.
10 September...yes, it has been awhile, but more on that later. First...the effects of Hurricane Harvey were felt...on the seventh continent. UTMB in Galveston is the longtime USAP medical subcontractor, dealing with hiring of medical folks, PQ processing, and medical consultations from the ice. NSF announced this week that UTMB was being impacted by the hurricane, but it now appears that things were already back to normal, unlike September of my 2008 winter when Hurricane Ike clobbered Galveston and wiped out UTMB for many months.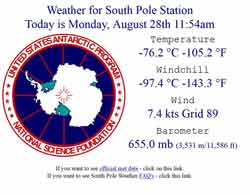 August brought with it the coldest temperatures of the winter, as documented at left. It was almost as cold 2 weeks earlier. And of course the skies are much too light to make auroras or all but the brightest stars visible--and the window covers were removed at the beginning of September. But August was an amazing month for auroras. Robert Schwarz has put more than 100 awesome images here...and there are videos on his Facebook page which anyone should be able to access whether or not you use FB.
Other events that have happened recently include the "Christmas in July" which of course included that insane inane gift exchange that I remember from my Christmases at Pole in the late 80s. Too bad we didn't do one of those during my winters in this century.
Another unique August event...on 4 August, the ARRL conducted a remote exam at Pole for amateur radio licenses. Not the first time for this...which was in 2010, but this time there were 12 examinees, the largest ever such remote exam event. Folks had to wait until the DSCS satellite was back up...as the examination required three volunteer examiners, one of these was James Casey at Pole (his blog post); James had also conducted the ham radio class.
But the exam required a total of 3 examiners, so two more folks monitored things remotely via Skype. At right, Martin Wolf's photo of the exam group as well as a link to my timeline information.
In July and August I spent 2-1/2 weeks on an Alaska trip...mostly a tour...which included time in backcountry Denali, an amazing flight around the mountain, and a Prince William Sound cruise. And there were Polies encountered...at the Skyline Lodge in Denali park as well as in Anchorage.
And then there was the 21 August total eclipse, which I saw with ice friends north of Lusk, Wyoming. I'll spare you my lousy attempts at photographing it (I was more interested in just watching)...but it does bring to mind the partial eclipse I did see at Pole on 27 January 1990 SP time.
This was actually an annular eclipse, with the annular portion only visible in places where nobody was. As I saw it...it was cloudy, which meant that I could look at (and sort of photograph it, left) without any glasses or lenses, while I was doing a long morning run on the skiway. I still don't understand the bright image to the right of the crescent sun, perhaps that was a reflection from my camera lens. Interestingly, I saw another partial solar eclipse 7 months later in Anchorage, on 22 July.
21 July, now for a bit of news from Pole. First of all, at the beginning of July the DSCS satellite terminal in Christchurch FINALLY got fixed...and this returned the fastest satellite to service after more than 2 months. The impact--lots of delayed large software updates and science data...not to mention a few bits of entertainment such as the first Game of Thrones episode. And at the same time, the folks geared up for the South Pole Winter Games...these contests included physical events such as volleyball, a treadmill 10k, and a Vertical Tower Sprint...as well as mental events including Rubik's Cube, Settlers of Catan, and Supreme Commander. Many medals were awarded. And on 15 July there was a bit of excitement when one of the power plant alternator bearings caught fire, resulting in a 10 minute power outage. The power plant person on duty was able to extinguish the fire with a fire extinguisher, and the alternator has since been replaced.
And winter construction continued...the current major project is the subfloor replacement in some of the hallways. This is a continuation from last winter, and once again it requires frequent and frequently changing detours around the work areas...not to mention a good bit of dust. At right, a look at some of the work underway in the second floor A2 hallway near the galley (more info and photos).
A couple of website notes: first, I try to collect the aerial photos from each year, but I've been behind in putting them up. No more...I've just added the 2016-17 and 2013-14 photos, although I'm still looking for the missing years. And I also have reviewed and updated the list of nongovernmental Pole visitors for the upcoming seasons.
20 July...lots of Antarctic news from the Antarctic coast has come up in the past week. The best coverage has been from the New York Times--perhaps because they sent an investigative news team to McMurdo this past summer. Said team attempted to get to Pole five times...including several cancelled flights as well as one boomerang where they flew over Pole but were unable to land due to low visibility. Anyway, their most recent article appeared online on 17 July and in print the next day...a detailed and serious article titled Where Else does the U.S. Have an Infrastructure Problem? Antarctica." It addresses the deteriorating McMurdo infrastructure, the need for new icebreakers, and the increasing development of the Chinese Antarctic program--and it also mentions and depicts folks you and I know. As for the icebreaker issue, here's an 11 July phys.org article with more information (thank you Russell Rapp) which provides more information and discusses this 11 July report by the National Academies of Science, Engineering, and Medicine.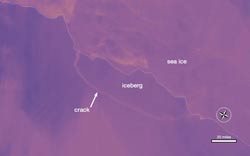 And then there was last week's news...the calving of a large iceberg from the Larsen C ice shelf on the east side of the Antarctic Peninsula at some time between 10 and 12 July 2017. This got lots of news coverage, but again the New York Times covered it well, with great detail, photos, and graphics. The impending calving of this new iceberg, now named A-68, has been watched and extensively covered for the past year or so. At 2,240 square miles, it has been compared in US media to the size of Delaware (other media around the world have used other comparisons...for example it has been said to be 4 times the size of greater London). But...this iceberg is a little guy compared to B-15, which calved off of the Ross Ice Shelf on 17 March 2000. That iceberg was 4,200 square miles--a size often compared to the state of Connecticut. B-15 started to break up soon after it calved, and A-68 has also already lost a few small pieces. And B-15 and its fragments, being close to Ross Island, seriously threatened the shipping to McMurdo and also impacted the penguin colonies on Ross Island. A few more quick links about the Larsen C iceberg--this NASA article (source of the image at left); this 17 July BBC News story, and this 12 July "The Conversation" article. And for comparative reference, here is a 2001 USA Today article about the B-15 iceberg, as well as the B-15 Wikipedia article. Like the Larsen C calving, the impending calving of B-15 was anticipated and watched for from about 3 years before it actually broke off.
26 June...happy (slightly belated) Midwinters Day! The official solstice happened on 21 June at 0424 UTC/1624 South Pole time. At left is the greeting card sent out to the other Antarctic stations as well as to the rest of us. The midwinter dinner was on Sunday 18 June, the first day of a two-day weekend (more info about all of the festivities).
A winter anywhere in Antarctica is never forgotten by anyone...and needless to say, those of us who have wintered at Pole continue to mark the midwinter date. Forty years ago (gulp) 21 of us wintered at Pole in 1977; we continue to send each other midwinter greetings every year. This year, one of us sent around a photo of the Antarctica map most of us signed at our two reunions in Boulder in June of 2000 and 2007--something I'd actually forgotten about. The 2000 gathering included all 21 of us, well, including our visit to Gary Rosenberger's grave--he died in a motorcycle accident near Queenstown less than a week after we left the ice in 1977--he's buried in Boulder. And sadly, since our last meetup Lee Sundblad has also left this world.
And more recently, in 2004, 75 folks wintered at Pole...unlike 1977 this group included WOMEN! A few of this group (as well as yours truly) got together in Denver last weekend for a mini reunion. Event photos are here.
6 June...midwinter month. Pole continues to be humming well and quietly...so lets look back to last June. I finally "think" I've got the June 2016 medevac well covered. I was traveling when it happened and couldn't get everything written up at the time, but this year there has been more/better media coverage out there, including some great video. And fortunately the two patients are both doing well. Meanwhile, Anthony Bourdain's Antarctica show aired on 4 June in the US on CNN...some familiar faces and stories from the 2016-17 summer season. And it may yet be out there on repeats, Amazon Prime, your cable system, or for download somewhere. Very well done!

29 May...things are very quiet at Pole. Which is mostly good, meaning that everyone is busy doing science, out watching auroras, or...involved in those continuing maintenance projects. As for the aurora, at right is a photo with amazing blue color by Hunter Davis from a couple of days ago. Here's a better look from Hunter's website, lots of great photography here for viewing or for purchase. Update...this photo and a few others were shared on EarthSky on 29 May!
Another reason things seem to be quiet at Pole is that DSCS, the fastest of the 3 satellites, has been mostly unavailable for awhile, apparently due to some significant problems with the satellite terminal in Christchurch. Apparently these problems were significant enough to require NSF to authorize $$ for repairs, but other approvals are still pending.
The 40th Antarctic Treaty meeting, in Beijing, has been underway since 23 May, continuing until 1 June. As in the past couple of years, not much news has surfaced in the media. About all I've seen are reports about China's first paper, about the expansion of their research program (a report from China's Global Times)--they're building a second icebreaker, and planning a fifth research station in the Ross Sea area as well as an airfield (near Zhongstan Station per this April 2017 China Daily article). Interestingly, ABC News chose the headline "...no mining in its immediate plans..." when they reported on that Chinese paper.
That fifth Chinese station---earlier reports indicated it would be in Terra Nova Bay, but no location has been selected yet. This past summer, the icebreaker R/V Xue Long investigated a number of sites; the present alternatives include Cape Bird, Marble Point, Inexpressible Island (southwest of the Italian Mario Zucchelli Station in Terra Nova Bay), Brown Peninsula (north of Mt. Discovery), and Newport Point (between Cape Royds and Horseshoe Bay) (February 2017 Xinhua news agency article). Interestingly, the Brown Peninsula and Marble Point sites have no maritime access. And I must also note that Newport Point (called New Port Point on some Chinese sites) was named for NZ carpenter Terry Newport, one of three fatalities of a 13 October VXE-6 helicopter crash at that location.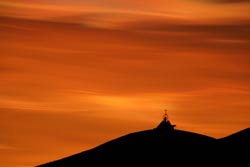 29 May is Memorial Day, when Americans remember veterans. Hundreds of thousands of these have fought and died, other combat veterans lived to return home, and then there were those service members who gave their lives in Antarctica. This classic photo silhouettes the memorial to Construction Driver third class Richard Thomas Williams, who died on 6 January 1956, when his D-8 went through the ice as he was hauling construction cargo from one of the cargo ships to Ross Island. The photo, from the USAP photo library, is by friend and fellow Pole 2005 winterover, he took it on 14 August 2006 during one of his McMurdo winters (link to original photo). That "Our Lady of the Snows" shrine was dedicated on 6 January 1957. In the background are polar stratospheric (nacreous) clouds. These are highest of all clouds at 80,000 feet and frequently visible at McMurdo in the spring...but they are also a cause of ozone depletion.
Speaking of McMurdo, the next of the every-six-week flights scheduled for this winter was scheduled for 31 May. But the winter flights for 2018 have been cancelled. At one time, plans called for one "reverse winfly" flight in April and no further flights until WINFLY, but that was later changed.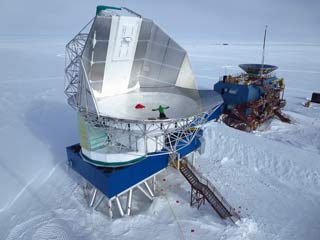 12 April 2017...and it was getting dark. The first auroras have been seen...and documented! At right, a link to Hunter Davis's photo, which he shared with earthsky.org. The auroras had to compete with a rather spectacular full moon. Meanwhile, the newly upgraded South Pole Telescope is in the midst of a 10-day Event Horizon Telescope event...hoping to grab exclusive images of the "event horizon" of black holes--the area where the black hole's gravitational pull is strong enough to prevent anything from escaping. Here's more coverage. Meanwhile, closer to "home," the menu selection at Pole will be a bit limited for several weeks, as the kitchen was shut down to allow for cleaning and sealing the ductwork as well as replacement of the copper force main piping. Microwave munchies, anyone? And back in the northern hemisphere, a new tourist venture has been announced for next season...two week road trips to Pole and the Ross Ice Shelf by Arctic Trucks. Only $165,000 per person, but folks like British fund managers and Swiss bankers have already booked. Here's the 23 March Bloomberg article, as well as a link to the vendor, The Explorations Company.
26 March...in other news, some of you may remember that I also have a Palmer Station site. I finally decided it needed a bit of updating, perhaps partly because the 2017 winterovers are now approaching the Drake Passage on their way south. So have a look!
The sun is setting at Pole. The official equinox happened on 20 March at 2329 South Pole time, or 1029 UTC (daylight time for Pole and NZ doesn't end until 0300 on 2 April). So, as for the actual Pole sunset--the green flash showed up on 24 March. This is the first 2-day weekend of the winter, with the sunset dinner on Sunday the 26th. The classic photo at left was taken by IceCube guy Martin Wolf on 23 March. And check out this timelapse video from Robert Schwarz of the Sun circling the station between 8 and 13 March (right).
Oops...the photo at right below, taken on 5 March, shows the R/V Hero sitting on the bottom, where it ended up the day before. This is the Palix River estuary at Bay Center, Washington, 40 miles north of Astoria, Oregon...near extremely productive oyster beds. Perhaps it was a lot of rain...not uncommon for this time of year...or perhaps the pumps failed. No word yet on what actually happened,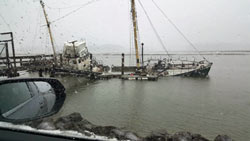 but on 6 March the Coast Guard hired a contractor to deal with the lube oil and diesel fuel that was starting to leak. 21 March updates...the contractor is hard at work. The latest news and details, updated frequently.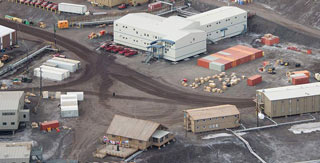 Future McMurdo news...the original master plan is now FOUR years old. Yes, it has seen some major revisions, but now it appears that something is actually to get built. In February of this year the program held meetings with prospective bidders for a new design-build project--an addition and upgrade to the existing SSC (left) to house additional data center and operations space. The contract will not be awarded until after a site visit in 2017-18, with project completion scheduled for 2019-20. This could be the first significant USAP building construction project that engages a contractor separate from ASC. The details....
Another reason for that dome photo at right...there was an opportunity to get some pieces of it ;) . After skipping last year, it seems that there WAS an Antarctic auction this year...5-6 April 2017, accessible only from a mobile app, although the items were available for inspection/pickup at Port Hueneme. Here's the basic website which includes one version of the auction flyer. Another link to the auction brochure with photos is available here. The auction itself was online only, through their mobile app, which no longer contains listings or photos of the items,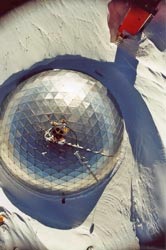 as the Ocean Giant just got back to Port Hueneme on 1 March. The website also announces that they are selling off some of the old dome pieces which have been sitting in Port Hueneme for awhile. More info and item photos are on their Facebook page,. Yes, they DID auction off 15 of the dome panels (photo from the auction site)...some of these went for upwards of $800.
So what's that photo of the dome at right all about? As of 1 March, things are nice and quiet at Pole which is as it should be...so I'll share the first of several reviews of the first of THREE recently acquired new books about the winterover experience. Two of them were written BY winterovers...and the one featuring that dome photo is nonfiction, so you can rest assured that no one dies. Seriously...the book is One Day, One Night, Portraits of the South Pole, by Jennifer McCallum and her then-husband and atmospheric scientist John Bird, describing their 2001 winter...which included among other things some amazing kite photography, as well as that Foucault pendulum experiment in the then-under-construction beer can. I said no one dies...but they did witness and describe the midwinter medevac of Dr. Ron Shemenski at temperatures of -95ºF/-71ºC. The couple are Canadians...and after John was offered a winter research assignment with the University of Illinois LIDAR experiment, a frantic scramble ensued so that his wife Jen could certify dual Canadian/US citizenship, which would allow her to be hired as a DA. Here's John's website about the book...from which one learns that John was a speaker, as was US Secretary of State John Kerry at the November 2016 COP-22 climate change conference in Marrakech. I will say that while the book contains photos, it is not a picture book...so if you are interested in a hard copy to read, purchase the paperback; if you want to see the color photos, buy the Kindle edition. If you want to do both, buy both...rather than investing in the $85 color version of the paperback.
Another medevac from McMurdo...remember that a month ago a passenger on the cruise ship M/V Ortelius was flown to McMurdo by that vessel's helicopter and then flown to Christchurch on a regularly scheduled C-17 flight. That occurred during the Ortelius' westbound cruise from Ushuaia to Bluff (Invercargill). Well, on 28 February, during the Ortelius' return cruise to Ushuaia, there was a similar medevac event, with the patient flown to McMurdo by the ship's helicopter on 27 February (NSF press release). This time...there were no more scheduled C-17 flights, so the program had to call upon the AAD for help. Accordingly, the A-319 Airbus flew from Hobart to the Phoenix runway on the 28th, picked up the patient, and flew to Christchurch...not long before a Condition 1 storm hit the McMurdo area.
Lots of icebreaker news...first of all, something that has been obvious for awhile was recently announced...the inactive Polar Sea (left) will not be reactivated...rather it will serve as a "parts donor" for the Polar Star, according to this 17 February US Naval Institute article. This Seapower posting states that the three main shafts from the Polar Sea will be transferred to the Polar Star during its next maintenance period. As for the next generation of icebreakers...on 22 February, Fox News reported that $20 million in new contracts had been awarded to study heavy polar icebreaker design and analysis...the goal being to award the first construction contract in 2019, in order to obtain a new class of ships between 2023 and 2026. Not all of such contracts are publicly announced, but two items of interest I was able to find--this $4 million study contract awarded to Halter Marine on 22 February 2017, as well as details of this 18 March 2016 "Industry Day" held in MacLean, VA. And a more recent "Industry Day" took place on 6 February 2017. All of these links include further links to extensive technical details and schedules.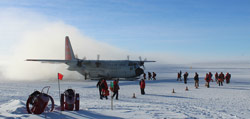 It's that time...15 February, the last LC-130 for 8-1/2 months departed Pole, taking away the last few summer folks and leaving behind 46 souls, many of whom will spend some time watching The Thing movies this weekend. Also, the NOAA team was briefly interviewed by their PR team and asked about their thoughts at station closing. At right, Dave Riebel's photo from that interview. There's also a video(!)
The NGO drama is not over yet. Although ALE has closed operations, solo kiter Mike Horn was still on the ice after leaving Pole on 11 January heading to Dumont d'Urville. He was not relying on ALE or ALCI to pick him up...rather his yacht Pangaea was supposed to get him. BUT...it had to turn back to Hobart due to electrical issues, and it could be a week or more before Pangaea could make it to the French base. On 8 February Mike reached the coast at Dumont d'Urville after some impressive kiting distances--he was not afraid of taking chances with the wind. He was supposed to be picked up on 15 February, but that didn't work. He left DdU on the weekend of 18 February...aboard the French supply vessel M/V L'Astrolabe...and was reunited with Pangaea back in Hobart on the 24th. Thus ending the extended South Pole tourist season for 2016-17.
Back in McMurdo...the Ocean Giant left the ice pier at around 0100 1 February and headed for Christchurch. And it turns out that the predictions of heavy ice conditions were correct. The ice pilot on the Ocean Giant reported:
It was a heavy ice year. Seventy miles of sea ice in McMurdo sound. From Beaufort Island to the ice pier. Did a bit of unescorted crunching barely making four knots at full power. Hooked up with the Polar Star off Cape Bird for a sixty plus mile transit in first year fast ice. First off...Polar Star did a fabulous job with channel preparation and transit execution. Can't say enough how enjoyable it was working with that Captain. He worked his way up the ranks, had a lot of boat driving experience and time on the icebreaker Mackinaw in the Great Lakes.
On the third, the tanker Maersk Peary took its place. If you watched the McMurdo pier webcam you could see how the offload was progressing--as the fuel was pumped ashore, the ship rose in the water. In the early morning of 7 February the tanker was departing--the photo at left is from 0255, and you can see that it is fully ballasted down with sea water. Shortly afterward the Polar Star moved briefly to the ice pier before heading north toward Lyttleton--to be the first Coast Guard icebreaker to call in New Zealand in decades because of the old nuclear weapons thing...here's the stuff.co.nz article updated 8 February, as well as this 10 February NSF press release and this 9 February press release from the U.S. Embassy in Wellington. This port call in New Zealand will save fuel and transit time, as otherwise the Polar Star would have to stop at Hobart, Tasmania.
Oh...also in 1 February there was a medevac--the second non-USAP medevac of this summer season. It seems that a 66-year-old Dutch woman had a stroke while traveling on the cruise ship MV Ortelius in the Ross Sea north of McMurdo. NSF announced that they would assist in the medevac (NSF press release). The cruise ship headed south, and on 31 January the patient was flown by the MV Ortelius's helicopter 60 miles south to McMurdo, from where she would be flown north on the 1 February C-17 flight to Christchurch. Here is the initial 31 January Christchurch Press article, as well as a 2 February update after she'd arrived in Christchurch.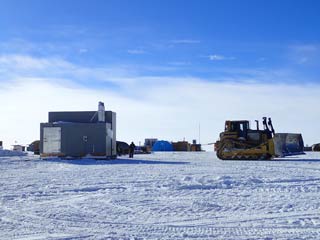 Things are winding down at Pole as it is about 2 weeks before closing. Folks are finishing up with landscaping after the old rodwell building was dug up and hauled off (right) and all but one of the old construction shop Jamesways were demo'd.
If the cargo operations are underway at McMurdo, that means there are less than 3 weeks left before Pole station closing. The last of the NGO skiers/kiters have completed their Pole trips...all except for Mike Horn, who is still heading north, now about 560 miles away from his destination at Dumont d'Urville. He's not dependent upon ALE or ALCI to pick him up...rather, his yacht Pangaea headed south from Perth on 29 January so he can continue the next leg of his travels.
Shipping updates...the icebreaker Polar Star was sighted on 16 January by some of the Polie winterovers at McMurdo for R&R. On the afternoon of 17 January it showed up on the webcam (left) approaching the ice pier...although it would do a bit more channel clearing work before docking. You could have watched the activity in and around the pier by selecting the McMurdo Pier Camera from this webcam link as well as the 24 hour archive (slide icon). Also, this gCaptain article describes their voyage with more photos; it also notes that this year there was more than 60 miles of ice to break, significantly more than the 12-13 miles they found in the past few years.
And the research vessel Nathaniel B. Palmer, after passing the Bay of Whales as it cruised west along the edge of the Ross Ice Shelf (aka The Barrier as named by the early explorers, because that is what it looks like), arrived off McMurdo on the 19th but couldn't dock because the Polar Star was still taking on fuel at the ice pier. Here is Kris Perry's offshore view of McMurdo from the Nathaniel B. Palmer. By Sunday 22 January the research vessel had replaced the Coast Guard icebreaker at the pier. Not long afterward it departed for Lyttelton. The cargo ship Ocean Giant showed up on the 25th...and cargo offload is now well underway, as you can see from the webcam (28 January sample at right). The deck cargo has been offloaded, and they're digging into the holds.
Happy New Year! Yes, the holiday season was celebrated in a traditional manner, with the festive Christmas Eve dinner on the 24th...followed by the 2 mile Race Around the World on Christmas morning...and a holiday brunch. New Years Eve brought a major party in the gym...and the next morning the 2017 Pole Marker (right) was unveiled...UPDATE! The marker designer, 2016 winterover Warren Shipley, provided detailed information about the marker design...and more photos! Check this out!.
It's January...and that means that the shipping season is approaching. The cargo vessel Ocean Giant headed south from Port Hueneme on schedule on about 31 December, it will call at Lyttelton on the 17th; the tanker Maersk Peary was heading southeast after leaving the Gulf of Aden. It will call at Fremantle WA on 14 January before continuing to McMurdo; and the icebreaker Polar Star left its homeport in Seattle some time ago. It stopped in Sydney for a few days, sailed from there on New Years Day, and as of the fourth it was 30 miles west of Macquarie Island. It is supposed to reach the ice edge sometime the week of 8 January. AND...the research vessel Nathaniel B. Palmer is on a science cruise making its way west along the Antarctic coast from Marguerite Bay...scheduled to reach McMurdo around 20 January. Want to know what it's doing? Check out IT guy/friend David Pablo Cohn's blog as well as University of Rhode Island professor Tatiana Rynearson's science blog.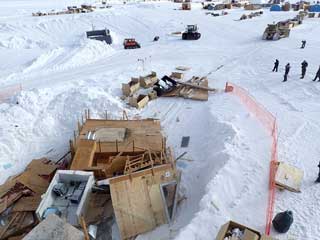 There are lots of projects happening at Pole this summer? Will they all get finished? One reason they might not is because as of New Years Day, Pole had received only 29 LC-130 flights...which is about half of what had been scheduled to date. Partly because of frequent mechanical issues, partly because the plan in recent years is not to have C-17 support during the middle of the season...meaning that the NYANG has to cover all of the flights between ChCh and McMurdo. And partly because of ??? Needless to say, the lack of Pole flights is seriously impacting fuel deliveries, science cargo...and mail. One project which does not require any construction material to be flown in is a major effort to demo or move old unneeded and drifted-in facilities in the vicinity of the summer camp. Including the former structurally unsound balloon inflation facility (BIF) which was undermined several years ago when the sewer bulb overfilled into the firn. One end of the cryo building was turned into the new BIF last summer, although there is some remaining work to do on that facility. Anyway, at left is what the old BIF looked like when it was safely pulled down with the D-7 (?) and some well-designed rigging. More photos are here...and I'll have more soon of the ongoing demo of the old construction trades shop Jamesways.
The first South Pole Traverse of three scheduled for this season showed up on 5 December...yes, Forrest McCarthy was along, and yes, he created this video! (Hmmm...as I wrote this on 14 December Forrest was already chilling out in Christchurch....) The second traverse showed up in time for the Christmas festivities and headed north on the 30th...hauling a bunch of those waste triwalls out.
Buzz Aldrin, the second person to walk on the Moon and currently 86, was medevaced from Pole on 1 December South Pole time after suffering from apparent altitude sickness while visiting with a private tour group organized by White Desert. He was flown to McMurdo that evening and arrived in Christchurch the morning of 2 December. Here is my coverage with more photos.
A new solar observatory...or perhaps an updated reprise of an older one. Georgia State professor Stuart Jefferies is leading a multinational team that will reestablish the "South Pole Solar Observatory" starting in December 2016 (Georgia State University press release). Stuart is no stranger to this stuff at Pole...this is his seventh visit, and the hero shot at left is from his previous Pole project in January 2008 (more photos from that visit). His first such venture was in 1987-88 with Marty Pomerantz, when they installed an upgraded optical system at the Pomerantz Land solar telescope site 5 miles east of the station (see this October 1988 Antarctic Journal article ). In 2002-03 and 2007-08, Jefferies was the principal investigator for what was known as the Jefferies Solar Observatory...more recently at a site in the dark sector about 2-1/2 miles west of DSL. The photo at left (from the Georgia State press release linked above) depicts Dr. Jefferies at that site. This first season of a 2-year project will send a total of six people to Pole over the summer to set up at the same location.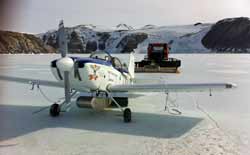 Another strange aircraft story just in...it seems that 61-year-old pilot Michel Gordillo flew south from Hobart on 1 November to begin a successful crossing of Antarctica in a single-engine Vans RV-8 kit-built aircraft (right, Michel's photo of the aircraft at Mario Zucchelli station. Note that he left his skis behind to reduce fuel consumption). In theory this was a scientific venture sponsored by the Andalusian Center for Environmental Research (CEAMA, based at the University of Grenada, Spain). He was carrying an aethalometer for them in an effort to collect carbon particles from the atmosphere. Supposedly the project and flight was approved by the Spanish Polar Committee, but it was NOT recognized by the American or British programs, nor by ALE, none of whom would have provided him with fuel had he landed at one of their airfields. In a way I can't blame them...a solo pilot in a small single-engine aircraft, with admittedly little fuel reserves...collecting upper air samples which are much more easily and safely gathered by NOAA and others.
Michel was born in what was then French Cameroon, and gained his flight training and experience in the Spanish air force. On this trip, he arrived at the Italian Mario Zucchelli Station after a 16-hour flight from Hobart. He had ordered avgas to be delivered to him there from Christchurch, but after that flight was delayed he ended up using mogas. His weather window was 9 November, when he left for the 20-hour flight to Marambio. While he was offered emergency landing rights at several sites, none of them would grant him additional fuel. And he reported he was unable to contact Pole by radio...perhaps because of difficulties with his own HF radio. Given favorable tailwinds, he eventually landed at the Argentinian Marambio base (located on Seymour Island on the east side of the Antarctic Peninsula). With two hours of fuel reserve remaining. In any case, at left is his photo documentation of his Pole overflight, looks to be in the afternoon of 9 November. Here's his detailed blog entry where he describes his flight across Antarctica, as well as this news article from the Hobart, Tasmania Mercury.
15 November...after 15 months of work by half a dozen folks, the first C-17 flight landed at the new Phoenix runway (right)...twice, in fact. All part of the certification process, which is now successfully completed. Info and photos...
News from the north...includes the severe earthquake that struck New Zealand at 0002 Monday morning 14 November. At 7.8 on the moment magnitude scale, it was rated more severe than the ones that devastated Christchurch in 2010 and 2011, but as it was centered in a more rural area between Hamner Springs and Kaikoura on the northern South Island, there was less severe damage. Still, several people were killed, and damages were significant, particularly in Kaikoura, an East Coast town I'd visited in January 2014, as the main coastal state highway and rail link was severely damaged. Two links...this national article from the Christchurch Press, and another from the New Zealand Herald.
A few days before the earthquake (and as US election results were becoming known, secretary of state John Kerry made a brief visit to McMurdo station. He arrived in ChCh at 1730 Wednesday evening NZ time. The next morning (Thursday 10 November) he met with the NZ Foreign Minister Murray McCully in the morning and spent time at the Antarctic Centre and CDC clothing issue that afternoon. He flew to McMurdo on a C-17 on Friday morning. Here's the NSF press release and the Press article about his Wednesday Christchurch arrival. Immediately after his C-17 landed at McM early Friday afternoon, he and his entourage of about 13 press and staff (50 more members of his entourage had been left behind in Christchurch) were to board an LC-130 for a flight to Pole, but that was scrubbed due to weather. So he was given a helicopter tour of the Dry Valleys, visited other McM and Scott Base facilities and historic Ross Island huts, spoke for about 40 minutes to a crowd of about 450 folks in the galley on Friday evening, and later attended a smaller gala reception in the Chalet.
He flew back to Christchurch on Saturday 12 November (12 November Christchurch Press article), continuing almost immediately to Wellington where he met with Prime Minister John Key as well as Embassy staff. A few hours before the earthquake he flew to Oman en route to the United Nations COP-22 in Marrakech, where he was expected to speak. Here's the State Department page with full details of Kerry's trip, a link to all of the State Department photos including the ones I've used above, and a 14 November commentary article from the Washington Post with a few more photos.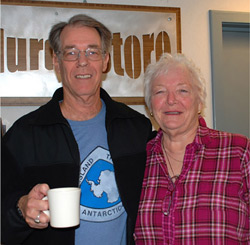 A couple of days before Kerry's visit, author Kim Stanley Robinson spent a bit of time in McMurdo and also addressed an assembled crowd. He'd previously visited McMurdo and Pole with the Artists' and Writers' program in 1995-96 when he was digging up stuff for his somewhat prophetic work Antarctica. This time his visit was more of a media event, as he was researching the 1911 winter journey by Apsley Cherry-Garrard, Edward Wilson, and Henry "Birdie" Bowers to Cape Crozier to collect an unhatched penguin egg, for a Smithsonian article. He went with Elaine Hood to the site of the "stone igloo" which is well described in Cherry-Garrard's book The Worst Journey in the World. At right, he's seen with Chalet administrative secretary Liz Sutter (photo courtesy Liz Sutter from the "Great Race" website)
After the transiting aircraft, the first "real" summer flight from McMurdo was a Basler which showed up on 27 October with 8 summer folks; it took 6 winterovers north. The opening flights this season seemed to be a bit different...a few years ago there were serious efforts to schedule early arrivals on a Basler before the first Herc, but after their flights kept getting cancelled, an LC-130 actually made the opening flight. This year...there was a second Basler on 29 October, and the first LC-130 didn't show up until 2 November, followed by another Basler. At present (15 November) the LC-130 flights continue to be severely delayed.
22 October was a sad day for the US Antarctic Program...Gordon Hamilton, a 50-year-old glaciologist from the University of Maine, died after the snowmobile he was driving hit a crevasse and fell 100 feet down. This occurred at the Shear Zone, 25 miles south of McMurdo, where the Ross Ice Shelf meets the McMurdo Ice Shelf. As both of these shelves move in different directions, the area needs to be remediated by exploration, blasting, and other means before the South Pole Operational Traverse can journey through the zone with fuel and other supplies for Pole. At the time of the accident, Dr. Hamilton's science team was camped about 200 yards from the traverse remediation team, so it was a sad day for all concerned. Here is NSF's 23 October press release, a 24 October Washington Post article with an excellent photo of Gordon, and a more reflective article about Gordon from the New York Times.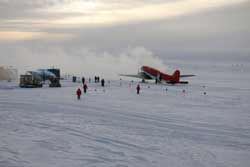 At Pole...the isolation is over. The first Basler landed on 11 October as documented by Darren Lukkari (left)... followed by a Twin Otter soon afterward. These aircraft were transiting from Rothera to McMurdo; the Basler headed north after refueling while the Twin Otter stayed overnight.
News from Colorado...starting on 11 October, many of the winterovers gathered at the YMCA in Estes Park for a few days of team-building stuff, to be followed by fire and/or medical training...after which many of them will be flying south. I met a few of them in Denver the day before.
Summer is coming...and surprisingly the first two McM main body flights, scheduled for 3 and 4 October, were NOT delayed by weather! And the Kenn Borek Air flights (two Baslers and one Twin Otter) are still scheduled for the 11th. In slightly different flight news, the long-time private company operating the Union Glacier camp/runway mainly in support of private expeditions, has completely rebranded itself as Adventure Networks and Explorations (ALE), getting rid of the former Adventure Network International nameplate of the company created by Giles and Anne Kershaw. Here's their company announcement.
And who might some of this summer's private expeditioners be? As far as I know, there is now only one website that is continuing to track them...this one.
Another unique sign of springtime at Pole--frequent NOAA ozone balloon launches. At right is a time-lapse of one of the launches (from about 14 September) showing the balloon illuminated by the glow in the sky. This was created by IceCuber Christian Krueger and shared on the NSF polar programs Facebook and Twitter accounts.
Hopefully the final bit of news from Whidbey Island, WA on this sad subject--the final appeal process for Al Baker ended on 15 September (without his knowledge, presence, or consent). He's been resentenced to the same 52-year term that he originally had received. Details in this 21 September Whidbey News-Times article.
And if the summer aircraft season is approaching, it must be the peak PQ season. Hmmmm, this just in from usap.gov.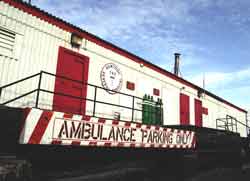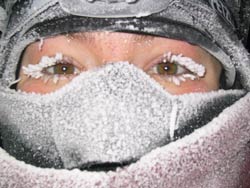 On a more significant medical note, on 13 September NSF and NASA announced a joint medical collaboration, which will sponsor medical research, development and training in extreme polar environments (the NSF press release and the NASA press release). On the NASA side this will be a part of their Human Research Program to reduce the physical and mental risks of space operations on the humans who go there; on the NSF side it will mean that NASA flight surgeons will rotate through NSF's Antarctic clinics (at left, from the NSF press release, Peter Rejcek's 2006 photo of the McMurdo clinic), providing additional assistance and expertise. There will also be physical and psychological studies on volunteers in the Antarctic community. The photo at right, from the NASA press release, I recognized immediately as I'd seen it before. That's Christina Hammock Koch whom I wintered with in 2005...now she's an astronaut! She assured me this was a selfie although that term wasn't in use back in 2005.
No more winfly? That's hinted at in this Antarctic Sun article. The 2015 winter saw flights to McMurdo about every six weeks; plans for next winter call for more frequent flights, perhaps once a month--this would negate the requirement for an early season cluster of flights. In other flight-related news, the new Phoenix runway at McMurdo is undergoing final shaping, leveling and compaction...with certification scheduled for November. Shortly after that occurs, Pegasus will be closed. As for Pole, preliminary work for opening the station has begun. The schedule now calls for two Baslers and one Twin Otter to show up from Rothera around 11 October en route to McMurdo.
Here comes the sun! As documented at left by UT Darren Lukkari on 21 September...actually above the horizon. Interestingly, it made a brief appearance on the 7th, while still 5.9 degrees below the horizon, thanks to ducted refraction produced by an unusual bit of strong thermal layering. It only lasted a few minutes...a strange teaser. Oh, around the same time, network engineer Adam Jones was caught heading to his A1 room (right) in shirt sleeves...well, the temperature WAS in three digits. What for...well, the construction crew is replacing the floor in the second floor hallway, and the inside hall was blocked off during working hours. As documented in this IceCube weekly news report with photos by Christian Krueger. There's also his shot of that refracted sun. In the previous news report, Christian had shared this time-lapse video of removing the window covers at the end of August. (All of the recent IceCube weekly news reports are available here.)
Sad news from Australia--Anton Brown, the 2015 winterover machinist, passed away on 6 September. He was 57. Here's the brief obituary from the Perth newspaper. He, of course, created the present/2016 Pole marker; I have a few photos of him on this page.
Early in August, an intrepid multinational construction crew got together and erected...a massive igloo. Large enough to sleep five and keep them warm and toasty (well, about 0ºF/-18ºC). And then it was demo'd. Story and photos here.
Yes, as of 16 August the USAP Antarctic support prime contractor is now Leidos. Huh? The details...and of course an updated jobs page.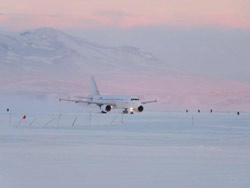 23 August...the first of five WINFLY flights landed at Pegasus at 1216 on 23 August (left), ending the long winter--or perhaps not exactly, as McMurdo had regular flights every six weeks or so through the winter. This flight was the Skytraders A319 Airbus (left, photo from Antarctica New Zealand). There will be a total of five flights, two more using the Airbus and two using a C-17.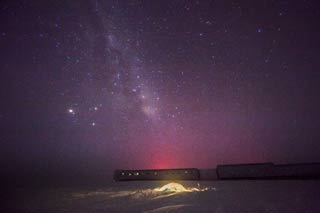 Construction update...the winterovers began construction of the new berthing structure the last week in July...uh, yeah, it was an igloo. It was completed on 7 August, and occupied overnight by FIVE intrepid winterovers. At right, a photo of it showing it glowing from the intense interior illumination. More information about its construction, occupation, and rapid demise--with more photos/credits--here thanks in large part to one of its architects Darby Butts.
On 29 June, the GOES-3 satellite, which had been used by USAP for 21 out of its 38-year life, was decommissioned...only to be officially replaced by that much-faster DSCS-3 bird (more details).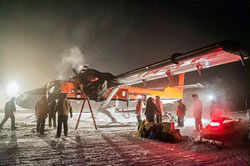 Yes, there was a medevac. NSF made the public announcement on 15 June SP time, after the two Twin Otters from Kenn Borek Air headed south from Calgary. A week later, one of the aircraft arrived at Pole...in excellent weather, clear, calm, the Moon was up, and the temperature was -75.6ºF/-59.8ºC. At left, the aircraft was being unloaded after arrival. The evolution was successful...two Polies needing medical attention were safely brought to hospital in Punta Arenas, Chile. The full story is here.
Another Polie in the news back home...equipment operator Bruce Tischbein, who has been on the ice since last August, has a feature page on the Zionsville IN Current in Zionsville site. Zionsville is a northwest suburb of Indianapolis.
Lots of satellite news in June! The good news is that the DSCS-3 satellite is now in daily use...although this is presumably still in "testing" mode, as this satellite is not yet listed in the online satellite pass schedules. It is considerably faster--with bandwidth approaching 30 Mbps, significantly better than the 1.5-5 Mbps typically available previously. And its visibility fills in part of the gap between the other satellites, thus extending the daily satellite window from 10-11 hours/day to 14-15. On the flip side (perhaps) of the coin, it was just announced that the GOES-3 satellite is being decommissioned, beginning on 8 June per this blog post from the University of Wisconsin-Madison. The loss of GOES may not be such a big deal, as it has been the slowest of the satellites currently in use...and its visibility window mostly coincides with that of the various faster TDRSS/SPTR satellites. On 15 June it was being moved to a "trash orbit."